Hey everybody! Just wanted to deliver a quick update, since we've neglected ModDB for too long.
As those of you who've been following our forum on Hard Light Productions know, we released Act 3 of our story, 'Tenebra', and we hope everybody enjoyed it. If you had technical or gameplay issues, please let us know.
We're also closing in on finished with our voice acting efforts for Acts 1 and 2 - please get involved! We're currently particularly interested in women's voices, both because we need to cast our female characters and because we want our cast to represent the diversity of the FreeSpace future. Once these efforts are complete, we're planning to release a standalone Director's Cut version of Blue Planet that will not require FreeSpace 2.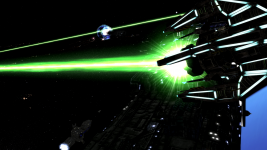 Our short story 'Morrigan in the Sunglare' will appear in an upcoming issue of Clarkesworld, one of the finest science fiction and fantasy magazines in the world. We're eager to hear your response.
Lastly, as ever, work continues on our ongoing story. As always, the demands of life and chance mean that the pace fluctuates, but the team's all here and happy and we're looking forward to bringing you the conclusion of the war between Alliance and Federation.