Hello fellow Kindreds! As always, it's been such a long time since our last news article, but as always, we come with some great news!
I must admit, it's been quite quiet around here, so you might ask, what have been happening lately? Well, first of all we're planning on releasing the multiplayer alpha as soon as possible. And I don't say "soon" loosely either. I should strap a "Valve time" on it so it would make it a whole lot clear on the situation. We were hoping to release it as soon as September, but there were several holds up.
First of all, we were trying to polish the multiplayer in every way possible before releasing. First of all getting the player class done, HUD, menu panels and such. So what is holding us to post pone the release even further? I would gladly say not much, since it's almost in the expected state. One of the biggest issues we have which is nothing too serious is to get all player animations to work properly.
Since player animations are being handled differently as NPC ones, I'm going to spare all the details regarding Source's animation system (which is a lovely one by the way). The current issues we have is with weapon aiming, such as not aiming the right direction and not following the player's aim view.
Besides that there are still a few map tweaks and polishing left to do, but despite these issues, it's all ready to be released.
I would like to point out a few things on what to expect on the first release of the multiplayer.
It will feature a few game mode varieties, such as deathmatch and detonation, along with a few selection of maps. These will be extended once more game modes and suitable maps will get added.
There will be no disciplines added yet, since it's still being worked on. Getting things working on multiplayer takes a different approach, but we want to make sure everything is balanced and not to hold up any release because of that.
The weapon system will feature a unique per class selection, being able to swap between primary weapons. For the time being there will be only 11 ranged weapons to choose from.
Melee weapons won't be included because they are missing first person animations and it wouldn't work out without those, especially for a multiplayer mode. But do not worry, it's currently being worked on and added in a later point once it's finished.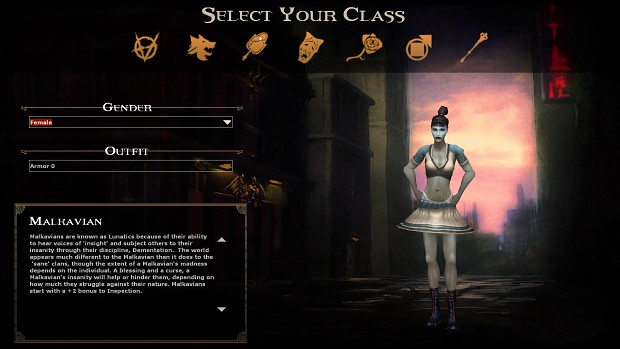 It is going to feature two teams for the initial release: Camarilla and Society of Leopold (Vampire Hunters). Will feature all Camarilla player models, both gender and armor selections, along with the default ranged weapon arsenal, ammo containers and more.
Here's a short demonstration on the Demolition game mode.
And now for some news on the progress on single player!
We've been working on getting more NPCs done as you can see in the video below. Since the original game had their custom written AI system along, we've taken the approach to not only write our own NPC entities, but also to use ActBusy for adding more varieties to how they act. It's a substitute to interesting_place, which tells the NPC to be "busy" within a scene to add further "touch" to the scenery.
Besides a gameplay progress, I also ported a cutscene as an experiment due to the nature that they used a different approach on animating the actors for the cutscenes. Since each cutscene animation is set to use 4 actors within a single animation (namely 4 bipeds within a scene), it allowed them to animate them easier along with animating the player itself. But nonetheless, I worked out on a different approach on bringing them alive. They were set up as regular scripted sequences that animate the actors from an origin point, having the cutscene sequences split up for each actor.
Also in case you missed out on older updates, we've demonstrated on using map instancing for several maps, meaning more maps can be seamlessly integrated and compiled as a whole, thus removing the need to load maps between the hub maps and the buildings and removing the need for any sort of map transition. This allows us to have more control over an area and adding a sense of realism between the maps, as seen in the following video below:
Along with that, we also use a different approach on dealing with Elysium areas. Since the maps are connected, Elysium areas are done using trigger area brushes that triggers the Elysium specific functions, shown here:
We're hoping to release the multiplayer alpha as soon as possible, until the end of this month. Thanks for sticking around and as always, keep your eyes on our project as it's getting more progress.