WHAT IS BLOODLINE MEGAWAD?
Megawad stands for a 15+ levels custom map pack for classic Doom games. Bloodline Megawad features standard Doom 2 gameplay with interconnected levels, large outdoor areas and LOTS of blood.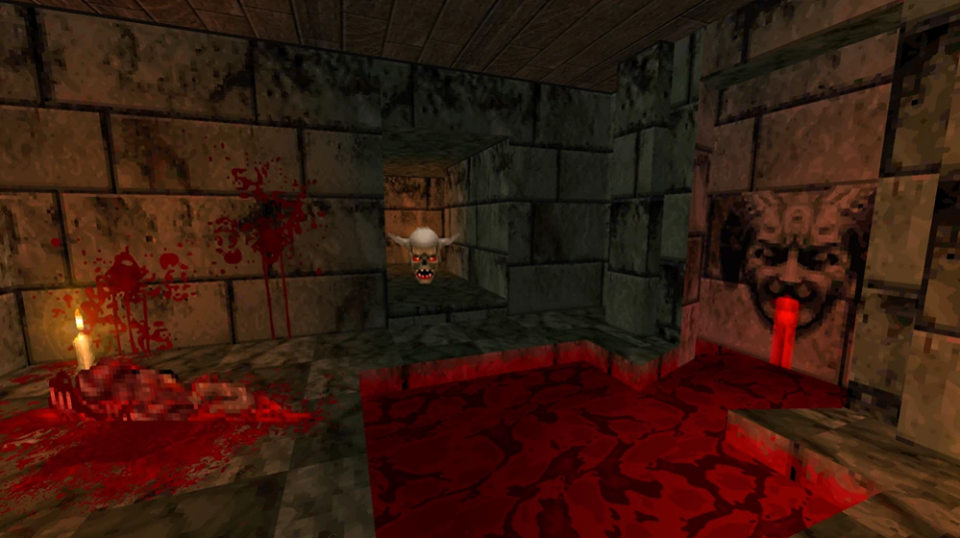 A Baron of Hell's Fun Fortress VIP "blood booth" for drinking blood
WHY CLASSIC DOOM?
Doom 2 was the first game I ever played back in the 90's. I was deeply fascinated by all the guns, the intensely expressing textures, hellish monsters and atmospheric skyboxes. The level design of John Romero, one of the co-founders of id Software that developed classic Doom really placed me into a nightmare I didn't want to escape. I loved this gameplay and wanted to get involved more by creating levels myself.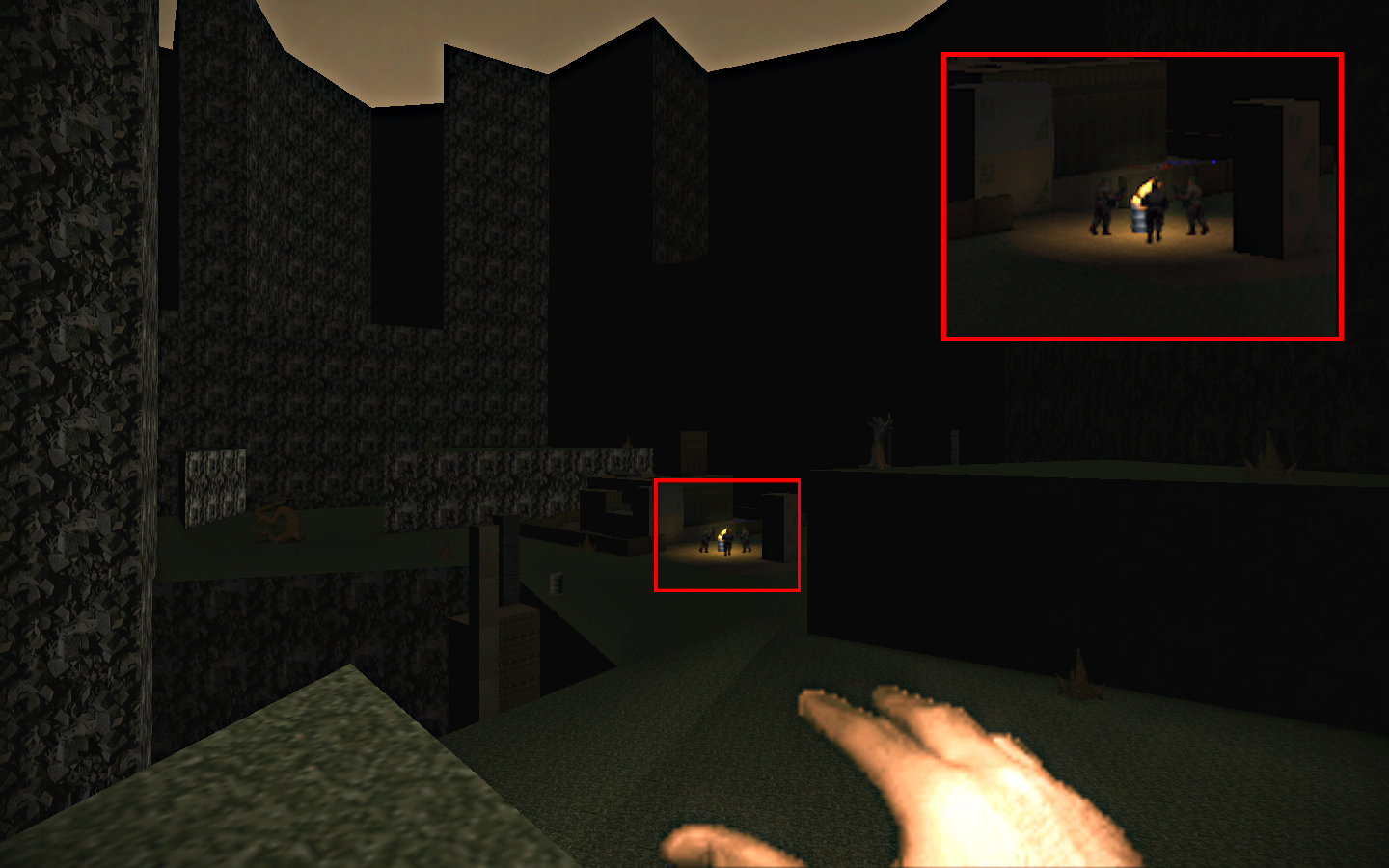 An outdoor area with a patrol warming themselves by a burning barrel
WHY CLASSIC DOOM EDITING?
Back in the day when I discovered Doom, it wasn't long before I was introduced to WADED by a friend. This was an old DOS-based Doom level editor. Countless nights on my pentium 286 with level editing followed, trying to create my own Doom worlds with visions I had in my head. I loved how my own levels came to life and how I could play in them. The only downside with level editing in the DOS era was that I had to go in-game to test the maps. This was very time consuming and lead to a 15 year break from level editing.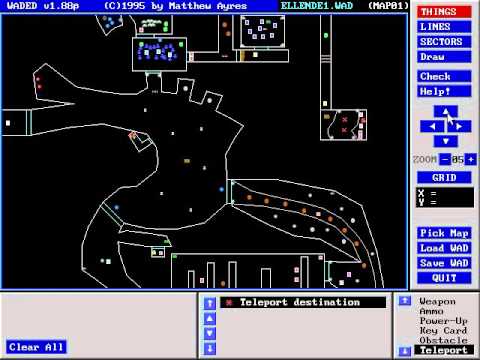 WADED, a 1995 classic Doom level editor
WHAT IS THE IDEA BEHIND BLOODLINE MEGAWAD?
15 years after I discovered Doom I started playing again, adding custom levels and mods to classic Doom to keep it interesting. A popular mod I enjoyed was Brutal Doom made by Sgt.Mark.IV. It came with a bunch of high quality custom maps in the Starter Pack Edition. When I reached level 23 called "Stronghold" I experienced something very strange and interesting. There were no monsters around and there never came any monsters as I played throughout the level. Because of this I had time to see how the level was designed even though my heart was beating fast, expecting monsters to attack me any moment. When I reloaded "Stronghold" at the end all monsters were back and I realised it was a glitch. Even though it wasn't intended to be empty I loved the glitch and wanted to do something with it... I wanted to pick up level editing again.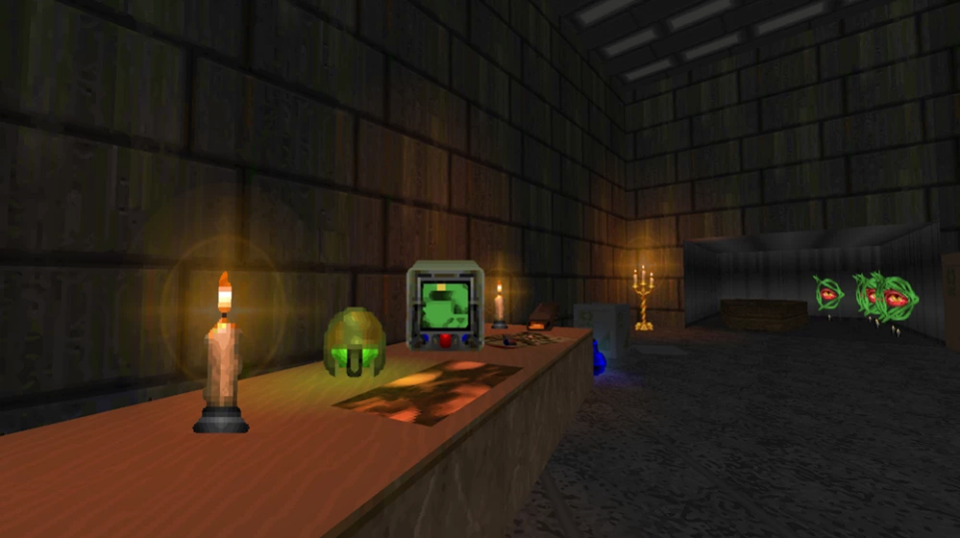 An office in a "secret area" of a home in Bloodline Megawad
WHAT ABOUT LEVEL EDITING OTHER GAMES?
I also played other games like Call of Duty, Medal of Honor and Unreal Tournament. Even though it was great fun I missed the easy level editing part to it. It was too hard for me to figure out the complex editing tools and just didn't feel right. The simplicity of classic Doom was my kind of thing stating "less is more".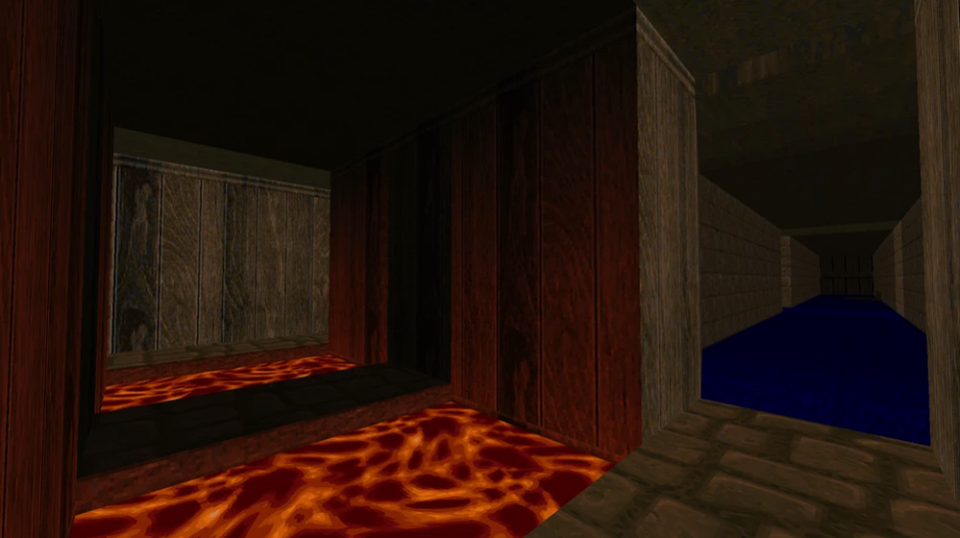 A weird area in Sandy's City in Bloodline Megawad
When I started creating Bloodline Megawad I partnered up with Luigi "LuiDeca/ WeeGee" Bonocchi who I met on moddb.com. He produced most of the soundtracks for Bloodline Megawad to give each level a unique feeling and atmoshpere.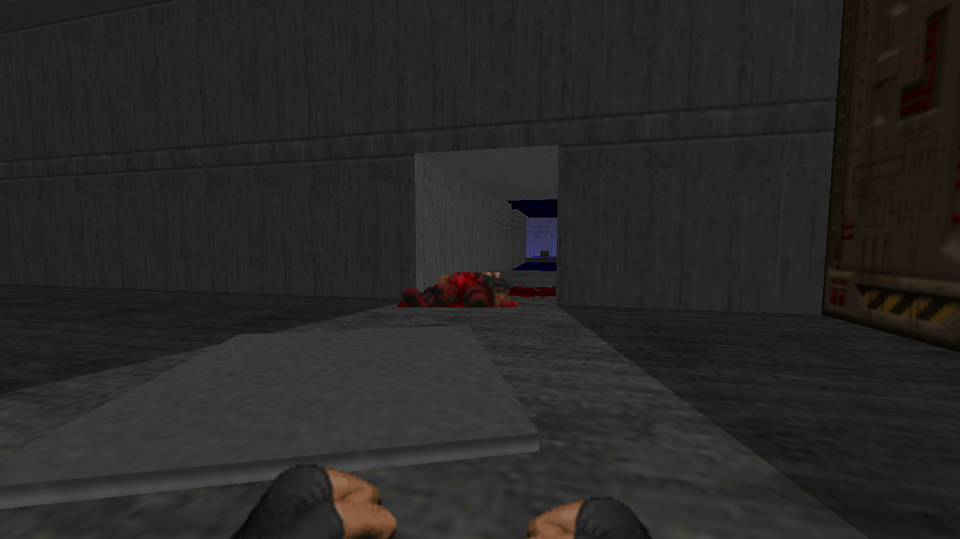 A secret passage following deeper into the bloodline...
MODERN DOOM EDITING
I started using modern level editing software instead of the old DOS-based WADED. GZDoom Builder has a 3D preview interface that allows you to fly through your levels and make adjustments at the same time. No need to go in-game all the time to check how things look. GZDoom Builder also allows you to create slopes, multi story platforms and 3D objects but I didn't want to advance beyond the "vanilla" feeling just yet.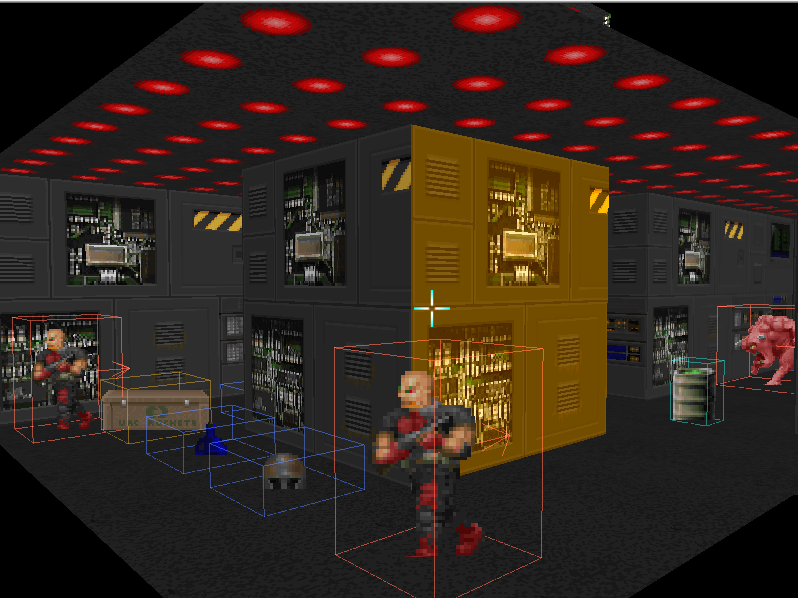 3D level editing interface of GZDoom Builder with placed objects and editing a wall texture
WHERE DID YOU GET INSPIRATION?
By the time I started working on Bloodline Megawad in early 2015 I already had many hours playing World of Warcraft, Grand Theft Auto, Medal of Honor, Call of Duty, Unreal and Far Cry titles. It was the experiences I got from these games that shaped my visions and ideas to create a world of my own again.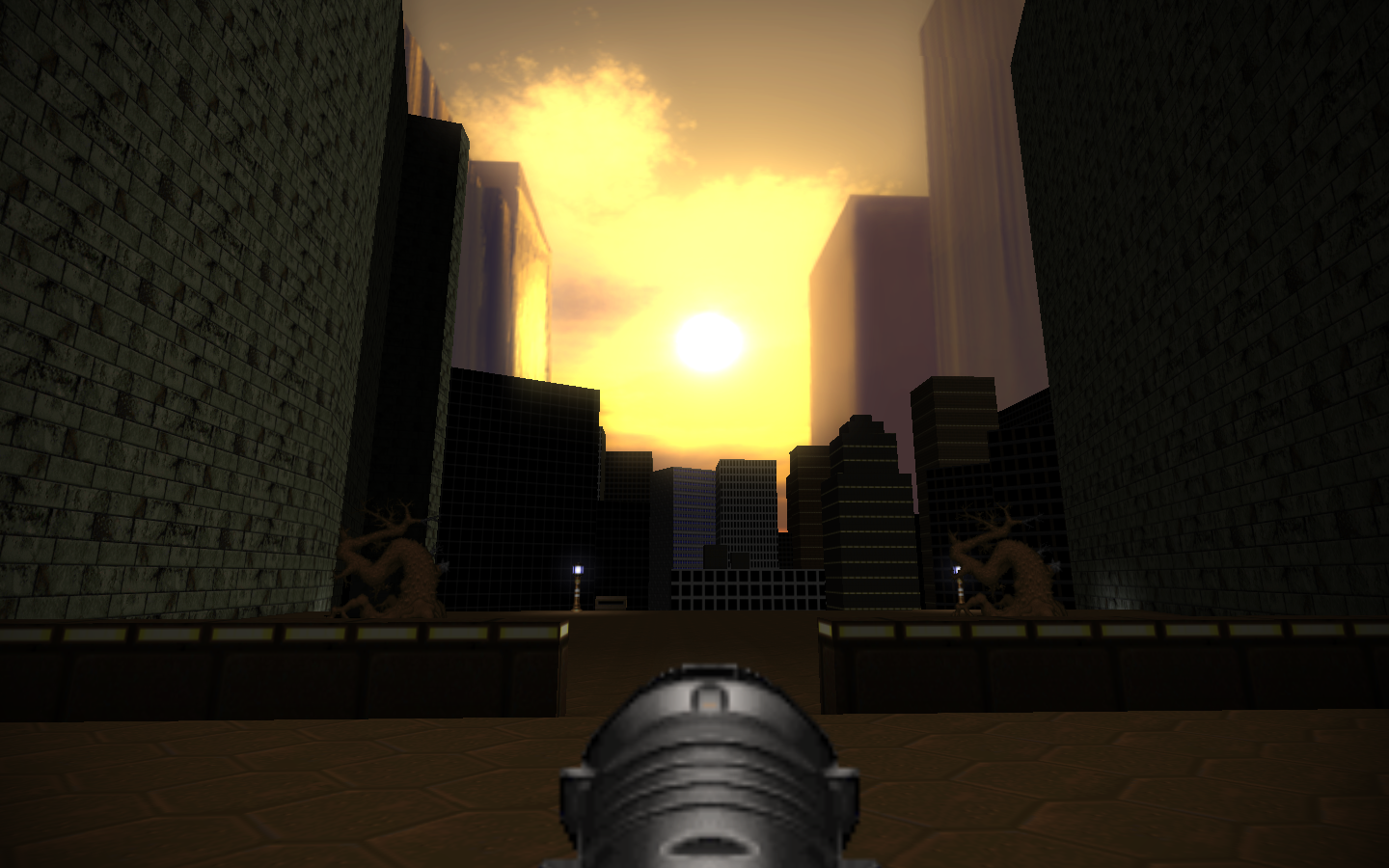 Entering Sandy's City in Bloodline Megawad
WHAT IS THE STORY OF BLOODLINE MEGAWAD?
The year is 2999. Monsters and demons from Hell are allowed to live an established life on Earth after the invasion. Under UAC's restrictions there shall be no violence between the hellish and the living. You are soon retiring as a UAC Global Peacekeeper, working your last shift tonight. As you take a sip from your coffee at the UAC Peacekeeper Headquarters, an incoming stress call from a nearby scout shows red alert. It tells violent activity at one of the local Baron of Hell's fun fortresses with human casualties. You answer the call and climb aboard your aircraft to investigate the cause. As you arrive at the scene, a trail of blood awakes your attention...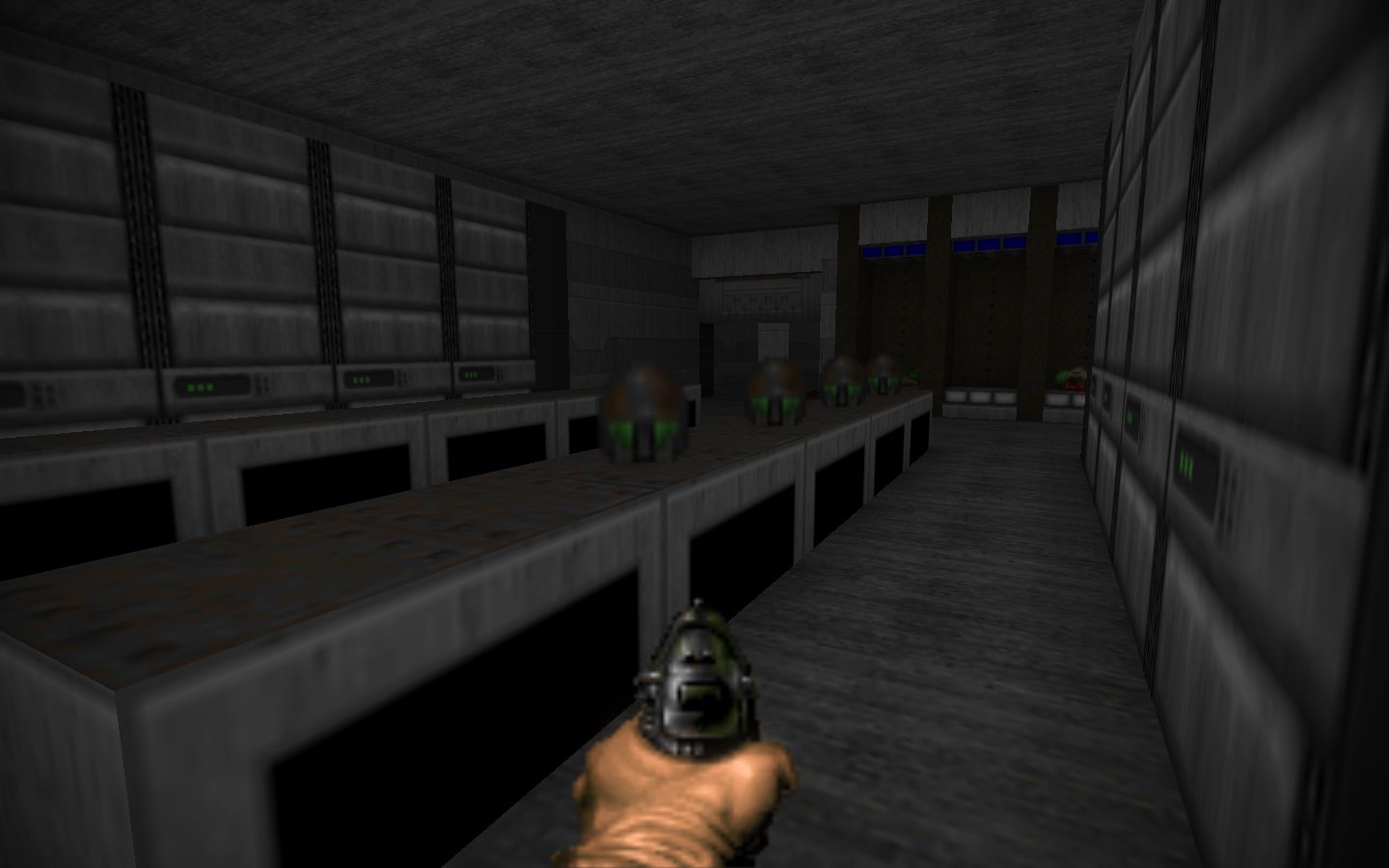 Screenshot of the changing room in the the UAC Peacekeeper Headquarters
HOW CAN I PLAY BLOODLINE MEGAWAD?
I tested Bloodline with the source ports Chocolate Doom, Crispy Doom, Zandronum, GZDoom, ZDoom, QZDoom, PrBoom+, Doomsday or Doom Legacy on both PC and Mac. Only Chocolate Doom crashed while playing on a Mac.
Download the final version of Bloodline Megawad here: Moddb.com
Producer of the official soundtracks: Moddb.com