...and we're out of Beta, we're releasing on time because we've waited long enough and have set a release date right now.

That's right! The last month was spent clearing out the major goals of Beta. It took lots of hard work, skipping on sleep and meals, and a bunch of hair-pulling, but we made the 2015 promise and we knew we had to keep it! Even if it meant going in full-on crunch mode!
Sorry about keeping the news from you guys for so long. To be totally honest, there was a couple weeks where we were totally unsure if we'd have to delay. It could have gone either way, but our dedication paid off! We're in the final stages of polishing and testing our release candidate builds, and excited to announce that as of now, Black Mesa: Hazard Course has a set release date: December 29, 2015. Ain't that some ish.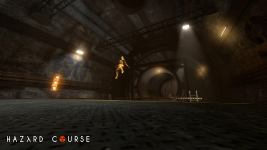 Bear in mind, this is the release date of Hazard Course for the mod version of Black Mesa. It's looking like converting things to be compatible with the Steam version is going to take a bit of time, and we don't want to keep The Course from you any longer than we have to. We'll begin working on that towards the end of the month. It shouldn't take too long, but we'd prefer to not delay while we cook up the Workshop edition. We'll let you know once we're ready to ship that version.

Yes, we understand that this update is really boring, a bit underwhelming and uninteresting, but that's all for now. We promise our next update will be a little more exciting.

See you on the 29th!