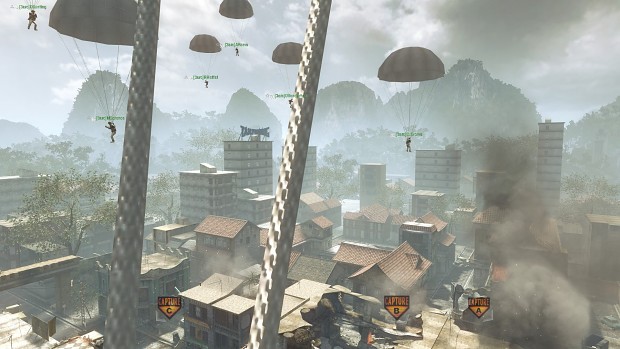 The strike team are Paratroopers which falls into enemy territory to recover 3 very important Docs which were lost after a plane crash, but the enemy already know that and is already going to stole them and transmit all the info to his Intel.
The Paratroopers must get the suitcases and bring to the pickup point which will be marked with a green smoke soon after the first doc be found, while the Defenders must get them to his terminal and upload all the data to his Intel. Is given one point to each Doc recovered, who have more points in the end of the rounds Wins.
As Paratroopers you can really drop ANYWHERE in the map, from very good spots until really bad and deadly places, and of course, you can be hit in the air by the enemy, so don't be surprise to die before even touch the ground, this is Airborne! this is WAR!
This is one of the gametypes with most Adrenaline as possible, with several objectives to both sides to be completed at the same time, which made this one of the favorites gametypes on Frontlines series.
It's available to ALL maps of Black Ops with ALL 3 DLC inclued! And the bots will fight, defend and complete all objectives on ALL maps. Like you can watch in the video above which was a very disputed match and the only human playing was myself.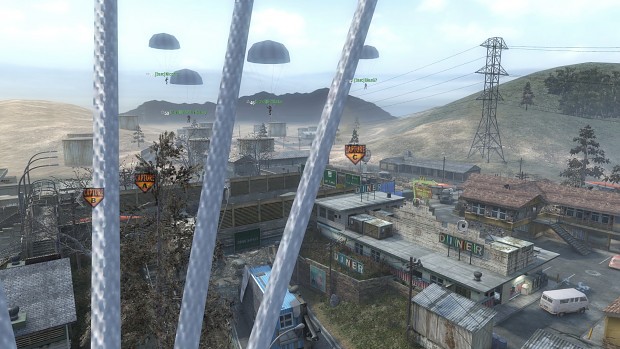 Airborne Options. scr_airborne_timelimit
. scr_airborne_scorelimit
. scr_airborne_roundlimit
. scr_airborne_numlives [0-50]
. scr_airborne_roundswitch
. scr_airborne_roundswitchspawn
. scr_airborne_sides_msg [show msgs to help the players]
. scr_airborne_playerrespawndelay
. scr_airborne_waverespawndelay
. scr_airborne_type [realism options]
Airborne Type Options
0 = Airborne can shoot With all Markers
1 = Airborne can NOT shoot | With all Markers
2 = Airborne can NOT shoot | With all Markers except the Kill marks
3 = Airborne can NOT shoot | WithOUT all Markers
Enjoy