The fourth installment of the BattleNodes: Unity Development Report is here. What are we going to talk about today?
Terrain preview - a look at Operations
Bird's eye - the map layout
Design decisions - computer controlled opponents and allies
---
Today we are going to reveal the final Control Zone (CZ) by taking a look at Operations. So what about this zone? First of all, the placement: this CZ is located right next to the southern exit of the Red Team base.
The landscape is rather strange and unsettling, as the entire Ops section was destroyed during the conflict. Burning buildings, shattered technology, destroyed walls, fire and smoke everywhere. It is not the place where you'd want to spend your vacation.
On the bright side, it is the perfect place for an ambush!
---
Now it's time for the current version of the map layout. Nothing more to add here, but the big picture itself.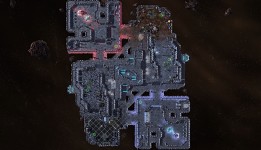 Actually, there is something to say here: the picture above is a work in progress (WIP) screenshot. Please keep in mind that many changes may occur before the public release.
---
Now what about the A.I.? We've mentioned it in the last Dev Report, so what's the story? Generally speaking the decision of having an A.I. implemented came from a simple fact: chances are that, at least at first, there won't be many games available on the net, so what better way to test the map but to add some computer controlled opponents and allies, right?
The A.I. will not be designed to specifically pose a great threat to a player who knows what he's doing, but it may give a new player something to worry about. The simplicity will help everyone get a general feeling of the map and give you a good idea of what the gameplay consists of. While if required/requested the A.I. might be improved in the future, the release version of it will exist simply to guide all new players throughout a game.
Of course, the best experience will always be achieved by playing with other people :)
---
With this we're wrapping up the fourth BattleNodes: Unity Development Report. If you are interested or simply curious, you can visit the mod's website at: Moddb.com
See you soon!