First things first: The work on the Major Release 3 is nearly finished. However, we decided not to announce a official release date (yet), but expect Battlefield 1918 3.0 to be released sometime this week.
Now, on to the promised features. Number one is a gunboat of the Insect Class: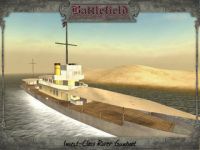 Those ships were designed to be able to operate in shallow rivers or inshore. Although they were intended for use on the Danube, the Royal Navy used them first during the World War I Mesopotamian Campaign.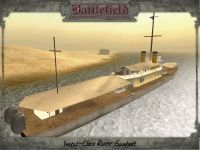 Talking about rivers: Our next map preview shows you two screenshots of a battle taking place along the banks of the sanaga river in Cameroon.
You will fight in the African jungle either as a soldier of Senegal or as a Askari on this map.
Last but not least, please have a look at this video:
It shows you how to call-in an artillery barrage using a kit. Basicially you pick up that kit (looking like a binocular), and by clicking the left mouse button, you call in a devastating artillery barrage at the desired location. Due to the enormous fire power you can direct by using this kit, you will only find it on very few maps (e.g., as shown in the video, on the Hindenburg Line map).
Allright, you guys know the drill: Stay tuned, for the time of waiting shall be over soon!