Well, what else is left to say? You read the texts. You looked at the pictures. You watched the videos. And now, finally, after all these months of work, Inside1918 is proud to announce that can now play Battlefield 1918 Major Release 3.0!
Let us not waste any more words. You guys know the drill. Get the installer. You all know you want it!
(For more mirrors besides this one please refer to the corresponding section in our mod's summary! We will try to keep that list always up-to-date.)
Note that this is a full client and therefore NOT a patch. That means that you MUST DELETE ANY OLDER VERSION OF BATTLEFIELD1918 BEFORE YOU RUN THE INSTALLER!
Please scroll down until the end of the text for the complete changelog.
---
A few more pics and stuff:
While you are downloading (which you should be doing right now...), please have a look about a few informations we would like to show you:
First of all, here are two final map previews, this time for Cantigy - one of the maps where the Doughboys engage the German fortification. This map is a classical trench warfare map.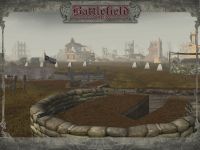 (told you there is no BF1918 news without pictures...)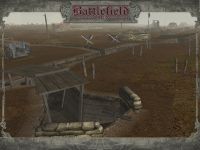 Please refer to our gallery for more promotional and ing-game screenshots!
No go and download already!
---
Oh look! A Video!
sYndrome (known as tetrodoxin here at moddb) made a video that shows you all the nations and armies we included in the mod, hope you like it:
Battlefield 1918 Mod for BattleField 1942 All nations in Battlefield 1918 video - Mod DB
Did I already mentoined you should download the mod now?
---
About servers & a event:
We also now have our own server, provided by Daddeltreff.de:
Detailed stats, a ranking and stuff like that can also be seen here: Gametracker.com
---
Who we would like to thank:
Inside1918 would like to thank the creators of Battlegroup42, Norwegian Resistance and Forgotten Hope for giving us both a helping hand everytime we needed it and their permission to use some of their content in our mod. Very special thanks go to BOMMEL and SARGE31FR from Battlegroup42 - guys, without you, certain things in the mod would not run as smoothly as they do now. Danke!
Very very special thanks go to Grauer Wolf, leader and founder of Daddeltreff.de, for allowing us to use his server, and therefore keeping BF1918 alive.
Note that we used some airplane models of a fantastic, yet unfortunaly dead BF1942 mod called "The Great War". We did not manage to get in contact with the developers of this mod; if we could, we asked before we used other people's creative work. However, we think that they would like the idea of keeping some of their great models alive by using them in our mod. Just in case we are wrong, please let us know.
---
The complete changelog:
CHANGELOG:
NATIONS & ARMIES
Added: USA
Added: Russia
Added: Italy
Added: Austria-Hungary
Added: ANZAC
Added: Gurkha
Added: Senegal
Added: Askari
Added. German Schutztruppe
Added: German Naval Infantery
Added: France 1914
WEAPONS
Added: Mosin Nagant Rifle (BG42)
Added: Mosin Nagant Sniper Rifle
Added: Madsen Maschinegun (BG42)
Added: Carcano Rifle (FH)
Added: Carcano Sniper Rifle
Added: Carcano Moschetto Carbine
Added: Tankgewehr (Anti Tank Rifle)
Added: portable Stokes Mortar
Added: portable Werfer16 Mortar
Added: Artillery Barrage (triggered by a binocular)
VEHICLES
Added: Gunboat Gnat
Added: Neunport 11
Added: Albatross DV
Added: Fokker DVII
Added: Royal Aircraft Factory S.E.5a
Added: Etrich Taube
MAPS
Added:
Amiens
Cantigny
Hindenburg Line
Krakau
Passo di Falzarego
Sanaga River
Siege of Kut al Amara
Tannenberg
Tsingtao
Changed:
Battle of the Nete: France 1914 added
Besika Bucht: Terrace flag removed, Ticketcount fixed
Bismarck Archipel: ANZAC, German Naval Infantery and Albatross added, added a balloon-flag
Bocage: Taube, Albatross, Fokker D7 added
Cassino: Austria-Hungary & Italy added
Champagne: Improved the radius of the first flag, flag in the woods can now be retaken
Langemarck: France 1914 added
Lutee de Honneur: ANZAC added
Montblainville: France 1914 added
Monte Piana: Austria-Hungary & Italy added; redesigned the stronghold
Tanzanian Plains: Gurkha & Askari added, improved the balancing
Tobruk: USA & Schutztruppe added; now with Assault-Mode
Ypern1914: restored the old version
---
Thank you for reading! And now, enjoy your stay at the battlefield of MAJOR RELEASE 3!