I've spent a lot of time over the last couple of weeks learning about some of the differences between the CK (Skyrim's editor) and the CS (Oblivion's). Two of these areas are LOD (Level of Detail) and Papyrus (the new scripting language). While I haven't made a lot of progress on Papyrus yet, I am starting to see how things fit together inside the editor and I'm excited by the possibilities.
Mapping and LOD
I have made more progress on the landscape side of things: Balzu's map is currently a 10x10 cell grid (100 cells) with over 4000 hand-placed objects (trees, rocks, etc.). This is how Bethesda created Skyrim's map and while it is very time-consuming, the results are worth it.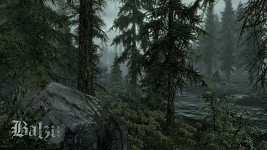 LOD is now also working correctly (you can see a few LOD trees in the screenshot). This is very good news since it wasn't clear at first whether or not we would be able to get it working properly. Everything seems to be in order now, though it does mean that Balzu will have to be released as an .ESM (master file).
Working NPCs and Services
NPCs also have correct face/body textures as you can see in this screenshot: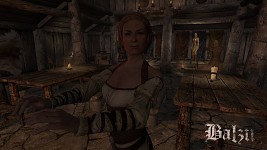 That's a WIP shot of the Shining Shingle, an inn in the true RPG sense: NPCs sitting at tables in smoky corners of the room ready to offer industrious players good old-fashioned quests. Or do they have something more sinister in mind? The inn is fully functioning, offering food and a place to sleep (though I'd like to expand it to provide beds of different quality). The inn has servers that will take your order, just like in vanilla Skyrim, a bard that sings and plays music (unfortunately, it's still just vanilla music), and a mercenary for hire (though I'm still working out some of the details on him).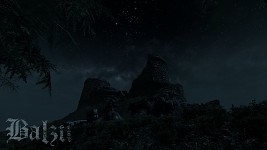 Balzu also has a functioning prison located in the bowls of Grigori's Keep, a haunted castle still in service providing the citizens of Bartleburg with some modicum of safety.
Potential Pitfalls
About the only serious bug facing Balzu is the navmesh bug, which 'breaks' pathing AI for NPCs in custom worldspaces. Bethesda has informed us that this issue will be fixed in an upcoming patch, so cross your fingers.
Although the mod is still in its infancy, I am very optimistic about its future, so stay tuned for more updates.
To Do
Here are a few of the tasks I'm working on at the moment:
* finish getting the hireling scripts working
* finish the smithy, sawmill, and apothecary (all started, but incomplete)
* start on the custom character generation process so players spawn a new game in Durs