Hi all! Today I got rather unusual news for you. I will be writing about the inclusion of the true Russian spoken language in Russian campaign. Also I want to show you the latest modelling result - the new PPSh-41 model. And I will say something about progress in weaponfiles as well (weapon behaviour scripts).
---
EDIT START
I think that majority of you know - we have put the "Back2Fronts visuals" in the download section.
This modification contains much of the visual style of Back2Fronts. It corrects original CoD2 models and changes their textures into much more detailed ones plus it has new weapon animations (G-43, SVT-40, Thompson M1, slight changes on Lee-Enfield, Kar98k, Garand M1 and MP-44). New sounds include all original weapons, artillery, vehicles and Back2Fronts menu music (full 8 min track). Also all Back2Fronts 2D graphics included (ingame icons, pictures and images of all sort). This separate mod is applyable to original Call of Duty 2 game. This separate mod is compatible with other separate mods from Back2Fronts team.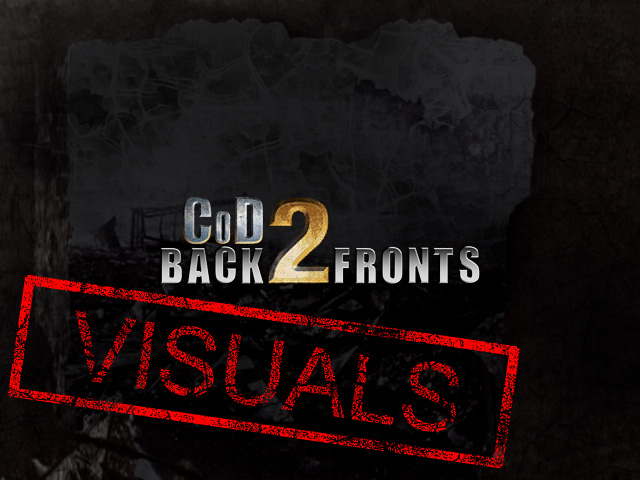 PLEASE NOTE THAT THIS IS NOT A PRE-ALPHA! We decided to release this to shorten your waiting. This modification (as the name indicates) is just a visual modification. This means that it changes only visual content of game like textures (skins), models, 2D graphics, animations and sounds. All CoD2 specific layouts had been kept in their original form (so UVs for models and their textures, layout for 2D graphics, frames for animations and timing for sounds). No scripts are contained in Back2Fronts visuals.
As a result of it being script-free (without scripts) and with original CoD2 layout, THE BACK2FRONTS VISUALS WILL WORK WITH ABSOLUTE MAJORITY OF OTHER NON-BACK2FRONTS MODIFICATIONS. You can apply it for example on WCP (we tested it)...
EDIT END
---
Sounds
True Russian language
The idea of giving the game the correct Russian voice is quite old. It was firstly done by a modder Pleiades. He took the files from Russian voiced version of the CoD2. Although we didn't used anything from his work, I put him into special thanks (credits) because he was the founder of the original language idea.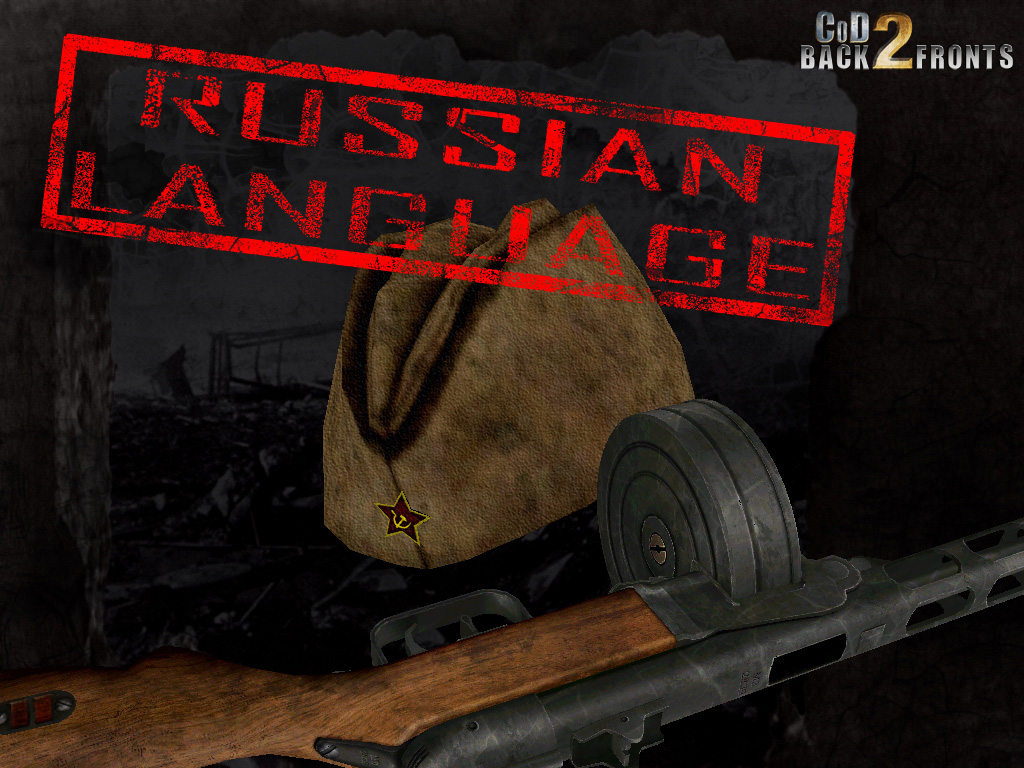 So we did the same. Our team member xxxCYCLONExxx got the Russian CoD2 so we got those files. I put those files into their places and packed a first test version. It has slight bugs like that the Russian voice is a bit less loud than contemporate German, American and British voices. I will try to fix that via script volume because I really don't feel into editing hundreds and hundreds of files :-) There are also some bugs in generic voice scripts but so far it seems easily correctable.
Asside from Russian, we will include also true American and British English because national versions of CoD2 usually replace them with national voice. Naturally we will keep subtitles for understanding. We hope that this feature will bring more realism and intense to gameplay.
As a result of including almost all voice content, this part of package has cca 1GB of data. Because of that it will be a separate downloadable addon, probably divided into 3 parts - Russian, American, British for smaller filesizes. This will also have a sideway advantage - you will be able to use it along with probably any other CoD2 modification because those addon language packs will contain only sounds.
CoD2 B2F true Russian language
Here you can check out the short video that captures the beginning of the Russian mission "Repairing the Wire". You can hear there that the Russians got slightly smaller volume than other nations. Also don't miss the new PPSh-41 model in video. Some sprinting is also visible and few other weapon models.

Models
PPSh-41
You have probably seen the previous PPSh-41 model that was done by Torre. He did good job on importing the Red Orchestra's model into CoD2 conditions.
You can consider this brand new PPSh-41 model as a kind of "version 2.0" :-) I remade the high resolution (2048x1024 pixels) texture for it to give more contrast, bright and detail. I had to reorganize it a bit because I was adding new images to it. Normal map and Specular map has been done as well to maximize the good look. I remodelled the whole model because it held quite a lot of corrupted surface. I also took few reference pictures of the real thing and corrected few historical inaccuracies. The result can be seen on pictures below:
You can watch here, or use image section.
To see it ingame in video, see the "CoD2 B2F true Russian language" that is above on this page. The PPSh-41 starts at time cca 2:26.
Scripts
Weaponfiles
I have started initial works on weaponfiles. Those are the files that control majority of the each weapon's behaviour. It also contains "visual" data - which model, animation, icon, etc. should be used for which weapon.
I have created an algorythm for some of the settings so they will be more "realistic", for example:
- The damage is based from kinetic energy of the bullet that is fired from the particular weapon.
- Melee is based on the mass of each weapon.
- Accuracy is based on the effective range of each weapon.
- Movespeed (speed of player when holding particular weapon) is based on the mass of the weapon.
There are more fields. The algorythm simply calculates the values and I then put them into the weaponfile script. It is quite boring and long activity but I think the result will be worth it. Right now I am doing the animation and model part of the script.
I think that is quite all for now. Finally I corrected some values in "MAIN MOD FEATURES" to correspond the present state. Namely the weaponfile script and PPSh-41 status.
MCh2207Cz