Hi all! Today's news post is going to be about the final MP-44 animation and progressed BAR animation.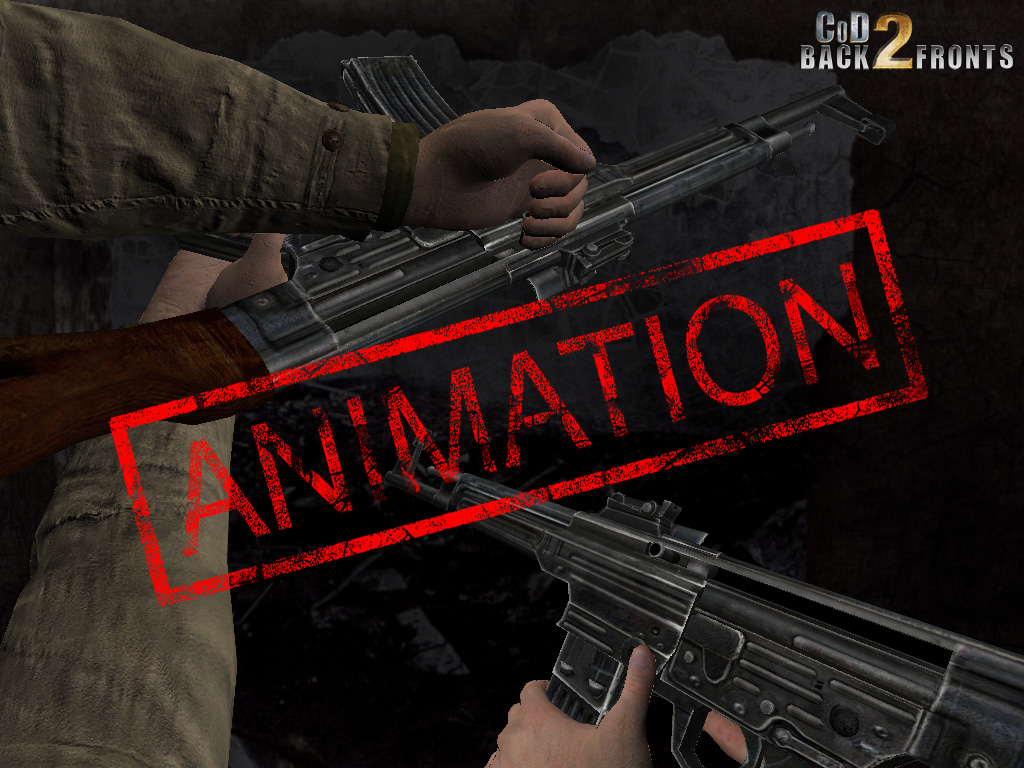 Animations
MP-44
I have just finished the very first 3D render video for the final MP-44 animation. It is also in fact my first true video render because it was done directly via the 3D application. All previous renders were done by screen capturing. It took a hell of time (my computer isn't the fastest :-) but I think it is worth it.
Also, this is probably my best animation work so far. I have been working on a lot of details on this one, so the overall look is natural and believeable. The main focus of course were the 2 reload animations (empty, not-empty). I think they are undoubtly the most beautiful part. The additional stuff like dust cover motion or magazine release button are kept from previous version of the animation (but are slightly modified). Aside from new reloads also aim-up, aim-fire, aim-down, fire, fire-last, putaway, pullout, putaway-fast, pullout-fast and melee animations were redone.
Sounds that are in the video are the same as in the Back2Fronts Visuals.
You can watch here, or use image section.
You can watch here, or use video section.
CoD2 B2F MP-44 (pre-alpha)
The 3D render of the animation (sounds included) can be seen here.
BAR
Recently, I have found a source animation file for CoD1 - the BAR. Sadly, it was in nonstandard file format in today's CoD standards and also had a totally different animation structure (the animation structure standard is since CoD2). But fortunetely I was able to convert it and use. It has lost keyframes and is just pure frame to frame animation but it will serve well as a base and pattern for the new BAR animation I want to make.
What I want to do is to correct the historical inaccuracy - the bolt handle is not moving on the BAR while shooting. And also, I would like to add an animated bipod (shaking while firing and reloading) and an animated ejector on the right side of the receiver (in the ejection port).
CoD2 B2F importing BAR from CoD1
The 3D render of the animation (only music on background) can be seen here.
There are happening more incoming news (skins) but I will tell after it is certain.
Finally I corrected some values in "MAIN MOD FEATURES" to correspond the present state. Namely the MP-44 and BAR status. That is quite all for now.
MCh2207Cz