Hello followers and HL1 fans !
You might wonder why the mod is really (like really) silent. The reason in simple, I've got too many things to do right now and prevent me from working on the mod regulary.
I'll never give up on this mod, you can be sure of that, regardless of the time it'll take to make.
Meanwhile, here's an old picture of how the corridor looks like with the new effects applied.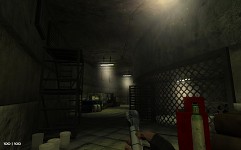 I hope the next update I'll do will have more content and fun stuff. Untill then, watch out for the ichthyosaur.