Here we go with the first news for this project. Arx End of Sun is fan made total conversion for Doom 3, based on Arx Fatalis game dveloped by Arkane Studios.
Is a prequel to the original story and we aim to recreate the same feeling/atmosphere of the original game on the Id Tech 4 engine.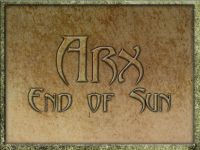 The mod has been in development by some time now, around 2 or 3 months. Our first objective for now is to recreate the basic gameplay mechanics you can see in Arx Fatalis.
This is what we have done so far:
1 - Inventory System
The inventory system works like many others RPG games. Basicly all items found in the maps are stored in the inventory interface. To use them you simply need to select one item and press the button Use or Drop if you want to drop them on the ground.
It isn't the same as Arx Fatalis, but we decided to go this way for some technical limits. The invetory interface appear in the screen in real time, so the game won't be paused, but is still quick to use. We were thinking to put some quick keys to use the common items like potions, but we have to see how it plays later.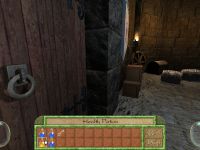 2 - Magic System
This is one of the strong point of Arx Fatalis. Basicly the magic system uses mouse movements to cast spells. Each symbol you draw will cast a different magic, however you will have to find the appropriate Runes to beign able to cast those spells.
We are pretty close to port this system to Doom 3. Now the mouse movememnts can recognize any type of shape, even circles.
The system basically recognizes compass directions built using directional vectors.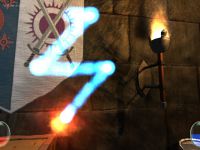 3 - Journal
Like in many other RPGs the journal will be here too. Basicly that function is needed to store player information, like Skills, Statistics, Magic Runes and Quests. Is still work in progress, for now we have only the interface that can be toggled with a button.
Later on will be filled with all the info needed.
The Runes page will show all the runes you have found, and clicking on them it will show the right gesture to draw in Magic mode, just like Arx Fatalis.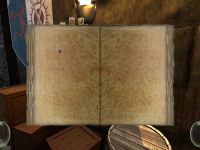 Those are the main features we are working on at the moment, we still haven't too much media to show about the game itself, apart some concept of the levels.
When we are done with those features we will move to implement stuff like a dialogue system for NPCs and HUB system for the maps.
Later we will need also more help, we are currently working on it only in two. So stay tuned.
Last thing, if you want to follow the progress everytime we have something new, you can follow our blog, or the Arkane Studios forums, which we thank for open a section dedicated to the mod (yes, Arkane Studios gave us full permission to develop this mod, so we are not stealing any IP).