Well well well, in what we can only describe as *a turn up for the books* we actually won some prizes in the Make Something Unreal Contest phase 2!
In order of omgwtf:
3RD PLACE BEST VEHICLE - Sturm Gunship - concept by Meganerid, build by Ikarus, texture by Strangelet
4TH PLACE BEST MOD - AFF: Planetstorm - the AFF team.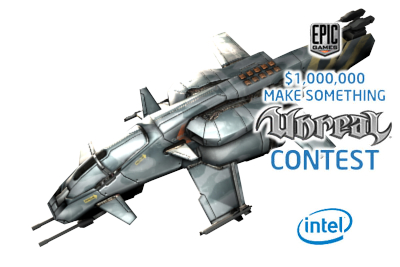 I'd like to thank the whole team, particularly Sarcen and Jetfire for really working their arses off to pull Planetstorm together. And Meganerid and Ikarus for making a kick-ass gunship!
Also I'll take this opportunity to reassure our fans that we haven't slacked off in the slightest, and phase 3 will see another release packed with even more awesome.
Strangelet
-Art Director-
Angels Fall First Universe
For those who didn't catch the last news, you can download our first release from Moddb. If you have any problems with the installation, you can ask us in the Planetstorm Forums. Make sure to check the readme first.
Common problems encountered can usually be fixed by doing the following:
Ensure that your UT3 install is patched to version 1.3
Go to /../AFFGame/Config/ and delete any .ini's which do not start with DEFAULT*.ini
Make sure AFFGame folder is sat next to UTGame in the My Documents and Settings/My Games/UnrealTournament3/ folder
If you're still having problems, don't hesitate to post and ask us. :)
---
We're still in need of people. If you like what you see and think you can help, contact us in our site: www.affuniverse.com or ps.aff2aw.com. Thank you. :)