H i everyone. Well there hasn't been much of an update because I've been busy with alot ofthings. Amongst those was preparing the 2nd and probably the last demo i'll be doing. Since it was nearing christmas I figured hey, why not make a map just for the occasion, and so I ended up with adding john doing some scenes and adding enemies.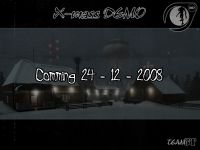 o verall i've done the map within two and a half weeks. Now it's time for me to put the icing on the cake as they say. I also am still looking for another 3d modeler who can do his own skins for some of the new npc's We have in mind. Ofcourse someone who want's to do some of the weapons is always welcome. I rather have a few people working hard on a few weapons then rushing 10 new weapons into the mod. There is no date so I'll rather have people take their time and finetune things.
S ince this project is my first real single player one with such an advanced 3d engine since I worked qith quake3's I'm still learning ton's of stuff.
This demo is going to be the last as I said before. But I might release one or two dev maps in the future. Because I'm still learning optimising maps, which means they have to be finished maps, added to that in those map's I do alot of entity testing, and instead of jus tcutting those maps from the mod, I'd rather expand upon them through this 2nd demo.
F or now this is it, only 8 days left before the demo's release. Here's a full image of one of the concepts that I've done. There are more as I said before, I just need someone daring enough to make a model out of this. if need I'll do front back and side images aswell.