A lot has changed after the final patch. I myself have been very busy and so I haven't had the chance to really finish anything. That doesn't mean I haven't been busy with 1187 ...
First things first.
As many of you know Myself and others from the team haven't been active much and here's why: Dec has been in college for quite a while now and the workload is getting more heavy. Things are starting to get more serious, but as we all know Dec, all he needs to do is work his magic. ;) Luckily he's been able to spend some time off but it does mean he won't be able to work on the mod as much or at all.
Same goes for Dave. This guy has been modeling for 1187 since forever. I'm glad to say that because of 1187, he's been able to get into a very incredible project. The amount of work Dave has put into everything is staggering. Not to mention his (weapon) animations. He'll end there someday in one of theose leading game companies and I can be proud to say I've had the pleasure to work with him :D
I'll miss both of them. Not merely because of the work, but because it was so much fun working with them. Both of them are highly talented and I can't wait to see where they'll end up :D
That's all fine and dandy you might be saying to yourself, but what about 1187 - Epsiode Two ? Because of all the recent changes I have decided to officially hold development for ep2 for a little bit. I will do stuff in my free time though, and all for the better of the second installment.
I've done concept art before but I'm giving it a whole lot more effort this time, that takes time, bt it really helps when designing places and characters. I already have been preplanning tons of stuff with Visorak. The story is pretty much there, all we can do is add details and make sure we keep consistency in the story and levels.
And then there's the occasional dev map I make to play around with stuff. but I'm not going into any full-time development anytime soon. I appologize for this, but it's just the way it is. To ease the pain here's a few concept images I made for ep 2. These images where made for internal purposes and not made for public view, the images as you can see do not show anything significant, other then a conceptual glimpse into 1187 episode 2.
Well, yeah, at some point we had co-op planned. So with the departure of dec and his lil project which was co-op remains unfinished.
I am still debating to tidy up what we had and perhaps release the current build. If I do release it I will be looking for people to continue development for it, mappers, and other artists. All of this depends on how well co-op will be received.
although there are tons of bugs in there, co-op remains to be a lot of fun so I'll get back to you on that.
So now what ?!? DLC !!!
DLC ? well, yes as you guys know I've been working on DLC, but admitting that I haven't had as much time as before to work on the mod things have slown down signifficantly. but fear not !!! At least one map is pretty much nearing completion all I need to do is add scenes, which will take time ofcourse but it's something.
Take a good look, I've been remaking the very first map from episode one. I've started pretty much from scratch. I've tried to improve on the initial design, I'm quite pleased so far, there's so much new stuff it's insane, not to mention new scenes that will be in it. The skybox has been remade and the intro and ending scenes have been greatly improved. But you'd really have to see it at first hand to really appreciate the huge change.
Sooooo, why am I doing this you ask ? well, because I wanted to see what I could improve, so I have done that. Not having that much time and not having a full team also was a huge factor.
The map will be included into the DLC. If people think the changes are signifficant enough, then I will consider doing more, maybe even all the other maps as well, some from scratch others heavily modified ...
I have also began redoing all of the civilian face skins and clothes. I'm not done with them and I'll finish them up sometime in the future. I'll show some of the more finished ones :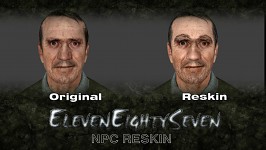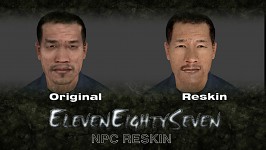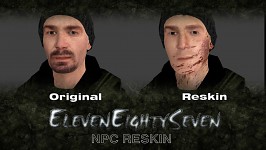 Also as you can see the military face skins are different from the regular civilians. (No, not all soldier faces will have wounds/blood)
So that's it for now, I'm sorry to have to announce all this, but the mod is not dead, and it will never be untill I'm finished with it !!!
On to more screenshots !!!!
I hope to have informed you guys enough to last a while. I'll try to continue to keep contact with the community, and don't worry, I have stated so many times before, I will not let this project die.
Joure