Hi there Gamers. Happy Year. Well, I must admit, I'm very
happy I stumbled upon this community that I thought I should blog a thing or
two. Oh... I'm Blaise Kinyua by the way, a team member of University of Games,
a new gaming company from Nairobi Kenya. The team is composed of 4 members,
Brian (Binary) the programmer, Herbert the artist, Joseph the project Manager,
and me (aka ST€@LT), in charge of marketing. We officially became a
company last year but we had already started making games before. It was kind
of like when you are in a relationship and it gets to a point where everybody
expects you to make it official. :-)
Anyways, we here now and we are happy to be here. But we can't just
continue into the future without recognizing and acknowledging the past. It has
been a bumpy, fun, exhilarating, adrenaline filled, mind boggling, eye opening
etc ride... So when we set out as our first company project to make the game
Election Thief, we had our fair share of experience, even though we are young.
In this post, I will try and tell you about our history with reference to one
particular game (not that the other game are not good, but this one is
special). Crazy Climber.
Crazy Climber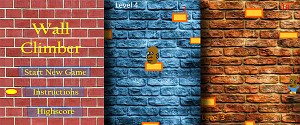 Nokia S40 Version of Wall Climber
We started making games for Nokia. Back then Nokia was a big
deal. So, on September 2011, the Binary was putting the final touches on a game
he was working on. There was something about the game that made it special, I
can't put a finger on it, but we could feel it. So by November, the game was
done and was published. Of all the games we had made, it was the most
successful. We really came to appreciate
the power of ActionScript 2.
Time moved on and the following year, the company and we
unanimously decided that our frst project will borrow the mechanics of Crazy
Climber.
Major Improvements.
By mid 2012, everyone in the company had finished their
undergraduate studies and we could concentrate fully on the company. That's why
he had to divide the tasks among the four of us.
So, the mechanics was there, we just had to improve on the
artwork, the game play and have a story for the game. The first stages of the
development were just coming up with the art assets and porting the game for
web, pc, and Android (ActinScript 3).
Towards, the end of the project, we needed a story for the
game and Elections was best fit for this game.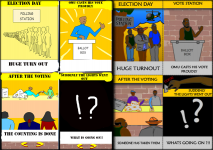 Development of the Story Board
Demo Version Ready
After all our hard work and sweat, I am happy to announce
the demo version is ready. The full game will be out Mid February. Get more
info from our site.
I'd really urge you to play the game as much as possible,
share the game as much as possible (family, friends even if you have smart pets
that can play games) and give us ENOUGH feedback so that we can produce a full
game that is loved by everyone.
Thanks for taking the time to read mu blog. Happy gaming
everyone. I'll remind you again, play the game, SHARE the game, give us as much
feedback as possible. universityofgames@gmail.com
Thanks.