So Force Friday hit. How did it go? Well a friend and I decided to hit up the Disney Store in the Trafford Centre (Manchester) at Midnight, only to be scuppered at the final hurdle by the M60 being closed and the exit to the Trafford Centre being closed off. Heading to the next exit to do a U-turn and see if we couldn't get off at the Trafford Centre going in the opposite direction we found to our dismay that the roundabout after the exit was totally gridlocked. Nothing moved an inch, for a long time, and I mean literally. So we ended up going the only direction that was clear which was in the opposite direction to the Trafford Centre, and with no options to find alternative routes back we headed over to Warrington's Toys'R'Us, we could still make the midnight deadline if we put the pedal to the metal. We got there at midnight to find a massive queue outside the store, got in it, and eventually made it inside the store around 1am, and of course typically all the good stuff was gone. Still members of the ever dependable 501st were there to soften the blow.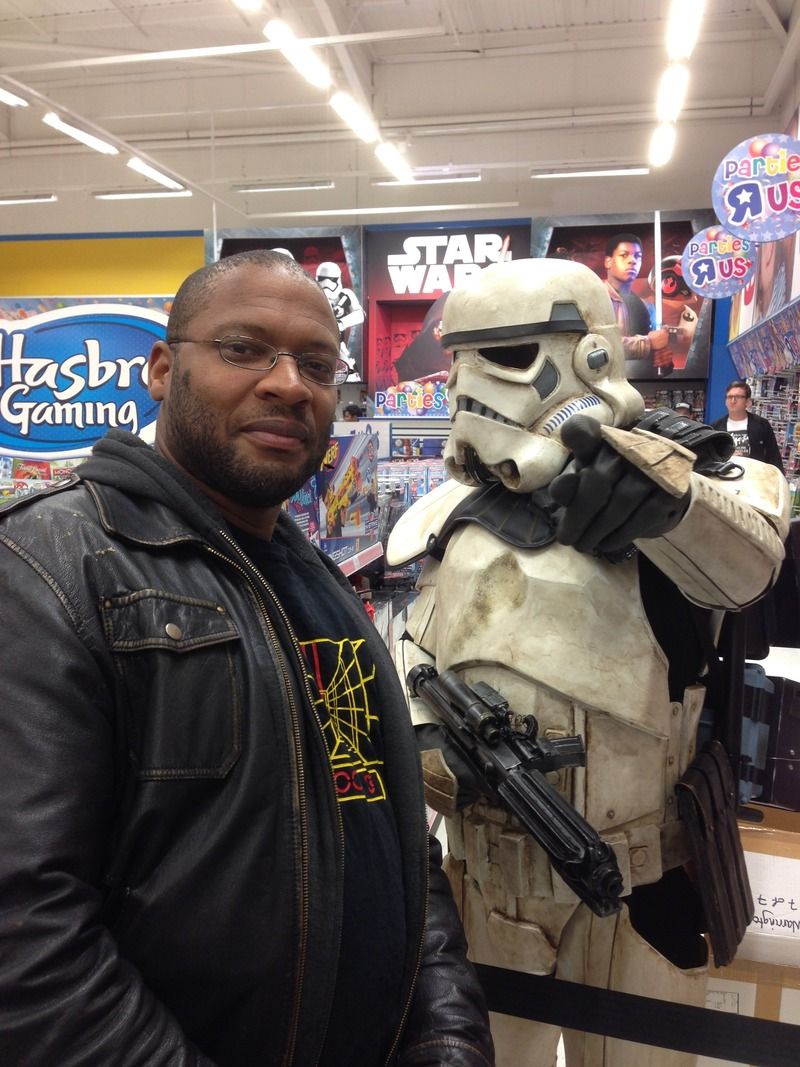 So headed home pretty much empty handed after all that, save for some freebies gained in the queue, a little cuteLego TIE Fighter that my daughter and I enjoyed putting together just before I took her off to nursery this morning.
All was not lost however. Once I got home in the early hours of this morning I went on-line checked outAmazon and picked up a couple of Black Series 6 inch TFA figures from there. Slapping my forehead going what was I thinking going to the midnight opening? It is the 21st Century after all.
That said, after dropping off the Little 'Un at nursery this morning I got a call from my fellow Force Friday Adventurer notifying me that I'd better get my arse down to the Trafford Centre sharpish, as he had bobbed in just before work and found it to be like an Aladdin's cave. Had the M60 closure prevented everyone from making the Disney Store's midnight opening? Or was it just armed for bear as far as their stock was concerned? Needless to say, I got my arse over there pronto, and it turned out that this Force Friday Adventure had a happy ending after all.
I won't say how much I spent (I wish to stay married), I won't say how much my friend spent (don't want to be responsible for his divorce), but it is enough to say we had a good day, and to tell you that you need an App-Enabled BB-8 Droid in your life. That is all.