I've been looking for some additional work lately (paid work, not mod related), and have just got done producing some sample work for a Storyboard Artist post that a certain games company has just started hiring for, works out well for me as it is a contract position that might just suit my current needs. Wish me luck with that.
Anyhow, it felt good to get the old pen and paper out again and do a little traditional media work, rather than all the computer based stuff I usually do. Sure I've done a little concept work here and there for First Strike, and floor plans for environments etc, but it has been far too long since I just sat down and did a more lengthy traditional media art project, besides these concept pieces tend to be a little rough and ready as they are quickly produced to get the idea swiftly across so production of 3D assets can begin. So to just be doing some 2D artwork just for the sake of it (well not really just for the sake of it, as obviously the work is geared towards getting me a job) felt good, being able to spend a little time on it, do a little mixed media. It let me know that it had been far too long, and like with all things you need to keep at it or lose it, if you don't keep exercising those muscles and keep on top of it you'll lose your game. Luckily after a bit of a slow start getting back into it, it soon started to flow and some not half bad work was produced. I still feel that I was a little rusty, and nowhere near as good as I was when this was all I did, but this has certainly convinced me that I need to keep at it and produce little traditional media pieces every now and then just to keep me on my toes and flex those other artistic muscles to make sure I stay in well rounded tip top shape.
So I wanted to produce some high end storyboard work to compliment the style of the job post I was going for, and to add to the various types of storyboards I had already produced in the past, but where to look for inspiration? In the end I didn't have to look too far. If you have followed First Strike for some time, you may remember a Fan Fiction Competition we ran the other year. When hosting this competition I decided to write an example of the sort of stories and scenarios that people could draw upon to create their own First Strike Fan Fiction, this initial piece took the form of an introduction to the back-story to the popular Tatooine: Mos Espa map, as featured in the loading screen text. It was this that I chose to expand upon for my fiction sample, and it was here that I chose to take inspiration for this storyboard sequence I needed to create. I developed a storyboard based on the opening scenes of this fiction, and I'll post the results here for you to check out. First the overall storyboard sequence, and then if you want to see the individual frames in a little more detail, check them out in the images section above.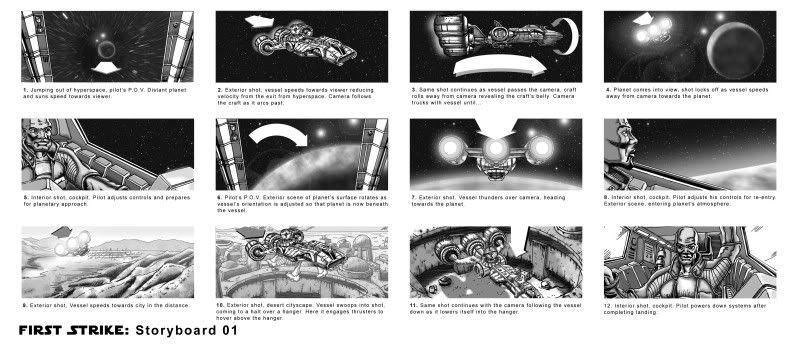 If you wish to check out the story that this sequence is based on you can find a link to the First Strike fiction here:
Check this FS forum for the various entries that were made for this compo, there's some pretty good stuff there which is well worth a read: