I know it's been a while, felt once again it was time to post something new. Basically I've been working on my Sonic work again, even wondering about my survival horror game. For now I'm considering focusing mostly on environment work so I can make assets that can be used in any of my future games that I'm trying to work.
Anyway the reason why I'm posting today is because I finally got a new build, thought share the basic test demo that I've worked on. So far I've reworked the animations, rig so it's easier to use. I'm still not sure how to get blink animation working for eyes but for now thought try do the best I could for now.

Currently I've got the test demo working standard keyboard, mouse and even included controller support.
Transform into Super/Normal Sonic: F on keyboard, Controller Y (Tested on X1 controller)
Flight up/down = Keyboard - Q/E, controller - LT/RT or L2/R2.

Movement = WASD controls with mouse, thumbs sticks for controlers.
Moddb.com download here.
8/4/17 update: Survival horror 'Doomsday' is being worked on again. I have the draft map design for an area done, currently in the middle of building the map. (Still heavily inspired by games like Re2, Dino Crisis 1)

10/4/17 update: Still making changes to the Sonic project. Already improving my Super Sonic material, experimenting with UE4. Watching a lot of tutorials that can help me with my development in both the survival horror game, the Sonic game.

Anyway here's a new image: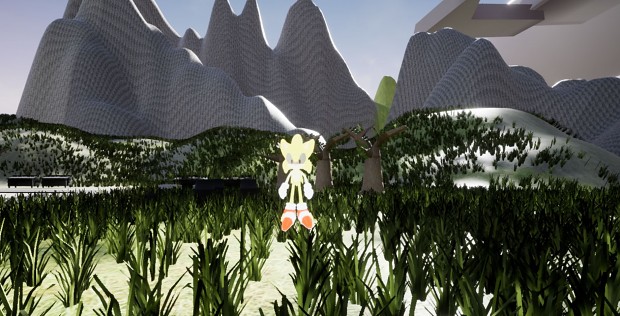 Edit 26/4/2017 Update: Taken demo down for now so I can work on better build.