Hello everyone,
I don't have much to say other than here is what I have been working on since I joined the Movie Battles II team a bit ago. And some stuff that won't be in the next update but is in the works for the future :P
First off, I am going to do some stuff that you guys have seen before, starting with Revans Flagship Duel. (AKA Leviathan Bridge duel for the BaseJKA version)
Here is the MBII mapping wiki on the map.
(In case you have not seen it yet)
It is a 3v3 duel map, Bastila and 2 jedi accomplices, vs Revan and 2 Dark Jedi
Screenshots: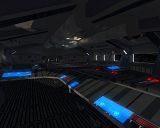 (Screenshot looking out at the skybox)
For those who are wondering: Yes, on the pipe and on the outside of the ship there IS fake bumpmapping... its not perfect because well.. its JKA :P Some parts of the map are also destructable (Not as much as a map I am going to show later on)
There is also a little surprise near round end, but I will leave that for you guys to figure it out. It is not huge, but I can be life threatening :P.
The second map I implemented into Movie Battles II was Ravager Duel.
Here is the wiki: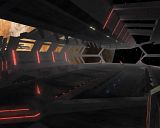 Next one Isn't technically my map, but I did the awesome skybox and sith fighters outside :P. Rest goes to Shadriss and Inyri (for harvester models)
Im proud of it, sorry XD
3rd map I added into Movie Battles II is RC Bridge duel (RC referring to my Republic Cruiser map - Not Republic Commando)
Wiki:
Since the map is very similar to the Republic Commando RAS counterpart, we decided to do a FA based on that section from Republic Commando (See wiki) Although the map is not exactly the same.
Thanks to Plasma for adding the crates in the map, and the FA.
Screenshots:
Destrucability FTW?
Now, done with the Duel maps XD
The first assault map is Jedi Enclave on Dantooine. We had gotten permission from SMoKE to convert his map to Movie Battles II. I am not the only one that worked on it (although I did most of it) Plasma started off by adding a few simple things to the map and doing the Full Authentic... I did just about everything else after he put in the spawns/objectives/new things in the Courtyard. (And the FA mind you) Thanks again Plasma for those :P
Once again, here is the Wiki page:
Screenshots: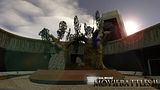 (I know theres fighting, but I thought it was a good pic :P)
Rebel Spawn
Imperial Spawn
Radiant Layout pic:
(Some gamplay pics are on the gallery, btw. - as is these screenshots here [Map Showcase Section])
The next thing is.. uh... Duel of the Fates... BEFORE you go like OMG WHAT DID YOU DO TO MY DOTF OMGZ :P, I didn't do anything to the layout... just visuals, with the help of Frost who did the textures :P (look much better imo)
On my machine I also increased the FPS by somewhere between 15 and 25 FPS by adding Hint portals and fixing some VIS work and Areaportals that were missing in spots. Lighting is also smoother in the main hanger (Added Phong shaders to the ceiling, and changed the barrel things in the middle of the hanger to patches) Along with new glow shaders throughout the map.
Sadly, for you glitchers, you have lost some of your advantage points also, such as getting inside the map by the forcefield things in the gen room from patches... and standing on top of the glass in the generator room also :P. Your fault, not mine, don't whine :P.
Hey, if you are gonna glitch, and you get caught... its gonna most likely get fixed :P
These screenshots are once again, on the Map Showcase section of the gallery.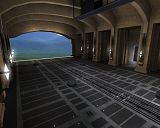 Thanks again to Frost for the textures, which are both more realistic and look pretty good (especially the hanger floor)
These updates DO also include Duel DOTF.
Some of you also know about the Christmas DOTF which was a combination of work from Plasma and myself. Plasma did the textures and I did the actual map work... see the thread (incase you haven't seen it) for more info.
That map should be compatible with the next release, since its has its own BSP and does not have the textures with the map. (uses released DOTF textures)
Now, since I am done with all that (wow)
I am on to my WORK IN PROGRESS section
First one, a lot of you know... Republic Cruiser, which will be converted to a Movie Battles II playable format, as long as a few other mods (Different layouts for each though)
For that map, I suggest you follow this link, it is the most updated.
(pictures included, 3 page thread - except for additional links to older screenshots)
RC ftw? :P
Enjoy that one, I know you guys have been waiting for it for almost 2.5 years (one month left to go till then XD)
Here is another MBII map called Leviathan Escape.
Again, the wiki:
This map is very WIP, and hasn't even begun any testing phase. (besides my own personal tests)
So, I'll start with the layout that is subject to change (although its very accurate compared to 2 specific areas of the Leviathan ship in kotor - I combined the 2)
First pictures are of the Rebel Spawn.
These next are of the Imp spawn (Which will be a movable one... this is the first position)
Here is a WIP in-radiant shot of a maintenance area... I'll tell you how you get to it in a bit, kinda cool :P
Now, this map probably has the most interactivity that I have done thus far... although it is giving me a lot of issues too :P
First, is this massive entity spam :P
This is basically, where you shoot the pipes on the wall (wherever you hit it) steam will come out based on that. It works in-game :P
Then this little surprise :P
Corners in the map are FULLY destructible, so watch out... some go away in chucks... others just go straight away, depends on how much damage they take.
I will be working a lot more later to get collapsing pipes and that kind of thing, but there is something thats kinda neat with the ceiling lights... you shoot them, they go out :P so be careful with that :P
Ok, so how you get into that maintenance area is kinda neat... there will be a special section on the floor where ... if it takes enough dmg from heavy stuff (such as TD and rockets) the floor will collapse into that maintenance area... with fuel surrounding you :P some of that fuel will spill on to the floor via efx file.. and the collapsing of the floor will be completely scripted in.
Then, for round end (if the rebels board the Ebon Hawk) I will make a small cut scene type thing or a delay for the objective, and have the door to the Ebon Hawk close... and the ship take off and start to leave the hanger... when it leaves the hanger the round will end :P neat feature imo :P
Hope you guys enjoyed reading through all that... it took a while to put together :P
Hope you like my Work in progress stuff also!
Thanks, and enjoy!!!
-MaceCrusherMadunusus