I figured I'd kick off a feature for my blog where I'd run through a couple of the latest video game releases of the week and let you guys know what I think about them. I'm calling it "Karuto's Flavor the Week", although the title is tentative. Who knows? I might throw up some flashy, eye-catching art or something. Let's get started.
---
Requiem: Bloodymare
Reqiuem: Bloodymare is a brand new PC MMORPG from the creator of the wildly popular Ragnarok Online, Gravity. Now, when you think of Requiem, the first thing that would pop into a lot of hardcore gamer's heads are the Requiem computer games from the 90's, and honestly, the concept of this game isn't far from that. It still mixes homosapians and beasts together in a fantasy world. Likewise, it also takes into consideration the much more mature themes, and it shows in this heavily Western-influenced title. This game is certainly not meant to be played by children, as is evidence with the ability to hack off limbs and decapitate your foes.
From my experiences in the beta, the game does remind me a lot of another popular MMO, Lineage II (at least, as far as the art style and some of the gameplay is concerned), but it does do a lot to set itself apart, such as a "Nightmare" mode (where stronger monsters come out at night), the ability to transform into this bloodthirsty beast, having full control over the evolution of your character, and the absolutely ginormous PVP battles (up to 192 people fighting on a single battlefield) makes this at least a try. Hell I played it for a few days, and I usually give up on online games sooner than that.
---
Spore Creature Creator
Thanks to a preorder at GameStop, I was able to pick up this exciting little "mini-game" for free. The soon-to-be multi-million dollar franchise Spore has been building a lot of fervor since it was announced back at E3 2005, and now we''re less than 3 months away from the full game's official release (September 5th in Europe, September 7th in North America and elsewhere), but here we have the precursor to the penultimate God simulator, Spore Creature Creator.
The Creature Creator is really the second step you take in the game (the first is the Cell phase, where you'll be running around gobbling up microbes and protein while avoiding predators and other dangers). You basically start off with a spinal cord with the ability to freely morph and stretch like clay into whatever shape you desire which hopefully resembles something close to beast-like (although I'm sure there will be plenty of risque creations as well). Using this utility, it basically allows Maxis to populate the universe of Spore before the game's September release, which I think is a great idea. I can't wait to build my race up to the Space phase and go around blowing up my friends' planets!
This extremely ambitious project will certainly be EA's new cash cow in the future like with The Sims, but let's not talk about that.
---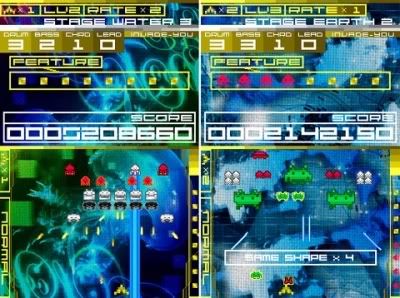 Space Invaders Extreme
What's old, fun, and makes you feel like you've just had too many hits of acid at a Rave party? Why, Space Invaders Extreme, of course! This trippy game is evidently an update from the classic arcade game from the late 1970's, released for both the Sony PSP and the Nintendo DS. With updated graphics and a techno-filled soundtrack that is synched directly to what's happening on screen, the series has certainly been giving a huge injection of adrenaline with this latest title, breathing new life into an old property. For example, a great first for the series is the ability to dual it out in the new multiplayer mode.
I highly recommend the DS version when it comes to this feature, because not only can you share the game with someone who may not own the title using the system's Download Play function, but you can also go online and upload your score to the Worldwide Rankings board, while also playing against friends and strangers alike.
The best part is that this game was developed by Taito, the original creators of Space Invaders, so there is definitely a healthy amount of authenticity to be had here, and this is by far the company's best effort at modernizing an arcade hallmark.
---
---
So, what do you guys think? Good first effort? Let me know what changes or additions you think I should make!