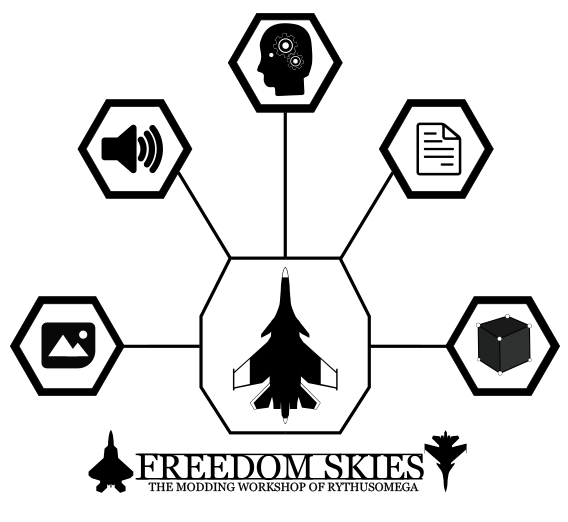 𝐅𝐑𝐄𝐄𝐃𝐎𝐌 𝐒𝐊𝐈𝐄𝐒 𝐅.𝐀.𝐍.𝐂.𝐑.𝐀
(F.A.N to .COMPANY.RESPECT.AGREEMENT)

-FREEDOM SKIES F.A.N.C.R.A is ALWAYS subject to changes mostly at Moddb and Nexus user pages. So experienced users, or non-commercial copyright holders, always feel free to read the entire thing about legal doubts, and to avoid starting unnecessary drama when Rythus, or some members part of FREEDOM SKIES didn't made part of illegal acts or drama alert.
About FREEDOM SKIES
-FREEDOM SKIES team is a independent personal workshop team by RythusOmega.
-We work in teamwork with users, not communities for improvements on QoL of AC games.
-And we share knowledge when possible.
-The main goal of FREEDOM SKIES is to share and learn knowledge explaining how to make visual mods for Ace Combat 7: Skies Unknown, considering the game uses Unreal Engine 4, know for some commercial games supporting a well known native light mod support.
-Know that the director of the team, Kazutoki Kono, said it finds interesting the idea of custom skins made by users, from the times when Rythus' previous project was active for Ace Combat: Assault Horizon(Project Custom Horizon, using Texmod/uMod to replace textures), the black sheep of the series(despite begin a spinoff, not part of the main series). and the ACX modding promoted by SuperOstrich and TugaAvenger, probably was the main bulletpoints of allowance.
-FREEDOM SKIES works are non-commercial, any action of reselling the game by grey market terms, including mods made by Rythus, or any mods available at Moddb/Nexus, is considered a illegal act, and by strict orders, begin by BNEI reach, PA reach, the community, or even the public services of defense orders of the country, you will be forced to stop selling those, even if you violate it. If you brought some of those illegal game copies for mods mostly, make sure to ask help of police/law services for getting a refund of your money, and start downloading mods on their original sources, which are Moddb and Nexus, where most of the mods will always get constant updates and patches by their original authors.
-FREEDOM SKIES, including his leader, avoid begin part of and interact in internet dramas, be it Ace Combat community related or not, obviously it happens at some point, but main focus of the project, and RythusOmega non-commercial business is working at content for the players. If violation of the rules and terms occurs by RythusOmega input, the same will be rethinking his concerns for improving, or blacklisting.
Texture Modding Terms of Service
-FREEDOM SKIES doesn't responsibilize, or is involved, in random mods which content are explicit sexual(cartoon, be it western, oriental, or semi-/photo realistic description), explicit violence(i.e. realistic human gore), vandalism, hateful, and low effort troll(exceptions begin the Joke Mods, at least if the idea has a clear purpose). As obvious for everyone in internet. It's impossible in trying to block those type of content to happen at all in fraction of seconds. If they will appear obviously, by your personal criteria, feel free to report those types of mod(unless the content tends to be very extreme, so the removal of it is a urgent task). But will not exclude the fact those can be rehosted in obscure or known uploading platforms for a niche fandom, or different internet structure.
Model Modification Terms of Service
-FREEDOM SKIES, as always, be part of Rythus, or the co-workers, will always ask permission first but mostly, for using non-commercial 3D models of specific aircraft(i.e. F-105 Thunderchief, A-4 Skyhawk), there are chances it would, or not be allowed. But mostly as said above, Rythus refuses any connection to illegal behaviour of porting 3D models without permission of the original author, nor i responsible for the drama alert that will happen after that. Additional information about it are ;
*Porting existing game models(e.g. Battlefield, HAWX, War Thunder) don't need such specific credits by mostly begin a common thing on any modding community, exceptions begin ArmA, due Bohemia Interactive is very strict with the use of their assets for modding purposes.
*Flight Simulator X, 2004, Prepared 3D, IL:2 modules which are freeware mostly, need first a reach of the original author for permission, also depending of cases, they will contain a EULA about it.
*DIGITAL COMBAT SIMULATOR WORLD(Free/Payware), FLIGHT SIMULATOR X/2004/2020(Payware), and Prepared 3D(Payware) DLC module/mods are HIGHLY DISCOURAGED to begin ported into AC7 or any game, by involving commercial companies input aside of strict EULA terms, the DMCA legal information involved has a risk of turning into serious problems on your end.
-Depending of the Original Aircraft(i.e. ADF-01 Falken, CFA-44 Nosferatu) or existing IRL ones(i.e. F-117A Nighthawk, F-5E Tiger II), if an official DLC of it is released, FREEDOM SKIES will avoid mostly to create those type of mods, however, workaround ideas can be used(Ex : modification of the selected aircraft into unique real/fictional variants). Obvious exceptions would be improbable aircraft to debut by common logic(i.e. R-101 Delphinus#1 and any AC3 aircraft until the next title based on it).
-Modifying an existing in-game model into another variant(e.g. Advanced Super Hornet) is totally encouraged, due those turns always into interesting results by model kitbashing(be it scratch, or with external models). Scratch made modeling from zero by the user are also encouraged, despite it depends of the terms listed at ¹
Miscellaneous
-FREEDOM SKIES always respect the rights of Bandai Namco Entertainment(BNEI) and Project Aces(PA), FREEDOM SKIES and RythusOmega, excludes any relation to any ACE COMBAT 7 datamine information share/use/leak(excluding moddable assets or for educational purposes). If at some point malicious users decides to violate modding limits from the current time, with the idea of abusing on the Multiplayer cheating territory(trying to bypass the integrated anti-cheat limits). One of the supposed actions of the highers of the two would be removing the "~" mechanism(known before as "~mods" folder mechanism) from the game entirely, trying to debate and argue into the return of the function won't be possible by the weak niche reputation Ace Combat has, and Bandai Namco executives current market interests(mostly by Bandai), be it public, or personal.
-FREEDOM SKIES doesn't cover ACE COMBAT 7 exploit methods, be with tools to unlock DLC content, and Cheat Engine editing for malicious Multiplayer cheating. exceptions begin backup save editing, considering Rythus agree at some part, the restriction of the save files to each account turns into an annoying aspect when a corruption occurs with your 100% file, so you would need a external tool(which doesn't exist at the moment) to recover at least, Single Player elements, but of course, don't use this as an excuse to claim : "I'm best Ace Combat veteran player, finished all of the games with S-RANK!, look at my 'saves' plox."
-¹FREEDOM SKIES also, doesn't approve making payware mods for Ace Combat 7: Skies Unknown. Commissions unless it's made by personal contact only, not turning into an public e-commerce with Patreon, is tolerated. Modding e-commerce to BNEI and other games exist, in fact, mostly doing high quality work by free all the time isn't a fair trade of your skills, is understable, the only thing i had to say that good luck when trying to discuss with Bandai Namco if terms are infringed…
Useful Links
-Kono and Shimomoto Interview to a Korean newsletter, including a mods question before the game release(origin of the licensee dillema from model porting):
(Translation of the interview bits by SlyCopperFan1)
-Japanese Alienware interview about Ace Combat 7 translated by TaskForce23, which Kono and Shimomoto mentions AC7 Ultrawide Mod by WSGF, along as a similar POV of modding seen on the Korean newspage, listed in Pt.1:
-Kono's regards about datamining coverage of Ace Combat 7 on Acepedia, with a said answer from Bandai Namco Japan for him:
-Honourable Mention of Masato Kanno(UGSF and one of PROJECT ACES Art/Mechanical Design Director) about his POV of the modding scenario(not a official answer from BNEI part mostly) :