As soon as certain intellectual property is released, version 10 will be as well, featuring elements of such property alongside newly developed model porting, and integration of all available types of weapons, some possibly redundant, but nonetheless, this project will indeed reach it's original mission goal set all the way back when I was in secondary school. We WILL have the most variants of any WWII First Person Shooter. The must-have mod for every gun-enthusiast; however, a few elements of game play are directly affected by this multiplicity of options as to what to use to shoot your opponent with. A larger percentage of people will find their most comfortable choice of weaponry for every situation on every team, equivalency is a big deal and we've been (incidentally) testing this multiplayer mod for years since we use it every week on game-night. Limitations to this being what they are, Version 10 will come in both normal (large) and Lite versions for people whom wish to play a larger array of maps or perhaps use the BAS game-type, something which it is expected, only the lite version will be compatible with.
Some things to expect:
More American weapons (Starting with Cohnred's M1941 Johnson LMG port)
More weapons on each side; current count is Germans - 17, Americans - 15, British - 14, Russian - 12
Projections include Germans - 20-22, Americans - 18, British - 16, Russian - 14
Planned features: Working on wall-shot script, and still want breath-holding for scoped rifles, Deployable mortars...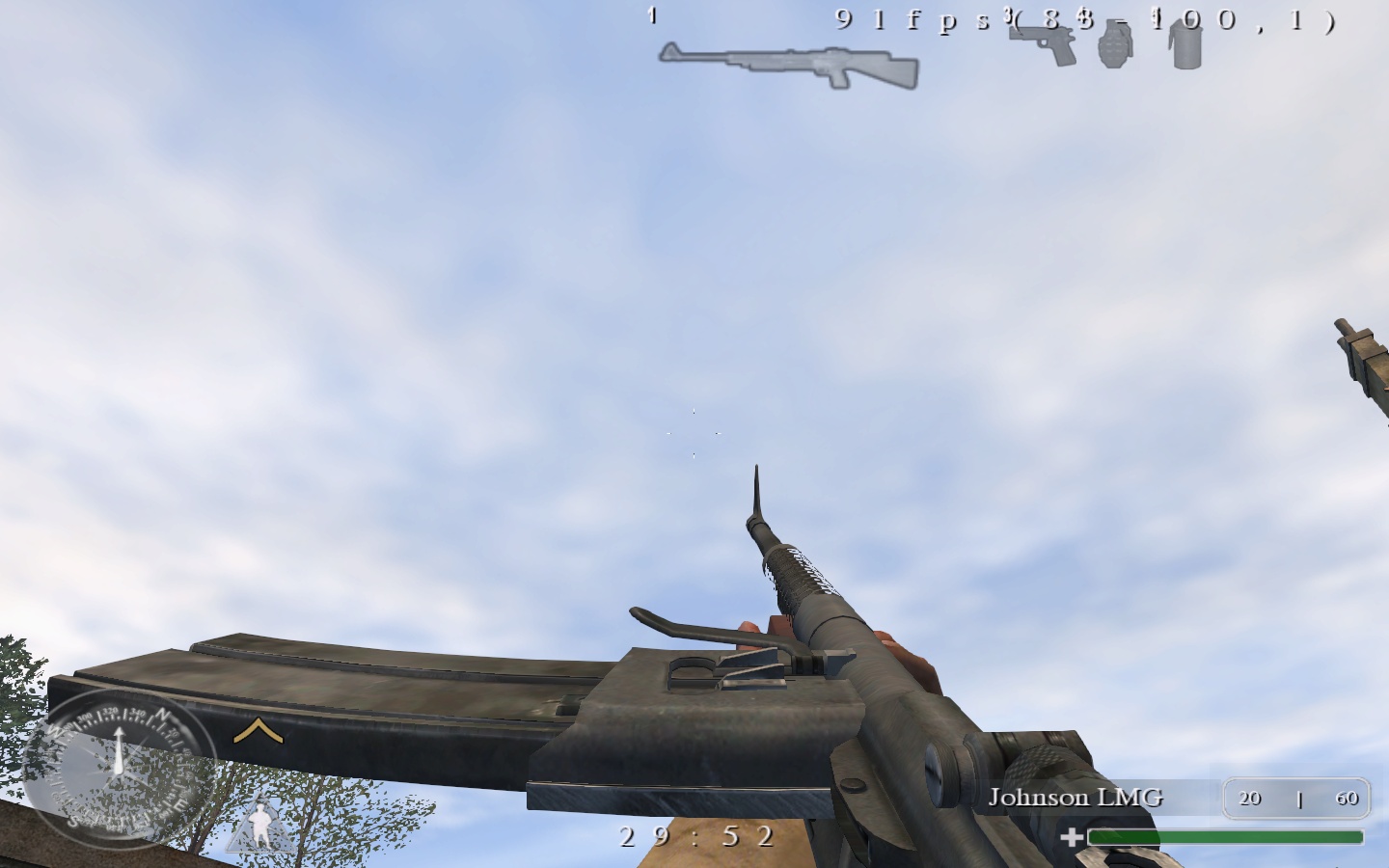 Cohnred did a fantastic job porting this Johnson LMG, hope to see more of this type of thing, so close to the finality of the project only a handful of un-depicted weapons types left to go now... As mentioned before, if the intellectual content (which is already made, but not ready for it's intended purpose) does not become available, I will instead post a version 10 without those portions of intellectual property included. The Lite version will have much fewer choices just to save game-states for Complicated maps and Game-type: Base-Assault. Both mods are technically in development. I'm basing the Version 10 infrastructure on 6.2 (2011) and the Lite version will feature all the same projectile weapons and the deployable mortars, but if I start with 2011's V6.2, I'm still using AWE-Merciless V2.1, but the size of the file is already 18.5MB, my current mod has gotten to a bloated 175~200MB and I don't think the finished product will be quite as large.