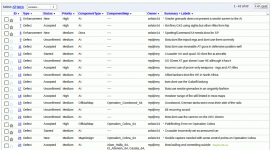 After many months showing how Forgotten Hope single player development could be improved I am proud to announce that the issue tracker that I set up has been accepted by the Forgotten Hope development team. This tracker is for single player and coop AI issues, multiplayer is covered elsewhere. The official acceptance means there is now an improved way for single player fans to get bug reports and fixes to the FH team. Of course, as always, when it comes to submissions actually getting into a release build nothing is guaranteed.
I have always had the best of respect for Forgotten Hope as it shows the best work of many talented developers coming together to make a unique experience. Forgotten Hope has always been one of the better supported mods for Battlefield 2 single player. But there have been some interesting possibilities for an increase in scope when one comes to consider that SP can actually be a training environment for online play. Forgotten Hope's tactical focus is also something that can be developed for single player. Suppression by enemy fire has always been part of the mod and it looks like such a function could be added to suppress bot (AI) behavior. That could include smoke shells and grenades that actually blind bots rather than giving them an opportunity to show off their x-ray vision ! For example one issue in the tracker covers bots not fleeing from grenades. I suspect a simple change to a template will have them fleeing just as they do from vehicles (to avoid being run over). Add all these little fixes together and an impressive SP experience can be made.
My thanks goes out to Void and the FH dev team for allowing this to happen as well as all the FH SP dev's who have worked over the years to allow an amazing SP experience in Forgotten Hope.