Welcome back to crazy..tira's skype rubish talk blog we have something new for you if you read this rubbish anyway
Few days ago i got an contact request from someone or something claiming to be 20 (or 24 years girl from US) of course i notice that the photo is from neck down and taken by a TV remote (in an HD age).
Since it's easy to assume fake profile (like in my last text on this subject) i decide to go with the flow ... AGAIN.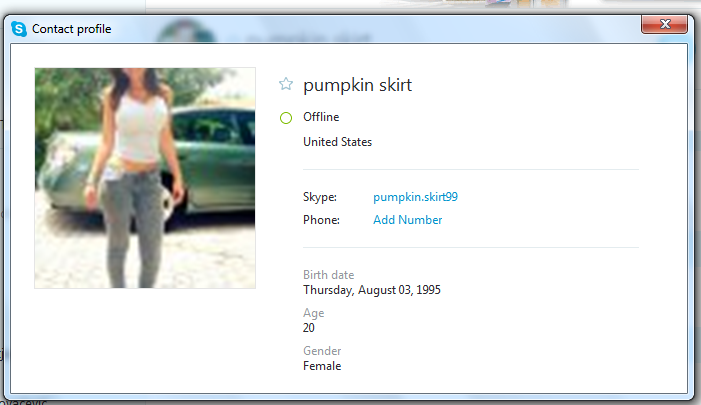 self explanatory image
also for some strange reason during the conversation it says that the person is offline
this was recorded 10.3.2015 same day i posted it here
[8:09:10 PM] pumpkin skirt: hi
[8:09:28 PM] Tira: hi
[8:09:51 PM] pumpkin skirt: hey i found your name on the directory. I'm 24/female wanna chat and share pics?
[8:10:30 PM] Tira: where did you say you found my name
[8:10:36 PM] Tira: ?
[8:10:46 PM] pumpkin skirt: My name is amanda i grew up in Miami.. i'm kinda a small girl with big attributes lol where are you from?
[8:11:07 PM] pumpkin skirt: cool, im just bored as fuk at home! I'm single and looking... have you ever had cyber sex?
[8:11:13 PM] Tira: other side of the globe
[8:11:29 PM] pumpkin skirt: lol, send me a recent pic of you and lets have some fun
[8:11:55 PM] Tira: im not realy photogenic
[8:12:13 PM] pumpkin skirt: sweet like want to see pics of me?
[8:12:16 PM] Tira: i hate taking pics of my self
[8:12:35 PM] pumpkin skirt: I uploaded recent pics here... Imgur.com
[8:13:34 PM] Tira: so you are just going aroud showing your pics (i presume what tipe) to strangers?
[8:13:54 PM] pumpkin skirt: talk to me like a slut baby... do you like girls with big tits? want to see some naughty big tit pics?
[8:14:46 PM] Tira: well im moderatly calm person i dont do hard talk
[8:15:02 PM] pumpkin skirt: ok i'll show you just 1 naughty pic... I.imgur.com
[8:16:06 PM] Tira: any specific reason or just like that
[8:16:23 PM] pumpkin skirt: i'm getting wet baby wanna watch me rub my pussy on my cam!?
[8:16:42 PM] Tira: not in the mood
[8:17:06 PM] pumpkin skirt: here! i just sent u an invite to my page Connectdiscreetly.com accept that! it works on mobile too
[8:20:13 PM] Tira: also i have a girlfriend with great 'atributes' so... its kinda... well you know. (yawn)
[8:21:44 PM] Tira: im sory to burst your bubble
[8:22:12 PM] pumpkin skirt: Don't worry baby the site i'm on is FREE to join this site all you have to do is register they support mobile phones too :)
[8:24:21 PM] Tira: yes but it is requred that mobile phones support internet
[8:24:57 PM] pumpkin skirt: fill out your cc info baby for Age verification ONLY, your card will not be charged. ok i'm ready for u now
[8:25:31 PM] Tira: soo i need a credit card ?
[8:25:48 PM] pumpkin skirt: ok babe.. talk to you in there.. gonna put my phone to charge.. mwa! xoxo btw my username is UxoHottiexo
[8:28:20 PM] Tira: ok now just a runcheck is this an aTbms ?
[8:28:38 PM] pumpkin skirt: k
[8:29:00 PM] Tira: ?
Well at least the English is OK this time. I made up aTbms roughly translates to 'automatic troll bot message something' since i suspected a bot as the answers are completely random. I did not open any links i got in this text since i hate cleaning my PC from viruses
So to recap if this continues expect more of this blogs here. As much as im informed this happens on skype often and on social networks it is more like a sport . If you have issues or funny experiences like these feel free to post them here. Expect another one soon since i have another patient waiting. LOL
Yes i forgot you see the credit card line i wanted to type that i don't have one (no seriously) well call me old fashioned but i use a checkbook much cheaper if you want to buy something big ,has no interest.
see ya, till the next time