If you read the summary, you indeed read correctly. If you have not heard by now, a new world will be online shortly estimated at or near to 9AM CST (-6 GMT). Seatribe will be implementing a new patch which overhauls the entire gluttony system top to bottom, eliminates areas in the game where grinding was prevalent, new game material including Lobster traps, and mobs to fight. And last but not least an entirely new map generation system.
Early this year Seatribe developer Jorb posted in the forums a snap shot of the upcoming patch titled: The Ghost of Christmas Future as seen below: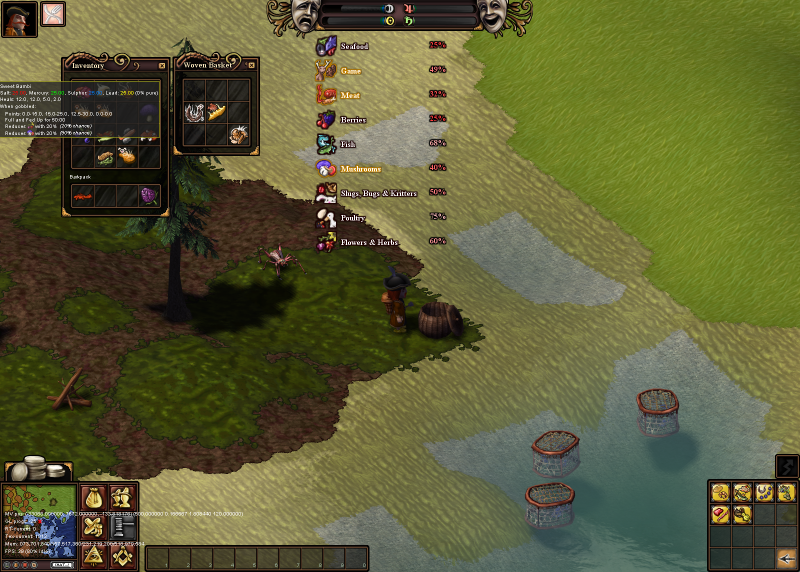 Source: The Ghost of Christmas Future - Salem Forum
Jorb wrote: More in the year to come. Merry Xmas!
Earlier this month on Feb 5th Jorb posted a new Announcement to inform the community of Today's upcoming Wipe and patch implementation.
Jorb wrote: Everyone,

We've been developing for a good, long while, and will soon be ready to drop a fairly sizeable patch on y'all, containing, amongst other things, quite sizeable reworks of character proficiencies and the gluttony system. While we are not quite ready to release the patch yet, we do, nevertheless, feel an obligation to say something on the subject, if only to break an extended spell of radio silence. Thus:

The big news is that, for better or worse, we have decided to accompany the patch release with a complete character and map reset of all existing servers, that is to say a full wipe, and a clean start from scratch on a new server and map. All presently running characters and maps will thus be deleted before long.

Why a general reset?
Two primary reasons.

The current server architecture is overestablished compared to our actual needs. Long term it is not feasible for us to keep running multiple servers dropping to as low as single digit populations during off-hours. A reset allows us to concentrate population to one, cardinal server, which appears more in line with the game's actual needs.
One of our chief points of dissatisfaction with the present, running implementations of the game is lacklustre map generation. A map reset will allow us to introduce a new, improved map generator.

To that one might add a more general concern about shedding old legacy problems built up over several development iterations.

What about store-bought items?
All store-bought items will be made re-available to you in the new world after the reset, regardless of whether you have lost them or not in game, and regardless of how long ago you bought them.

What about promo items? Beta pack, and such?
We haven't decided entirely, but most likely we'll simply redistribute those as well.

I am really butthurt. You said you wouldn't do this.
We did not arrive at this decision lightly. We have considered all our options (including selective, limited wipes, simple introduction of a new server, &c), and for various reasons found them wanting. It is true that it has been our ambition to not make more world resets, and I hope that it can continue to be thus. The problem of server over-establishment can, however, hardly be solved in any way other than by pruning servers, which we feel leaves us scant options. The introduction of significantly reworked systems for character development also gives cause for balance concerns if we do not introduce them to a tabula rasa.

Bah. When will you actually release?
As soon as we are done with the new map generator, which is what we are working on now. We aim to have it done in two weeks. The rest of the patch is pretty much finished.

I realize that this is controversial, a big deal(tm), and I entertain no illusions that I can possibly cover all concerns and questions in one update post, so I shall instead keep it brief and try to answer whatever questions may pop up, as they do.
Source: Upcoming Patch Announcement
Early this evening Jorb was also seen posting the following confirming that they were indeed on schedule for the patch and wipe to take place today after a rough 12 hour Map generation:
Jorb wrote: Ok. We'll commence generating the final maps shortly. We expect that they will take approximately 12hrs to generate. After that we need to configure the server somewhat, and we should be up sometime after that.
Source: Upcoming Patch Announcement pg. 36 Post# 350
So if you long and done quit Salem and were ever hopeful for a new and fresh return to not only the New World, but New Content, Bug Fixes, and a overhaul of mechanics, now is the time to get your butt on over to Salem the Game and gets yourself reoriented and ready to go for tomorrow morning new launch of the server! Hope to see you all there!
-Trenial