I've been working for a while on textures, mostly retouch, and some completely design using my textures databank. I am always willing to improve my skills, and photoshop is my tool. Basically, i'm an old fashion style designer, since i did my course like 10 years ago, maybe more. So I am a bit behind so many fresh graduate in the field. So I do m best to stay up-to-date, but it ain't easy, since more and more people keep getting out from this field, using new technologies, new programs etc. My main idea here, is, I like what i do, and wouln'd stop it for nothing. Exept, right now, my PC is getting old, and keep crashing when running big programs together, like 3DMax9 and Photoshop. So I am a bit late on some of my works.
My actual project is the YT-1760, which you can see already on the database here.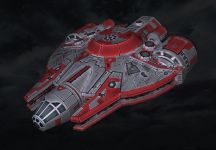 This texture was already existing when i received the 3D model for my texture work, i added some effects, and color for temporary. But I was working on a new version, using similar textures from the existing YT-2000 model from Freeworlds. As soon as i get a new PC (is praying hard for that). I'll get back to work, and continue this hobby of mine.
On this, see you soon!