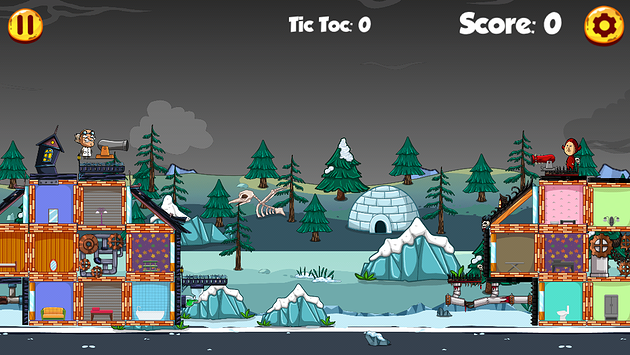 The month began with a new alpha build (alpha 1.3), this version of the game was far more stable than any previous versions. We were able to play levels 1 through 3 without much crashing, but 4 and 5 were a little buggier.
There are still some bugs and some elements that look weird but this version was a definite improvement. The houses are still in pre-composed configurations as there is no construction options yet. Some elements may appear to be floating in the air… they are… and this will be sorted soon! But the game now has cloud movement in the background and the AI has improved, so we are edging ever closer to the game we want to make.
Development on phase 2 is moving forward concurrently, estimated delivery date for alpha build 2.1 is 15 June. Phase 2 focuses on growing the game, adding features and assets. This version of the game will have all characters, weapons and ammos implemented, as well as most levels and a much improved U.I. This version of the game will be used to make the Kickstarter video…
Yes we are going to go to Kickstarter, we have to try! We have enough money to finish phase 2, but we are going to need some more funds for phase 3 and some money for marketing. We may be able to raise the money the same way we have been doing so far, which is by finding backers or asking backers to increase their investment. But Kickstarter seems like a good way to find the funds to complete our game and it would be foolish not try.
New game screenshots have been uploaded, the level backgrounds are for Alaska and the character profile cards. New screenshots of alpha 2.1 are coming this week and we will be uploading the new state maps as well.
Concerning design progress this are going well, we have all the characters and their upgrades ready, all the weapons and ammo are also ready, as are the special ammo. Specials still need to be designed; but once all assets are ready we begin animating them, sometime this week. Level design is moving along nicely and should be completed by the end of next week. The game is growing fast.
The last couple of days were spent detailing the scoring and points systems in the game. Basically figuring out the hitpoints, health and value of attacks and all other elements in the game; How much it takes to destroy something and how much you get for destroying it, etc.
Concerning our size problems we have found a way of cutting 50%+ of the game size down… How you say? Sound was the solution! By doing some trimming and manipulating sound formats we were able to dramatically reduce the size of the game. This means we get to keep all the levels and all the other cool stuff without having to sacrifice a single element of the game. And the only way someone can pick up on the sound quality differences is by playing with some top of the line studio speakers, not likely on a mobile device!
So things are on track, and weather is getting nicer which actually makes work even harder, especially with people posting photos of their amazing week-end getaways all over the place… No rest for the weary