Moddb.com
Telling of "this is alternate history" doesn't solve anything, as there should be starting point of it, and there must reason for alternate events.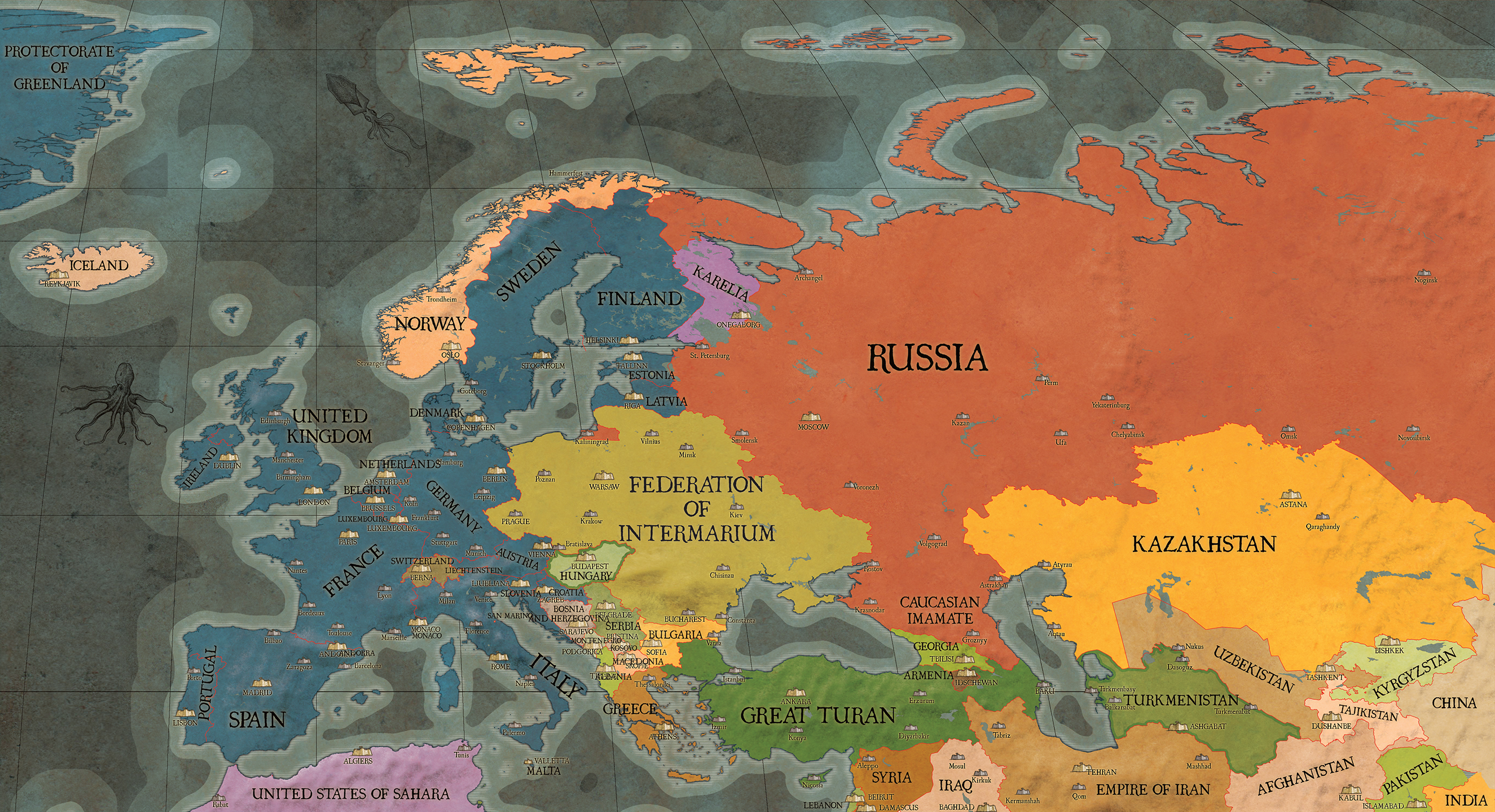 Eastern part of map could've been result of Russia's being weak enough to divide. And this has happened in the Time of Troubles of 1612, in the Revolution of 1917, and in USSR falldown of 1991.
If this have happened in 1612,
then there were no Russia, as Poland was at the peak of it's strength that time. So, there would be the dream of modern polish nationalists - Great Polska from Gdansk to Tobolsk. There might be some more events in 400 years of this, maybe, Poland instead of Russia would have become the "horror" of all Europe (and Revolution of 1917 would have happened in Warsaw), maybe, not all the russian culture would be consumed, as Poland would be opened to european invasion (unlike Russia which is kinda protected by Poland)... Anyway, there would be completely different Russia, completely different Poland and as a result - different map. For example, most probably, northern part of Russia would become part of Scandinavian Empire (Dutch, Norway, Sweden, Finland and northern part of Livonia).


If this would have in 1917...
Well, civil war happening in Russia would have made a lot of thing shown here possible. There were finnish-russian war in 1920, as Finland were claiming Karelia is theirs, Poland has run over Belorus, Lithuania and Ukraine - also it have taken part of Czech just before WW2 while Munich pact of 1938.
Also Soviet army had problems in Caucasus, where it had to use strength to calm down and disarm local radicals. So, if Red Army and White Army would weaken themselves, that noone would win, so they could not resist finnish invasion, caucasian rebellions and polish invasion, then it would lead to this situation, and even worth - Russia would have become smaller, and, probably, there were several "russian" republics - socialistic, capitalistic, monarchic etc.
Also, in the end of Civil War (1921) Czech voluntary forces with stolen gold of admiral Kolchak, strong enough so that Soviet government had just let them go home, were returning home, so Poland would have quite much problems with them.
Also, european countries, including USA, weren't happy about Polish enlargement - if it would have gone too far, there would be no supply for Polish army anymore. Also, particulary, Latvia would be smaller, if Poland would claim for Latgalia, or larger, if Poland would stop on the borders, and Russia would have no forces to resist latvian invasion (which resulted in occupying important railway center of Pytalovo, and which is now claimed back latvian nationalists).
If this situation is gone to modern days, that means that there were no WW2, thus, Prussia still exists, and it is not Kaliningrad, but Konigsberg. Also, without bombing Japan with nuclear weapon what look would our world have?
If we talk about nationalistic movement - in the beginning of 20th century nationalistic movement was largely supported by interested countries: this way was broken Austrian-Hungary Empire and Russian Empire. And Ottoman Empire has turned into Turkey...
Also, if there were no WW2, then USA wouldn't have so much as it has now: no european gold to store, no dollar as a world currency, no exit of Great Depression with selling USA products for WW2 purposes, and post-war recreation, no carriers patrouling whole world, no Japan to train with nuclear bombs, no Vietnam, no Lybia, no Syria etc... No USA as we know it.


If this would have happened in 1991...
Well, I believe, that Russia, ruled by foreign advisors, had given everything she had. There were separatist movement in 1998, when there were money printed for Ural republic, also, Chechen war, supported by some countries, with arabian fighters teaching locals what's shariat, but that would mean russian division - well, 1917 scenario. Probably, Karelia, as finland claimed, would be parted also... But no big Russia anymore. But no big Poland either. Belorus and Ukraine are equal to Poland to be under its flag.
Also strange that Romania has joined this Federation, as they very different from slavians. Then why Hungary didn't joined it also?..
Strange that Cyprus is not divided into two parts: Greek and Turkey parts. Also, strange that there are no Abkhazia and South Osetia on a map. If we follow this logic, then it's strange that Kosovo isn't the part of Serbia...
So, main idea of this text is: when you're thinking of alternate history, you can't just paint the map as you like. For every event must be a reason, and reaction to it, like in physics laws.