Factions: Army of light
Sith Empire
The New Empire
Hapes Consortium
The battle- Aol forces attacked the fleet over Naboo. Johnyboy1 then arrived and engaged only to meet 2 more fleets lead by Tharnis and Sab3r. Johnyboy1 was hopelessly outnumbered until the timely arrival of Lord_of_Pain. After exchanging fire, Headhunter and Sab3r boarded Johnyboy1's ship and began to fight defense. Johnyboy1 dueled both of them and eventually was trapped. While that was happening, Lord_of_pain was engaging Sab3r's fleet destroying most of it. Johnyboy1 sprung a trap that trapped Headhunter and Sab3r. Realizing that he would be dead, Johnyboy1 signals surrender. He then released the 2 captives and submitted to their prison while lord of pain continued to engage.
While Johnyboy1 was battling headhunter128 and sab3r, Lord_of_Pain led an attack on the Lincoln, one of Sab3r's flagships. With his battle droids he slowly fought his way to the bridge, aiming to take control of the ship, he dealt with all opposition that he faced.
With Johnyboy1 now succesfully transfered, Sab3r and Headhunter128 quickly flew back to the Lincoln to try and defeat Lord_of_pain, but he sensed their presence and he knew that he could not face up against 2 jedi generals with a large number of fresh troops, even with his droids. he new the only option was to escape so he commandeered a fighter and fled to one of his providence-class destroyers, while setting the battledroids to self-destruct. Surrounded by both Sab3r's and Headhunter128's fleets, he called in reinforcements to help him escape. He took his personal fighter while the newly arrived ships cleared a path to the lukrehulk. He managed to reach the lukrehulk and recalled all ships and retreated.
Outcome: AOL victory, capture of Johnyboy1, destruction to a fair portion of the AOL fleet, Heavy losses for the sith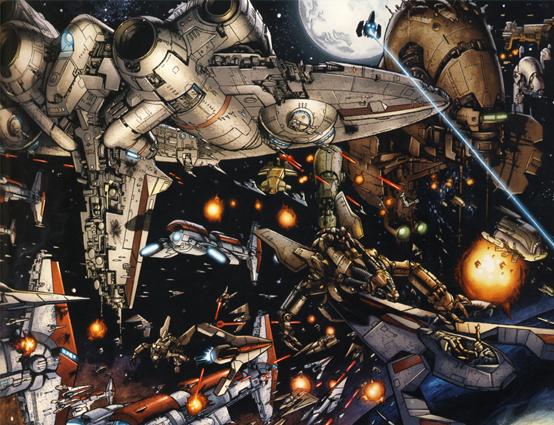 Johnyboy1
Edited somewhat by Joleebindo54
Finished by Lord_of_Pain