After the release of Public Beta 4, we received a lot of (helpful) feedback from you, the playing community, that we have been putting into place. We have many of our own ideas to re-balance the factions and feel we have now succeeded in giving GDI the extra bit of strength that they need to overpower the might of Nod (which includes making the ever-going Overpowered Eclipse Tanks less of an annoyance), here are some previews of the new (or even, old) recruits at your disposal!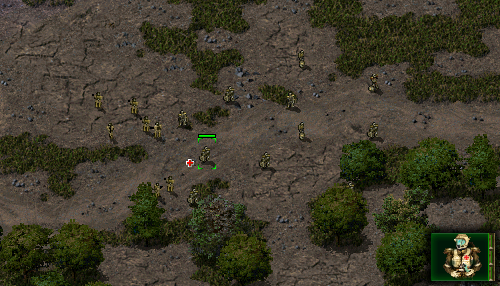 First up we have the Medic, making it's return to the GDI Barracks. Medics have been one of the most heavily requested units to make a comeback in the next release, which I have come to agree with after several online tests. Personally, I found medics to be a little overpowered in the older Tiberian Sun, they can make a match very one-sided, which is why the call to make them a GloboTech / Tech unit was made.
While GDI Medics will now be Tier I trainable units just like they were in Tiberian Sun, GloboTech will also have Medics of their own. The GDI Medics are more suited for the front-lines, tougher armour and relatively fast on their feet, providing a nice and steady healing process to their allies, whereas the GloboTech Medics are more suited for behind the lines units. Light armour, but faster on their feet, providing extremely fast healing quicker and more efficiently than the GDI counterparts.
For specifics regarding the Medic's in-game stats, check out their profile on the GDI Infantry page here on ModDB.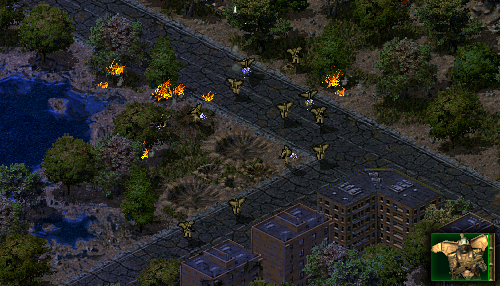 Next up from the GDI Barracks, we have quite a radical change to a current unit. The previously known Rocketeer can no longer fly and is no longer a mere anti-infantry support unit, however, he is much more useful in his new state than he was before. Before I continue, I'd like to inform you that the Jumpjet/Infantry Flying logic on the TS engine was pretty awful and made anything using the logic very difficult to use, as many of you older TS players will remember. We tried very hard to make it better and more fun to use, but the logic is simply too buggy to deem giving to an important unit.
These boys are now known as Marauder Infantry, they are the fastest soldier in the entire game, using small booster engines to soar across the terrain very quickly and very efficiently, they are capable of outrunning some of the faster vehicles in the game too!
Rather than their old fashioned airborne machine guns, they use a smaller machine gun, not as effective against infantry as that of the standard light infantry, but still packs enough firepower to hold their own against enemy infantry, but this is merely their secondary weapon. The Marauder's new primary weapon consists of anti-armour rockets, very effective against Cyborgs, Heavy Vehicles and Aircraft.
With their great speed, firepower and change in armour statistics (they are now weak against anti-infantry weapons rather than anti-tank weapons like in previous releases), the Marauder should give GDI players that extra late-game assistance they've been looking for! Please note that these soldiers are meant to have the ability to also move across water, but due-to engine limitations this is not currently a possibility, but hopefully it will be in the future!
For specifics regarding the Marauder's in-game stats, check out their profile on the GDI Infantry page here on ModDB.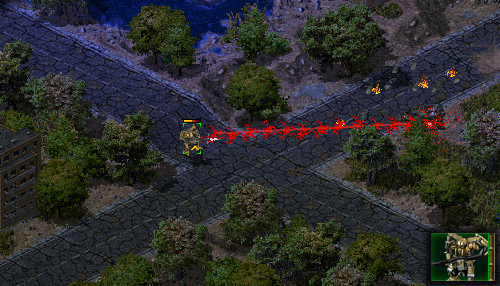 Next up is another familiar unit, but with another drastic change, this is the Railgun Commando (2.0). Though weapon-wise, he is essentially the same, he has been given a rather large increase in terms of his speed and his armour.
The revised Railgun Commando now uses an Exo-Skeleton that increases his speed, firepower and is capable of withstanding much more damage than his previous versions, so now the Cyborg Commando will have the counter-part he's been waiting for.
Originally, the image used for the new Railgun Commando was going to be for a new unit in Public Beta 5 known as the "Enforcer", but it was proven redundant at a later date and ultimately ended up being removed, trust me though, the Enforcer wasn't one of my better ideas so you didn't miss much!
For specifics regarding the Railgun Commando's in-game stats, check out their profile on the GDI Infantry page here on ModDB.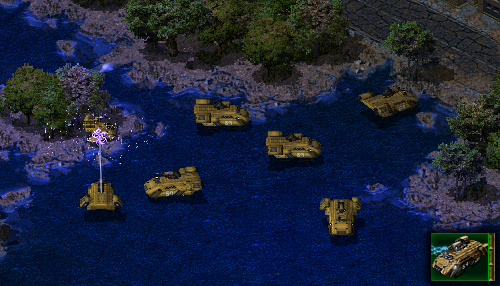 Next up from inside the War Factory, there is the W.A.S.P. A.P.C. another revised unit. Featuring a new and improved voxel image, courtesy of our leading voxel artist, ErastusMercy, and a weapon to accompany it on the battlefield.
The W.A.S.P. is capable of conveying up to 8 passengers as it moves across all forms of terrain at a respectable speed, it now also features a microwave-like weapon that can disable enemy vehicles for short amount of time, enemy vehicles (or structures) will remain disabled for however long the W.A.S.P. is firing upon it. The weapon has proven very useful and has made the W.A.S.P. a unit capable of so much more than being merely just an A.P.C. so you will be seeing and using these on the battlefield much more often!
For specifics regarding the W.A.S.P. A.P.C's in-game stats, check out it's profile on the GDI Vehicle page here on ModDB.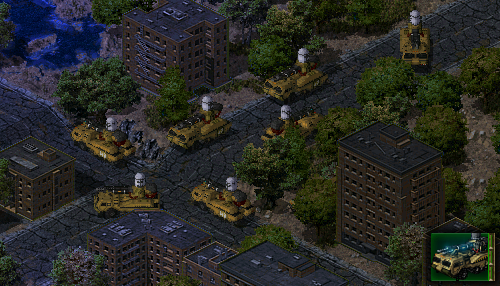 Railgun Platforms, formerly the lightly armoured support vehicle is now more of a force to be reckoned with. Their weapon now has a longer sight range, both anti-air and anti-armour versions, heavier armour and feature a kick-ass new voxel image, again by ErastusMercy.
These vehicles have always proven to be useful, but have always kind of conflicted with the Goliath in terms of it's stats. Now using both Goliaths and Platforms at the same time is a pretty devastating force, if not the most devastating mix of units in the game (though, you'll need some anti-infantry, of course, Kazuars or Scatterpacks perhaps?). Goliaths (which, by the way, can no longer deploy as it was deemed rather pointless) provide the punch while Railgun Platforms provide the long-range support required to eliminate threats before they get close enough to do any significant damage, and provide one of the most powerful anti-aircraft weapons to date, of course!
For specifics regarding the Railgun Platform's in-game stats, check out it's profile on the GDI Vehicle page here on ModDB.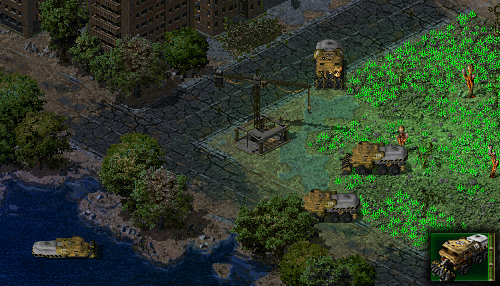 Our last unit revision for today is the GDI Harvester, with another great voxel image replacement to it's horribly dated elder.
Making unique harvesters is difficult in the Tiberian Sun engine due-to the fact that giving them weapons is not possible without giving them a hovering locomotor (which looks silly and is rather silly as a rule anyway...) so I had a test to see what works best to counter Nod's faster, though lower capacity, Harvesters and this was my result.
The GDI Harvester is now much more heavily armoured than it was in past releases, has a higher load capacity and most importantly, is now an amphibious unit. Though they may be slower, the ability to travel across water gives them a very significant boost in terms of their productivity and will help to boost your economy faster, assuming there are water obstacles in your way on said map.
For specifics regarding the Harvester's in-game stats, check out it's profile on the GDI Vehicle page here on ModDB.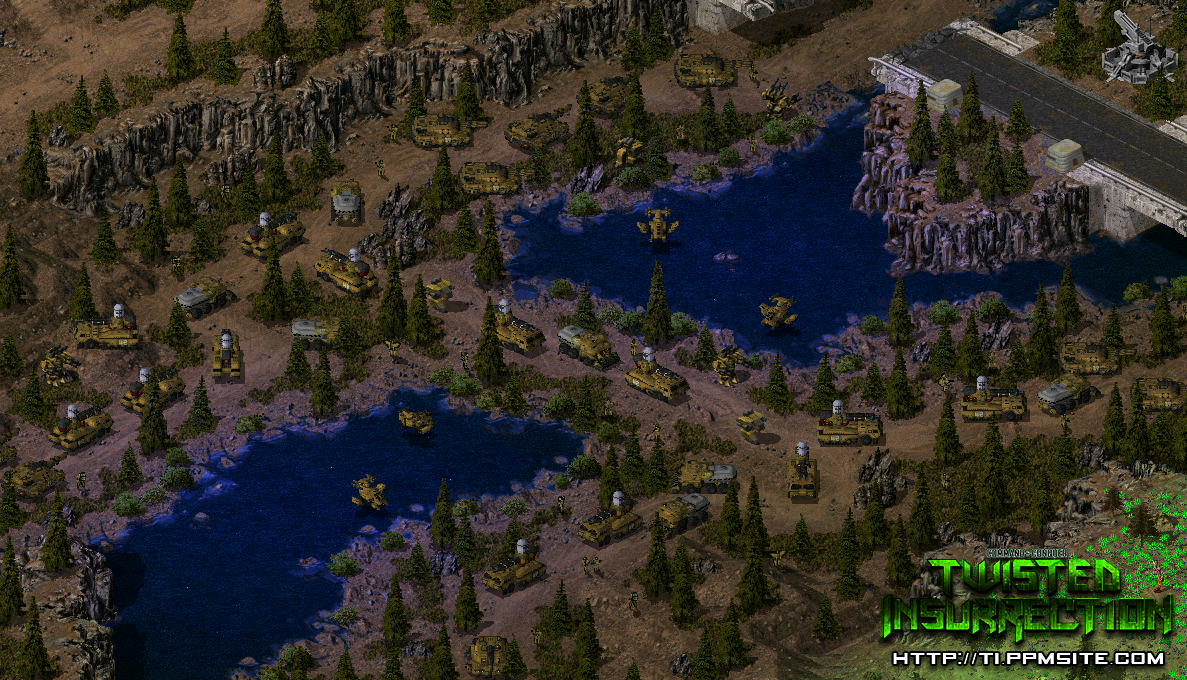 And that draws our update to a close, for now at least. There are some other units that will be getting quite a big revision, but we won't inform you until it has actually happened and is set in stone, one of said updates will be the M.L.R.S. Walker getting a very needed make-over and weapon change. This change and many others will be ready for the next release. Thank you for reading and I hope you enjoyed the update. GDI will be more of a force to be reckoned with this time around!
One final thing: Future Live Streams will no longer be hosted on the shared channel by Doomhammer, but rather on our own official channel that we have just set up! If you are interested in following us on Twitch.tv and keeping up with Future Live Streams, please head on over to our Twitch.tv channel and subscribe!