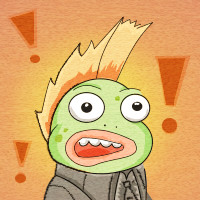 TEXT EXTRACTED FROM THE CONTEST LINK ABOVE:
QUESTVERSE CONTEST
What about earning the art you always wanted as a wallpaper for your smartphone or facebook page and still help to spread the world about the Questverse project?
The art can be from a caricature of yourself to a more abstract wallpaper, and it will be UNIQUE.
HOW TO PARTICIPATE
To participate is simple, all you need to do is to like and share this post.
DURATION
This contest will happen from August 11 to September 11.
RULES
* The art of the winner must follow the style presented at the page photo gallery
* If the art is for your cellphone ensure you can transfer it to your device. Some models do not allow custom wallpapers, don't have internet access or bluetooth access.
---

Hello space traveller, let us sit and talk not only about what of new had happened at the Questverse
project but other things as well.
Bimonthly Updates, Yay!
Since I'm sharing with you my kickstarter findings beyond the game updates, I guess I will now do bimonthly updates, but I cannot promise there will be always two updates per month as it depends if I will have enough about what to talk. The first monthly report will be labeled A, and if a second one happens, it will be labeled B

Reporting bimonthly will also allow me to show you less text at each news article, makign it better for you, a busy person, to read and participate on the votation polls, as it seems few are noticing them.
The Game Editor
Now, let us discuss our game Editor! It could had received many names, like Qedit, Questedit, Qeditor, Big Bang...but let us stay with simply "Editor" for now. As I always do I researched a couple of editors, like Dinkedit, Fallout editor, RPG Maker and even apple Garage Band and I defined a layout I think will be easy to use and to look at.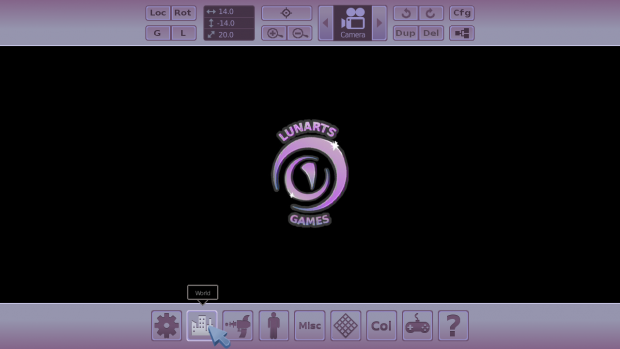 I already made a working Editor launcher exe and transformed my editor image main layout into a real software layout with at least the bottom buttons functional. The editor is also already able to load 3D objects, show the object position/rotation at the top bar and navigate the world space, my next immediate goals are:
Assign actions to each top bar buton
Create the sections for each bottom bar buttons.
Work on the system where you assemble the 3d objects you loaded and after you are satisfied, it must be able to save the data to file.
Working on this editor has been one of my best decisions, I made so many improvements which resulted in an easier, faster and more powerful game code; the only problem by doing that is things are bound to break at the Questverse exe, but they will be fixed in the due time. I even was forced to decide upon a base unit size for my game, which I decided it will be 0.5x0.5 meters, the average size a human occupy if you turned that measure into a square, this will also help development, with it being used as a base to keep a correct proportion of object sizes across the game.
The Game Site
Well, as always it turned out the Questverse website wasn't as perfect as I wanted it to be, so I went back to work on it, which obviously left it in an ugly state for a couple of days, but in the end I succeeded once more.
I recoded it and remade some site arts so it can look better on PC's, tablets and smartphones. Of course at smartphones it will not look allright, but it is better than the previous layout, where it was absolutly unusable on such devices. I considered using wordpress for my site as well, since I have seen developers from games such as Planet Stronghold and Xenonauts do so, but further consideration will be left to a later time.
A good news is which you can now simply type questverse.com at your browser and it will take you to the same site you would get if you typed lunartsgames.com/questverse.php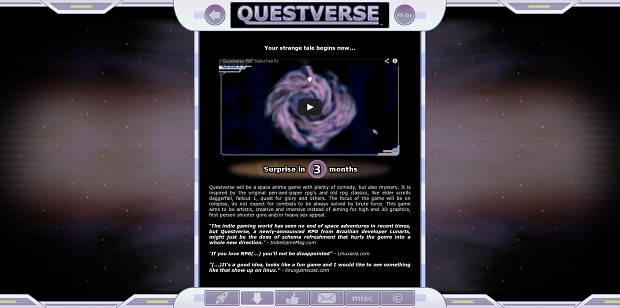 Another improvements were:
My November game campaign text went so well I decided to put most of it at my site, you can check the new stuff at the Project, features and media areas of it.
A counter at the main page showing how much time remains for a new kickstarter. You may already know the surprise will be a kickstarter, but many don't
Quotes from sites much bigger than mine which talked well of it are now shown at the homepage to further reinforce the project.
If you're feeling generous you can help me by checking the site for grammar errors and others issues(and telling me), which will lead to the problems being fixed and the site getting better not only for you, but for others.
And at the kickstarter world...
I believe I have researched enough about kickstarter campaigns, and for me to say that, it means I do researched a lot. Study materials I want to share are(beyond the one I mentioned earlier): Xenonauts, Starship Corporation, Pebble Watch, OUYA, the ultimate kickstarter guide and kickstarter school.
It turned out I commited a lot of mistakes at my previous campaign, but even if the future one doesn't work out, I learned a lot of things I can use to catch the attention of the game public. I learned the following:
Making a campaign on kickstarter.com helps a lot, as long as you manage to get at least average exposition on it. For that you must raise a good amount right on the campaign first day or if it is not possible, the closest day to it. In the worst case just being on kickstarter.com helps a bit.
Quoting sites who talked good about your game, a good campaign video, text and counting on the power of over-funding while setting a minimum goal helps. Seeing your goal value quickly being fulfilled will actually make people contribute more.
The campaign must be well managed specially at its start and end, and updates must be made regularly
Well planned rewards, at the right price range, compelling, which clearly shows what they contains and in limited quantities helps.
People must be remembered regularly which the campaign is happening
Having a lot of people following your page on facebook and twitter helps, because the doubt of some('should I contribute?') will be solved just because 'all the others liked the game'.
Having at least a "bare-bones" version of the game help.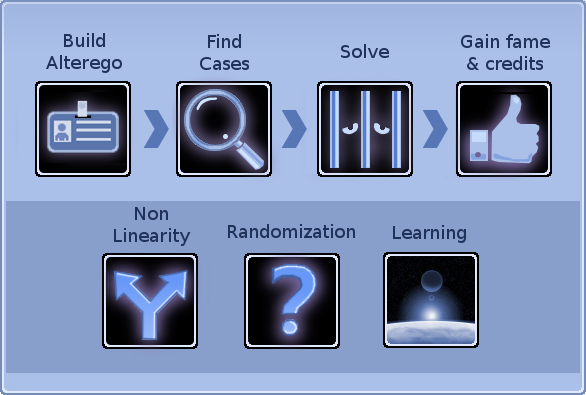 But there is a last and main concern for the Questverse campaign, which is: Does it have a public big enough? And if yes, how I can best reach Anime role-players? which sites and blogs I must go? The more broader key points in priority order must be:
Ensuring the game public is big enough
Having a good game and at a good stage of development
Reach as many people who like the game style as possible
Do a kickstarter.com campaign
As we can see kickstarter.com is just the final piece to this, we can also see which although I showcase the game at 6 different places(some of them with good traffic) I'm still not showing it enough. Here is another point were you can help, let me know of well visited places(sites or blogs) who like anime RPG games, just Anime games, or just indie games in general(ex: RockPaperShotgun); I learned which it is not true which showcasing your game on major gaming sites is a key point, it is a minor point instead. We must search for "niche places", places were there are many people with interests like ours. If we can reach them, Questverse will surely succeed.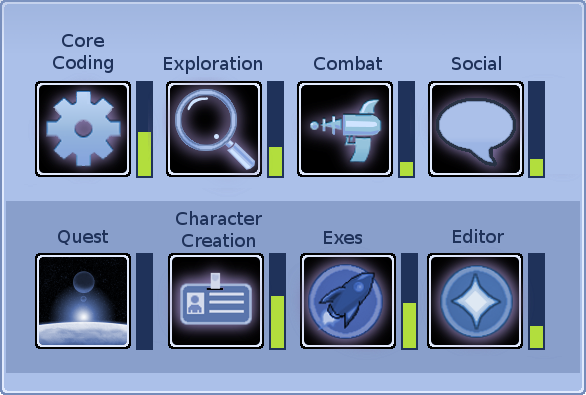 Votation Polls
Contribute!
Thanks for your visit, Questverse can only happen with your help, that is one of the strenghts of indie games. if you liked this project you can contribute by doing one or more of the following points: