Also this will teach you how to use Steam profile features provided at certain forums (ours and TWI's for example). This tutorial is also available at our forums.
---
Creating a profile
Profile
Let's start by creating (or editing) your profile.
Right-click your Steam icon -> Community -> Profile
From the right menu selection under Actions you can see Edit my Profile, click that.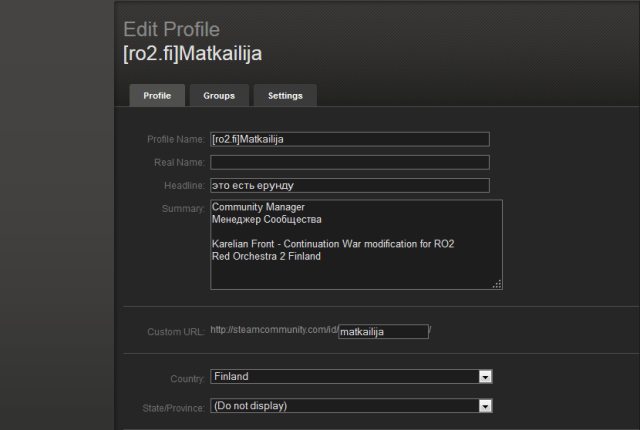 You can provide all kind of information in your Steam profile. From profile privacy, you can set it public or only for your friends or private or something from between. More about profile privacy later in this tutorial.
Custom URL
There are couple version of SteamIDs out there
1) Steamcommunity.com
2) Steamcommunity.com7656119xxxxxxxxxx
3) STEAM_0:X:XXXXXX
Original Steam profile URL is version #2, also known as ROID (might need this information if you ever get banned from a Red Orchesta server). This can be changed to easily memorized and used by editing Custom URL. For example I have Steamcommunity.com (= Steamcommunity.com).
Our forums at www.karelianfront.com/forums (as well as Tripwire Interactive forums) allows you to attach Steam profile in your forum profile. Here's how to do it:
Karelian Front forums: From the top bar go Profile -> Forum profile and from there see the part Steam ID . Fill in your previously made custom URL or your profile ID number. NB. Only the ending, do NOT add Steamcommunity.com bit. For example I would write matkailija or 76561197970174462.

Now click save and it generates Steam icon in your forum profile.
Navigate to User CP, top left corner. Edit your details, see Instant Messaging: This one will require your ROID and ROID only. So I have there 76561197970174462.

Save Changes and it generates Steam icon in your forum profile.
---
Next up is avatar and links.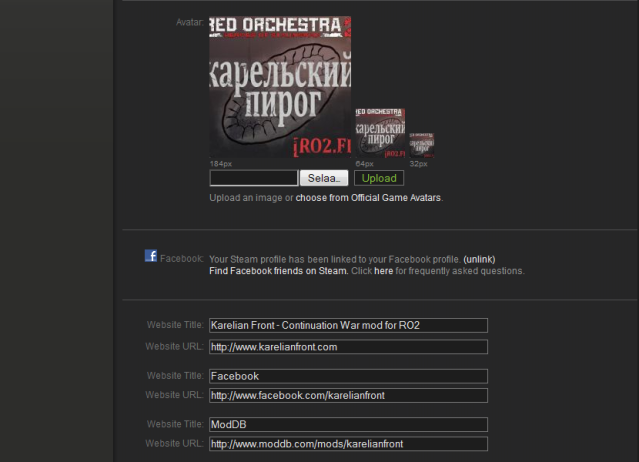 If you can't upload an avatar via Steam client try via browser instead. Go to Steamcommunity.com< and log in.
By linking your Facebook account you'll be finding your IRL friends easier and of course others can find you.
You can add three links of your choice to your profile. For example Karelianfront.com would a good idea so everyone visiting your profile would see the mod

---
Groups
From Groups, you can manage the groups you belong to: create, delete and browse existing groups (when not in Edit mode). Also you can make one group top of everything by making it your Primary Group. We now clicked Groups tab in Edit Profile. Making Karelian Front your Primary Group wouldn't hurt anyone... here's the link to join: Steamcommunity.com.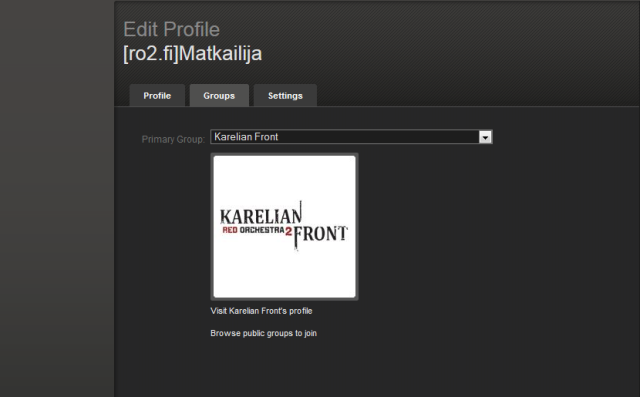 ---
Settings
Behind Settings tab you can alter your privacy settings. Quite self-explanatory.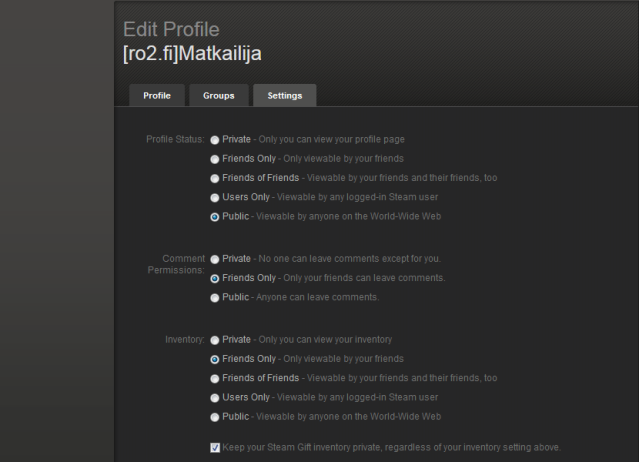 ---
Thanks for reading! Hope this helped, any feedback is welcome!