Hello everyone, My name is Plato, thus the Pluto, and I have to admit this is the first time I am doing a major mod/creation for a game. I have no 3D modeling experience, neither scripting and nor code programming (a little-bit C++ up until "if" commands only). Until now I enjoyed mods made by other people for various games like GTA SA etc but it's the first time that I decided to make something of my own. That's because the HPL2 game engine gave me this opportunity with its custom story feature/ability.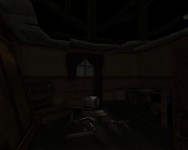 I am currently working on a project called Unbirth - Envy The Dead. This is hopefully a replica of an old game Thomas Grip (main developer of Frictional Games) was working on which was abandoned due to technical problems back at 2004. Using the Amnesia HPL2 engine I'm trying to make it alive again the best way I know and can. This mod is based on an alpha version of the first Unbirth game from Thomas which was released publicly at 2008.
To be honest with you, this mod will require some time to finish due to the amount of work I will have to do from September 2011-June 2012. Progress is slow and very painful sometimes. That's because of the nature of HPL2. This engine uses pre-made models, textures, objects etc... from the 19th century while Unbirth refers to the near present, around 2000-2004. So, I have to convert models, textures, enemies end other stuff from FG previous engine HPL1, which is set at 2000, as well as from the alpha Unbirth itself(paintings/textures only of course - everything else is in strange file formats). This is very time consuming and often tiring. Seeing the result though, will be so worth it! Moreover, remember that while making this project, I'm also learning slowly and painfully how to build maps, how to represent reality, how to tell the story and make the game as much user friendly as possible.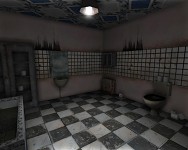 Because of the state of the alpha version there is no really a respectable amount of scenario/plot as far as I know. I haven't really paid attention to the plot of the alpha version as currently I am just building the maps. Most probably I will have to add plot and story of my own, making the mod even bigger and, hopefully, more exciting. Right now, I'm focused on map making but I have thought about other things like a basic plot(most of it is from the original alpha Unbirth game), some pieces of music, style of gameplay, available resources and stuff like that.
What's strange in Unbirth is that you start the game without knowing anything, some sort of amnesia. Before everyone starts saying: typical, cliché and things like that, let me spot you some differences. In most games like this, Amnesia TDD for example, the first thing that the player sees it a short video of what is happening during the process of amnesia and there the game developers have a chance to introduce for the first time the name of the player and some basic info of what is going on, that do not make sense at the beginning of course. Well, in Unbirth you suddenly wake up in a basement without knowing anything, neither your name nor where you are or why. As you progress you will start remembering some family pictures and scenes through flashbacks but at the most part nothing will make sense. By entering rooms and interacting with the environment you will start to remember a few things at a time. The player will soon discover that something is terribly wrong with the whole place he walks at, like a living nightmare from which waking up is nearly impossible. The beginning is strange, the ending seems rather ominous. Let Unbirth guide you through the whole process of exploring one man's living nightmare.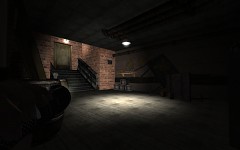 I hope it will turn to something nice and worth playing as well as immersing.
Cheers,
Pluto! :)