CryENGINE 3 Free SDK - Update build 3.3.9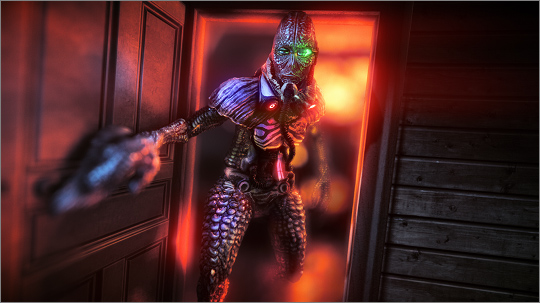 Crytek has released its latest version of the CryENGINE 3 Free SDK package. The latest 3.3.9 (3410) build brings tons of new options and bug fixes.
You can get the latest build here.
3.3.9 Free SDK update trailer
Major New Features:
DX9 Parallax Occlusion Mapping (POM)
DX9 Screen-Space Directional Occlusion (SSDO)
DX9 Particle Global Illumination (GI)
New "Very High" graphics configuration
Added Scaleform support (v3.9.93)
Important Updates:
Improved SLI/CF support
Improved 32-bit Editor support
Improved support for 5.1/7.1 surround sound setups
Improved support for Windows font sizes
Improved Sandbox UI
Added Visual Studio 2010 support
Removed Visual Studio 2008 support
Full Changelog:
Added UI Emulator
Added UI Actions
Added sample HUD & Launcher menu
Fixed multi-GPU (SLI/CF) flickering issue
Fixed issue with NVIDIA driver support for 32-bit Launcher/Editor
Added new surface explosion effects
Restored particle lifetime curves for alpha, size, etc
Fixed falling leaves & ground smoke graphical bugs
Added and reworked existing sound reverb presets
Added aquatic plants
Fixed seagull boid error
Cleaned up and reworked weapons project (sounds, structure)
Cleaned up and reworked environment project (sounds, structure)
Fixed LODs of beach trees
Added LODs for various vegetation assets
Added new assets for Forest level rework
Reworked Forest level & improved quality of level, including assets, terrain, area shapes, etc
Added POM textures for Forest
Added new destroyed texture for vehicles
Fixed tire explosion sound
Fixed red dot for Rocket Launcher not working
Updated props prefab library with many houses included interiors
Improved soil & wood impact effects
Updated ocean material for Forest
Improved Flowgraph Debugger (Support for Breakpoints)
Improved surface effects for vehicles
Refactored vehicle pfx and vfx libraries
Fixed empty Rocket Launcher effects
Improved SCAR muzzle flash
Added SCAR loop tail sounds
Added AI character Civilian, behavior "Wander between points of interest"
Added boost functionality to all vehicles
Improved house/barrel LOD quality
Added support for AI territories & waves for vehicles
Adjusted vehicle debris pooling to improve memory management
Added more control over XYZ detail material slope
Fixed vegetation bending issues
Fixed crash when using light shapes
Fixed bi-directional rotation params for particles
Fixed stack overflow issue for Win x64
Fixed level heap violation associated with level unload, temp surfaces and fog volume containers
Many adjustments to the sound system
Many adjustments to voxel system
Fixed crash on Launcher start-up and ALT+TAB functionality
Fixed LOD loading bug
Further improvements to Asset Browser
Fixed geometry issue with light objects
Fixed potential crash if no top animation exists in layer for hit death reaction
Fixed crash if no raycaster exists anymore
Fixed potential issue when animation controls an entity directly
Fixed potential crash in renderer
Fixed DOF linkage error
Fixed DX9 vertex decl. issue
Added Mute button to Sandbox UI
Fixed incorrect texture reference in default vehicle lights
Fixed fakeLight property not working for vehicle lights
Fixed terrain SetWaterLevel not updating water level in physics
Fixed environment probe crash
Fixed issue with Rocket Launcher only dropping after projectile had been destroyed
Enabled terrain shadow casting on all specs except Low
Re-enable Fresnel tweaking for water
Enable dynamic textures and projector texture
Fixed issue with non-actor entities not receiving hits
Fixed Character Editor crash when using Morph Targets
Fixed projection problems with bump map decals applied on vegetation objects
Fixed issue with pickable items and AI weapons
Fixed boid animations
Made several adjustments to boid code
Fixed issue with under water sound mood
Fixed particle issue when TurbulenceSpeed < 0
Fixed rare Editor crash
Improvements to rigid entity / fluid interaction
Fixed close attack issue with AI losing sight of player
Fixed rare issue where using "Save As" in Editor resulted in the .cry file being deleted if an error occurred
Improved ocean particle interaction based on wave height
Added ability to define tire explosion particle effects (instead of being hard coded)
Added ability to define custom params for Rocket Launcher RDS (instead of being hard coded)
Updated FMOD (4.38.04) binaries - Fix for 5.1/7.1 surround sound crash
Fixed memory leak in Editor
Improved emitter debug bounding box drawing, scales correctly, alpha support, etc.
Improved vegetation profiler
Allow water volumes to be turned on / off
Improved scope view for Rocket Launcher
Fixed crash for using Windows Font > 100% in size
Fixed shadow disappearing when light props are modified
Fixed 3rd person camera reset when changing seats in vehicles
Fixed crash when using broken_mtl option in surface type
Fixed issue with voxel LOD seams
Fixed hot reloading of animations in Character Editor not working
Fixed animation events at 0.0f not triggering
Fixed updating of current ammo pool on ammo pickup
Updated latest EAX code
Fixed Animation System Assert on startup (last unloading of DBA)
Fixed Animation System Assert in PoseBlenderAim
Fixed Focus and confine cursor problems in the Launcher
Fixed issue with LookIK
Fixed Time of Day synchronisation
Fixed infinite ammo bug
Fixed white spec on the rocket launcher scope glass and renamed ids
Fixed ammo pool not updating on pickup ammo
Added some missing textures spec & ddn
Fixed rendering bugs related to vegetation wind
Changed pfx modifications to use only one library. Now all weapons use the weapon_fx.xml
Adjustments to civilian AI & reaction to the player
Updated MaxCryExport: disable export of vertex animation by default
Fixed VehicleLights flownode not working
Added ScriptBind and FlowNode for loading TimeOfDay files
Fixed Crash on opening WheelMaster dialog in the Vehicle Editor
Fixed Vehicle Editor crash after closing WheelMaster dialog
Fixed AI Debug Draw TagPoints
Fixed Starting 2 material effects while using melee attacks ("No Surface Type") and wrong direction
Updated bullet effects for most surfaces
Improved dock area assets, collision proxies, LOD's, scale of objects
Fixed collision issue on lower area of light house
Added multiple improvements to decal assets quality
Added new TOD Street light prefab
Added Tractor sample asset
Updated Resource Compiler
Renamed BehaviorSelectionTree to SelectionTreeEditor
Adding Auto Backup option in the File menu to easy enable/disable the auto backup of the level
Updated XT Toolkit
Being able to start animations from Lua with animation driven motion
Rename DefaultVehicle to EmptyVehicle
Updated Editor tips
Improves the filter edit control behavior in the node tree pane of TrackView by allowing a tab-switch of current matches
Added ability to change order of track events in the 'Edit Events' dialog
Added quick access for Entities using the Animated Character Extension in the context menu
Improved civilians reaction to player
Allow moving keys to the time between 0 and the sequence start time.
Maya: Validate message control system. Allow some validation messages to be disabled by the user
Maya: Getting UDP from bone geometries into the game
Point Light Shaft Properties added to light entity
Audio Caching for Items
Added possibility to check for matching rows/colums and wrong ordering in Material Effects with setting mfx_debug to 3
Collada: Changed the rotation from Y-up to make the facing correct
Added ScriptBind and FlowNode for loading TimeOfDay files
Remove old key dialogs from TrackView
Updated the SDK character model
Maya: Plugin version update
Improve the naming of director nodes in TrackView
Fixed Terrain collision enabled icon being backwards
Fix broken undo/redo of keys and splines after redo adding a entity to TrackView
Improved default lighting setup in Character Editor and Animation Graph Editor
Launcher: Level.cfg are now loaded
Fixed picking an object inside a group/prefab not working
Fixed Autostarting a TrackView sequence doesn't hide the player
Fixed two-handed pickups
Re-factored graphics configs and removed redundant CVars
Vehicle Updates
Speedboat
Tweaked material & fixed surface type errors
Many adjustments to damage behaviors and effects
Improved wake/spray effects
Improved 1st and 3rd person cameras
Added ability to custom define wave effect in XML file (instead of being hard coded)
Abrams
Added gun overheat effect for Abrams, fixed errors
Updated Abrams material
Fixed faulty left tread
Added recoil animation for main cannon
Many adjustments to damage behaviors and effects
Added new sounds and states (engine stop, exhaust smoke puff, etc)
Increased main cannon damage, improved effects & sounds
Added lights to Abrams
Tweaked main cannon projectile to be visible
Added MP modification to Abrams to give separate driver/gunner control
Fixed inaccurate Abrams damaged model
MH60 Blackhawk
Fixed decal issue & made general improvements to material
Added new texture for downwash effect & improved environment interaction effects
Many adjustments to damage behaviors and effects
Added navigation lights toggle
Added new sounds and states (engine stop, exhaust smoke puff, etc)
Fixed control issue when helicopter is at its highest limit
Fixed controls locking up when using gamepad
Improved handling of rotor animation, uses engine animation, not hard coded
Added ability to adjust velocity damping via XML instead of hard coded
HMMWV
Updated HMMWV material
Many adjustments to damage behaviors and effects
Improved surface interaction and effects
Many tweaks to vehicle handling, performance & environment interaction
Improved 1st and 3rd person cameras
You can get the latest build here.