To be completely honest, there are no purely Buddhist games, only those who more or less vaguely reference their concepts. For example, in The Witcher, Geralt can meditate, and his meditation is a replacement of sleeping. Geralt rests this way.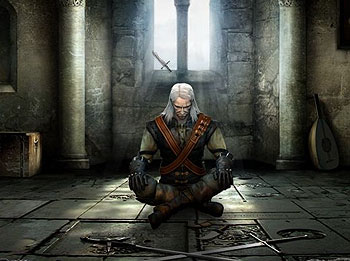 Also, many MMORPGs reference remotely similar practices, in a very changed or different form, for example Darkfall game and its meditation points. Though there's one game that references Karma in a very direct way, but on a social level (as reputation in various places): Fallout 2 and its sequels. (The first Fallout had only "general reputation" not karma.)
But these have very little to do with hardcore Buddhism. Beliefs traditionally attributed to Buddhism are rarely found in video games.
Got a little compilation for you, Buddhist concepts that one could use in a video game:
- meditation
- karma law (social and spiritual level, consequences, situations, respect of factions/societies)
- dharma (duty, path, acceptance of laws, duties, rights)
- rebirth, reincarnation
- and many others...
Hmm and to be sincere, I planned a similar game a few months ago (it was very early in development) based on karma belief itself (both spiritual and social level, as consequences and reputation), but dropped it on account of a lack of time. It was supposed to be an RPG game. :-)
And you dear readers, have you seen a Buddhist game or a game that references Buddhist concepts? Would it be interesting to make such a game in your opinion?