So, lets take a look at the last votation polls results: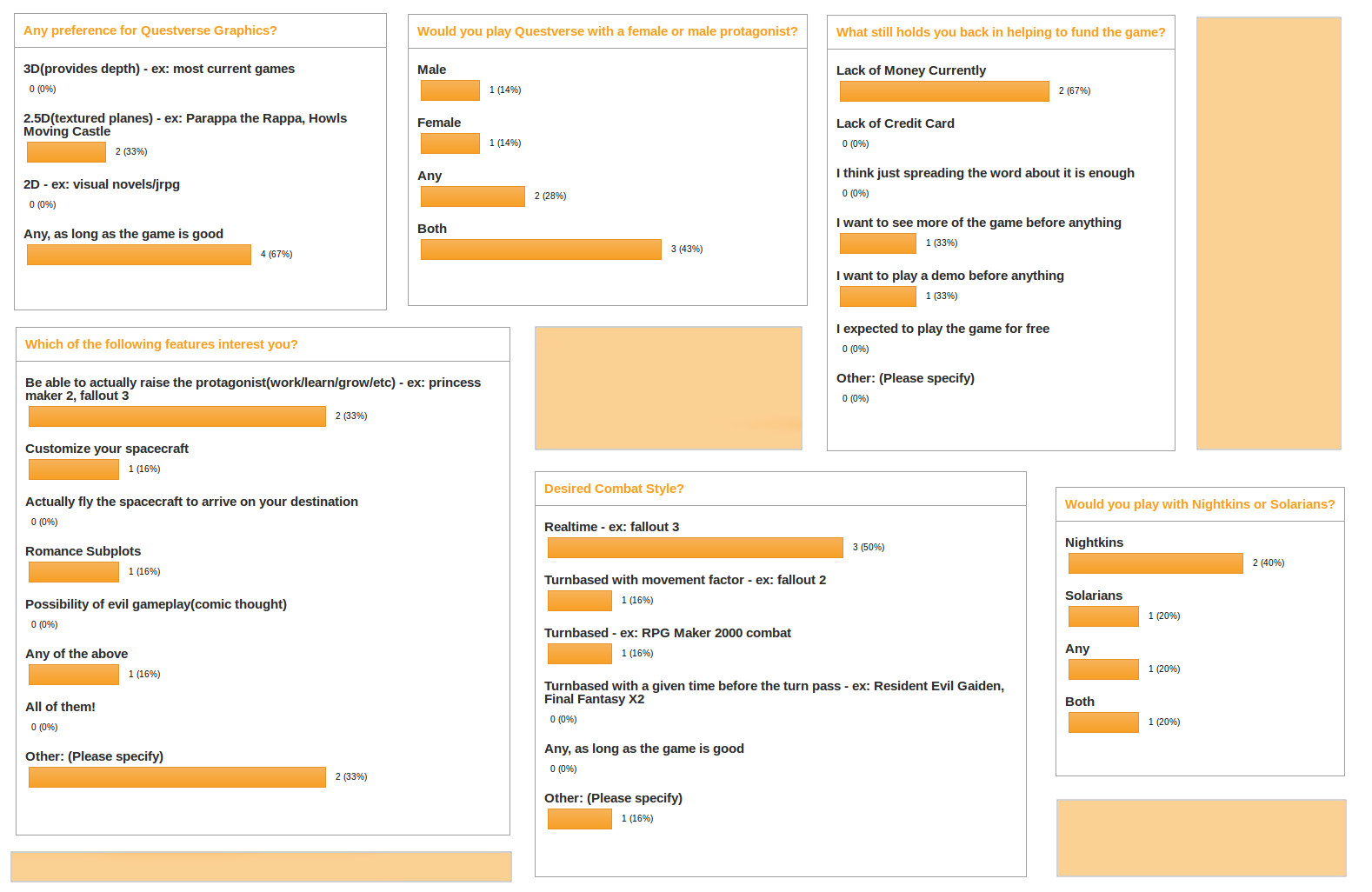 Now lets mix that results with the previous questions:
Would you play Questverse with a female or male protagonist?
Why: Questverse was originally designed for a female protagonist
Conclusion: Who prefers both adds to both solarians and nightkins +3 votes, for those who prefer any, no votes are added(the results do not matter, he/she will agree), then we have a withdrawn for male and female. Expect male characters for Questverse then also.
Would you play with the nightkin race(dark race, vampire/demon like) or the solarian race(looks like LOTR elfs/angels)?
Why: Questverse was originally designed for nightkins characters, solarians would come later only.
Conclusion: The difference is little between nightkin and solarians, but nigtkins had 1 extra vote compared to solarians. Solarians will still be added later on game as playable race.
About the Graphics, do you have a preference?
Why: I kept thinking in the last days about it, for characters 3d has seamless camera angles and depth of animation, requiring thought uv unwrapping, more complex armature rigging and complex shader code for a more artistic looks; it only requires you work once on each character.
2d does not require uv unwrap, complex armature rigging an shader code; but lacks many camera angles or motion depth, you will need to make one art for each new camera angle/pose. It may be faster to do thought.
2.5d may require one art for each camera angle(as 2d, it could be faster to do, giving more time to produce other things maybe), 2.5d combines part of the strengths and weakness of both 3d and 2d; it may be a possibility for characters, it would be an unusual graphic style for them, and unusual is usually good for a game.

For everything else, it is very probable 3D would still remain.
Below the final result of the study: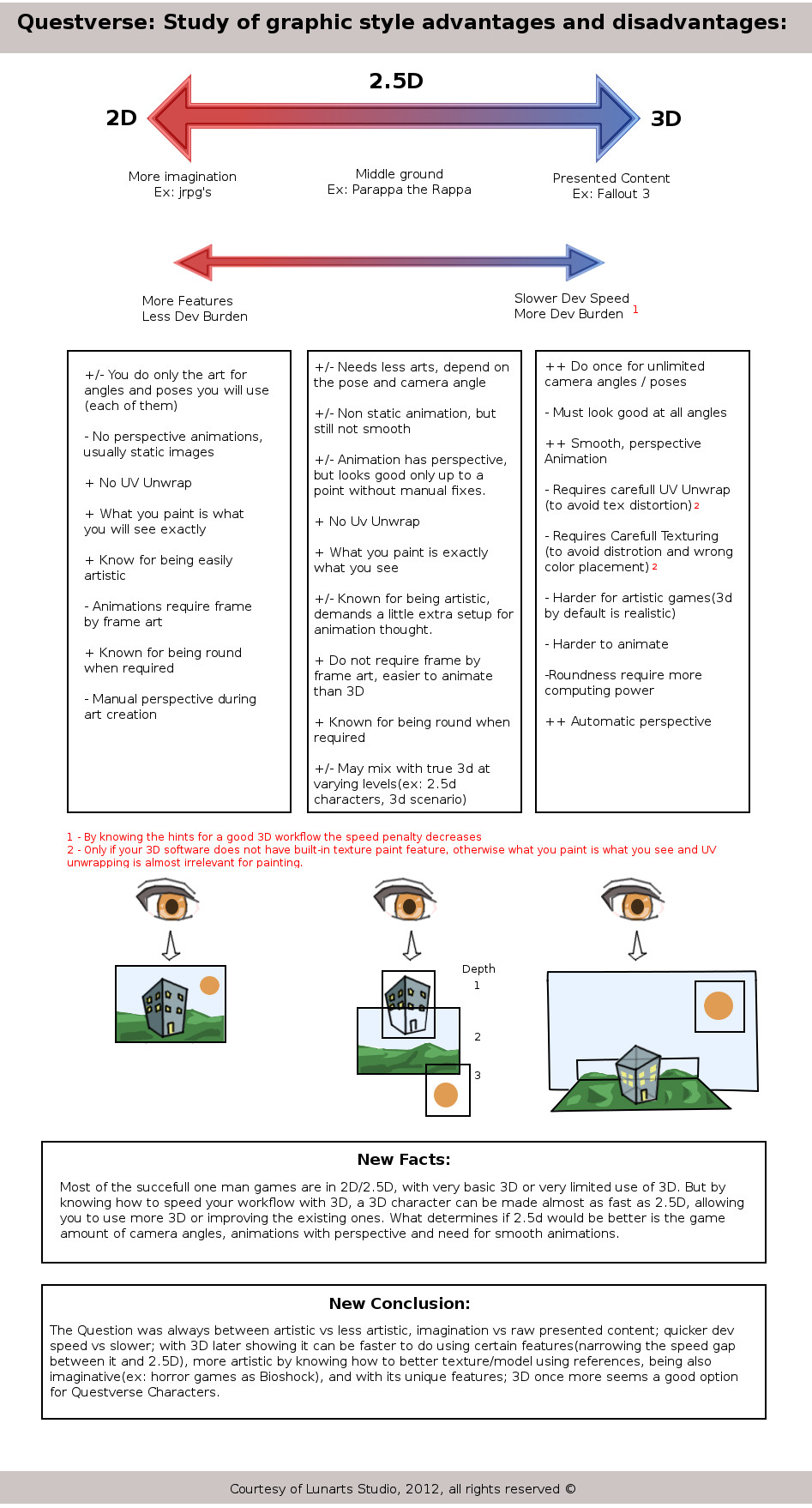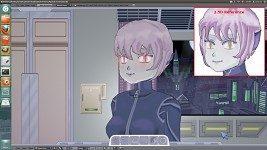 Conclusion: 3D proved to be almost as fast as 2.5d with a good work flow, and it has unique features which turns the tide on his favor even more. Most of the future players want just a good game(no matter if 3,2.5 or 2d), so 3D won. the previous 3D of the above scene can be saw at the game trailer video.
Which of the following features would interest you?
Why: I was really thinking on taking the game also to the life simulation side(work/grow/etc), is that what the followers wanted?
Conclusion: Obviously I cannot do all of the features in a short span of time, a more simulation jrpg approach(growing, working, etc) may be next feature. The other sole vote seems to like relationship systems, so it could had been a vote for romance subplots(leading to withdrawn), so I'm not sure, it may be the next feature after the above one. For the one who answered in more details besides giving a vote, I will take a look at your hint.
What combat style would you want?
Why: I would go for a real time combat, anything against it I wonder?
Conclusion: real time will remain then. If the other vote had been specified, it could lead to one of the combat styles to start withdrawing with real time.
What still holds you back in helping to fund the game?
Why: The game campaign has many followers and recurrent visits, yet, no money is being contributed to the game funds
Conclusion: Lack of money is no issue to me, one can spend when he is able to; in case one is always without lack of money, then he will only be able to enjoy Questverse base game single quest(maybe if he win a future contest would receive a free copy). It was expected which many didn't contributed as they wanted to see more of the game, I already setup that campaign at that time as an experiment(I do rather learn in practice quickly than studying that for a long time), maybe the results could had been different(I was curious), but they didn't. I understand the game watchers thoughts and do agree with them(i also would like a demo or see plenty of the game before buying). No further campaign will happen until the game base quest is done, I wonder, maybe even after the base game campaigning would not be good idea.
---
Now a couple new votation polls to you fellow space adventures:
From which world region you come from?
Freeonlinesurveys.com
You first met Questverse at:
Freeonlinesurveys.com
What OS you will play Questverse on?
Freeonlinesurveys.com
What is you screen size?
Freeonlinesurveys.com
Your video Card brand and capacitty(Use as referece card position at Videocardbenchmark.net )?
Freeonlinesurveys.com
Your RAM?
Freeonlinesurveys.com
Your Processor(Use as reference CPU position at Cpubenchmark.netl )?
Freeonlinesurveys.com
Also, keep an eye at this news article even after it was published, search for EDIT: tags which means new stuff have been added to it(this will be true for news articles from now on). You'll know when no further stuff will appear only when a new news article appears and take the place of the old one at the game main page on indiedb.
This time thanks goes for crawling chaos for being active on the comments, playsgames11, shirish for some useful hints, Giacomo Russo, Maria and Luiz and Evan Rohr at indiegogo by their donations and Luis(not the same from above) from indiegogo for more hints. If you wasn't mentioned right now and helped me, do not worry, I might mention you at future news articles, or simply know I remember you, I have a long memory.
That is all Space Traveller.

OBS: Please, have no fear of voting, I won't bite =).
---