Where have you been?
Hello space adventurer, you may be wondering where in the universe I had been until now, well, I have been at another country state for family reasons for nearly 1 month, and yes, right after the previous problem. I should get back to my home state very soon.
But notice I have been silently posting progress images and videos(although at a slower pace) regularly, as I always do, first smaller updates, then a news article.
Progress
Another step for a finished trailer was done, which was planning the campaign setup scene and of course executing it, very soon I opted for a "warp speed" animated background and adjusting it to not bring too much attention from the menu itself.
I also started another trailer step, planning the spaceship customization scene for the nightkin race. I too had to experiment a bit with the colors, but I achieved something which does not took too much attention from the test spaceship itself.
It will take more planning for the menu itself for customizing the starship, like how the main options will be arranged, sub-options hierarchy tree and such.
The current missing trailer pieces are(still plenty to do):
Rest of the exploration system, including combat
Specific menus for some skills
New space map and space combat - in progress
Spaceship customization - in progress
City view(should be done soon)
Animated art for the dark version main characters - in progress.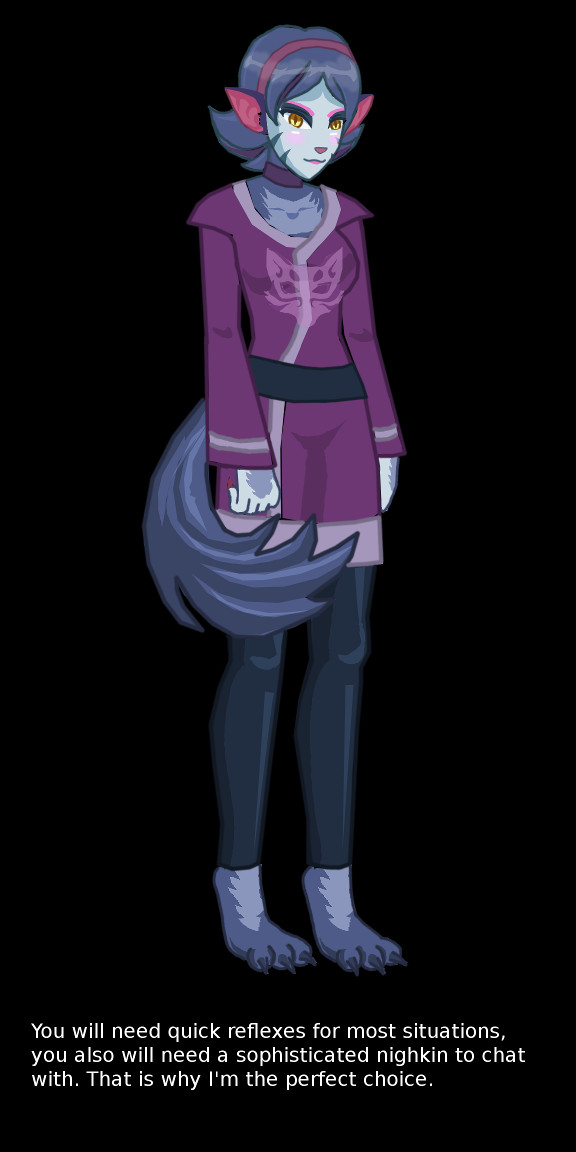 I have been wanting to include such a faction for a long time, and now it is real, a "beast faction"; there you can combine different animal parts to create your humanoid beast alter ego.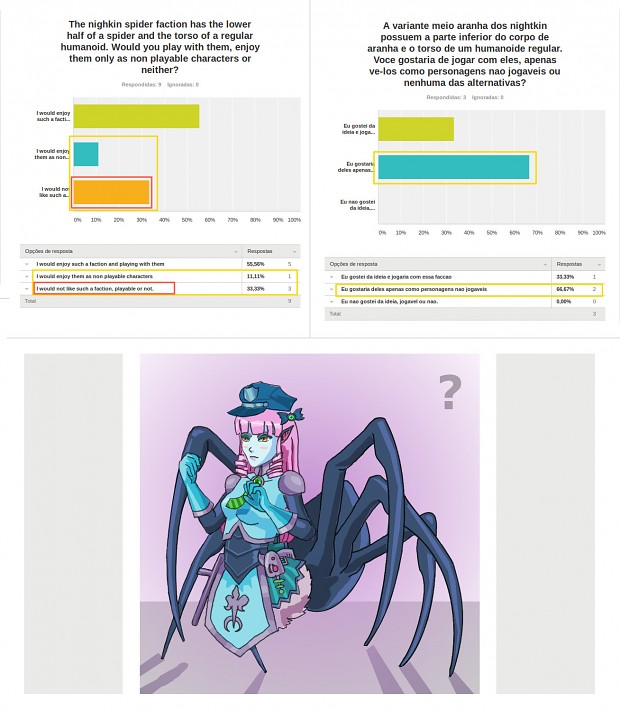 But on the other side, although the votation results for the spider centaur nightkin won with 2 two favorable votes, it did shown which it would not be so interesting having them on a semi sci-fi setting game, Not only by watchers opinion, but I also though about the issues a quite big lower half would cause, and the issues of combining insect and humanoid. I may still make a "insect faction" with a better combination of insect and humanoid parts, but don't count on it.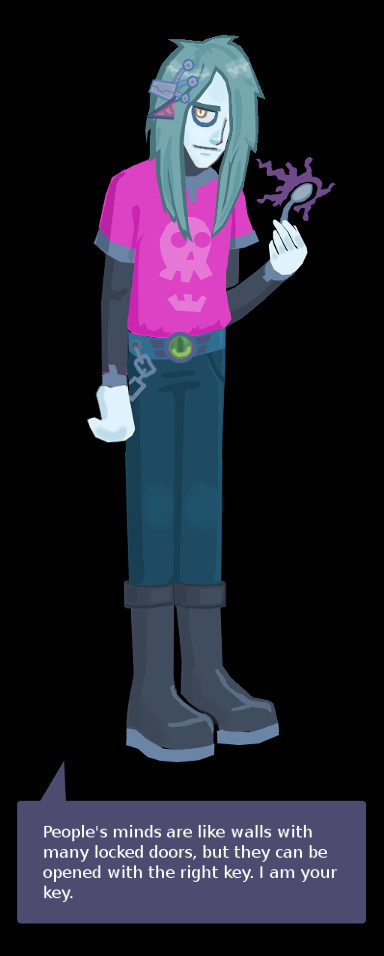 It is not essential to the trailer, but for the game itself; I already made the male version for the psionic nightkin class.
Talking of which, I said previously I expected to "hopefully have a game demo after I complete the trailer", well, now it is not "hopefully", I will do so to have an already working game when in the future I attempt to earn some well deserved money for the project, because that way I will have to deal with less risk factors to deliver a complete game, it will also help a lot in showcasing the game as well together with a good trailer.
I'm also interested in making a veeery different thing for the gender setup of your character, why not a third gender option? There is a public for that I assure you, but only time will tell me how many, like it did for the defunct "spider faction".
Contribute
Thanks for your visit space adventurer! If you liked this project you can help make it happen by: