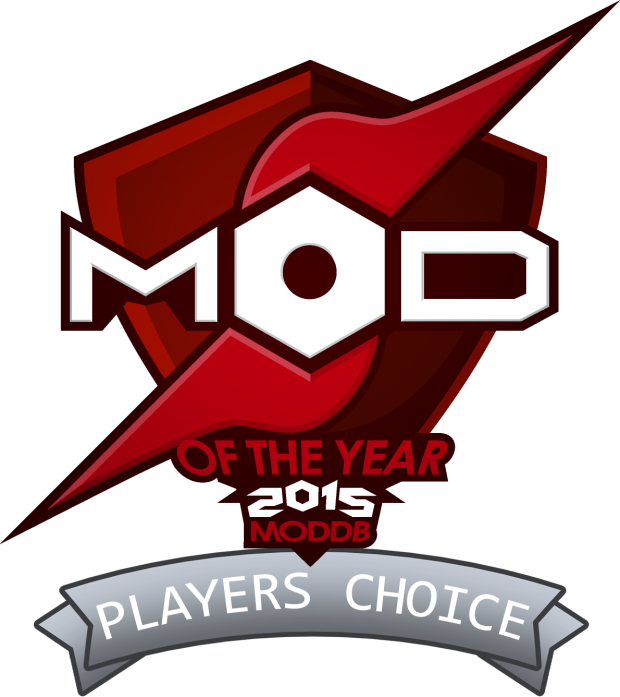 Welcome all to the 2015 Mod of the Year. After 20 days of very close voting, the results are in. Without further adieu, we are delighted to present your Top 10 Mods of 2015. Also announcing the top Indie Games and Mobile Games you're invited to check them out!
There are so many amazing mod projects on the site that have been in active development for a long period of time. As always you either had to place higher or do a significant update in 2015 to make this list. Here are the 2015 honorable mentions, that just missed out but are still worthy of your praise and attention.
Portal Stories: Mel is a total conversion mod for Portal 2. Consisting of 22 levels with new environments, tough puzzles and a strong story. Complete with over 350 voice-lines, a full soundtrack, custom models, textures, particles and much more! The average playtime is 6-10 hours, depending on experience with Portal 2. All the puzzles in the mod can be solved with clever thinking, quick reactions are never needed.
A freeplay-sandbox mappack, 32 maps from all three STALKER games (one map made from scratch) with alife, over 400 smart terrains/respawns. There is no story but there are about a dozen repeatable tasks available throughout the Zone. The mod will be featured as a modder resource but can still be played on it's own.
Fallout: Project Brazil adds an all new story around a new player character, an adopted resident of Vault 18, embarking on a journey through the wastelands of New California. An unofficial prequel to New Vegas, FPB adds hours of new gameplay and a fully voice stand alone campaign.
Thrawn's Revenge is a large-scale mod for Empire at War: Forces of Corruption. It includes the events of the Galactic Civil War after Palpatine's death at Endor, up until the signing of the Pellaeon-Gavrisom treaty. If you own the Steam version of EaW, you will have to complete extra steps to run the mod after installation. Please see the manual for these steps.
Warsword Conquest is a total conversion of warbands mount and blade 1.153 based on the warhammer fantasy world by Games workshop and is single player only at moment.
A modification for Mount and Blade: Warband, set in the universe of George R. R Martins "A Song of Ice and Fire". Also known as the popular HBO TV-series "Game of Thrones".
The Ultimate Apocalypse mod team proudly presents to the Dawn of War: Soulstorm players and fans, an eagerly awaited and packed with epic content game experience, the Ultimate Apocalypse mod! Imagine a mod featuring massive Warhammer 40,000 battles where all 9 races in Soulstorm (and more!) have a chance at epic victory. A mod where there's no shortage of all new units, buildings, abilities, and even titans! A mod where there's nearly no limits holding you back. It's all about all out, massive war. Wanna nuke your enemies? You can. Gloriously epic titan duels are your thing? Ultimate Apocalypse has you covered. Not only that, but Ultimate Apocalypse is continuously tested to ensure the epic battle experience it delivers remains unique while being completely awesome.
3rd Place
Mental Omega: Almost Perfect Yuri's Revenge is a free unofficial expansion pack for Command & Conquer Red Alert 2 Yuri's Revenge (from Westwood Studios), which retells and continues the storyline of the original game. Enhanced with Ares DLL, Mental Omega 3.0 strives to bring new features to Red Alert 2 Yuri's Revenge.
2nd Place

Rise Of The Reds is an expansion mod for Generals: Zero Hour that adds the Russian Federation, European Continental Alliance and is packed with overhauls and changes to the original factions. Whether it's steamrolling Russians, indomitable European defenders, American high-tech, Chinese strength in numbers or the brutal cunning of the GLA - Rise of the Reds has a faction for everyone's tastes - even to take your opponents on land, air and sea!
The Edain Mod aims to take you deeper into Middle-Earth than ever before and create a game worthy of Tolkien's books and Peter Jackson's movies. In our quest for lore accuracy, visual quality and deeper gameplay, we overhauled every aspect of the original game to craft a new, immersive Lord of the Rings experience. Discover the new factions of Lothlorien and Rohan, field new units and heroes for each of the existing factions, enjoy a visual style closer to the movies and unleash the power of the One Ring with individual Ring heroes for every factions. Light or Shadow, Defender or Conqueror... the choice is yours.
Congratulations to all, We wish you a happy new year and all your developments the best in 2016!