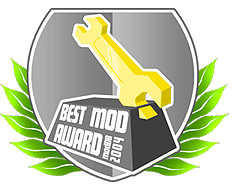 Thanks to Game-Panel and EA Games, the 2004 Golden Spanner Mod of the Year Awards now have a few sponsors on board. Hence the winning mod teams may very well be walking away with more than just the glory and a pretty GIF image to plaster all over their webpage. Keep checking back for more news. Oh and if your company wants to support the great mod makers out there whilst been shamelessly promoted on this site, get intouch via the image below!
What is this?
Each year we see a flurry of 'Game of the Year' awards. We have even seen some 'Mod of the Year' awards, however they inevitably end up as small uneventful features, judged by a few biased reporters and limited to one game. Not anymore; 2004 marks the first year when the public who make and play the mods out there get to decide which are the best going round. Hence the 2004 Golden Spanner Mod of the Year awards. The biggest, best and ONLY real mod awards.
Get your mod on TOP!
Want to give your mod the best chance of winning? Well then encourage your mods fan to come here and vote for it! To help you out we've put together a few promotional images your free to use and edit at will. Good luck, get voting and may the best MODS win!