To start it off, the first 50 backer exclusive full beta access rewards (how's that for adjectives) on Kickstarter for Zenzizenzic were handed out in just a few days! We can't have that, so I threw my hands up in the air, said "screw it!", went over to edit the Kickstarter page and changed the 50 to 80. You lovely folks who decide to back Zenzizenzic deserve nothing less!
So all in all, the past couple of days have been good! Here are few snippets of some awesome articles that popped up this week:
"Zenzizenzic can be favorably compared to Geometry Wars, with it's excellent, minimal art style, high difficulty and precise gameplay. Highly recommend, it's so damn pretty!" - Alpha Beta Gamer
"Can the world handle it? No. Absolutely not. It's crazy. If you like crazy, however, you should check it out." - Cliqist
It seems like "crazy" is a fairly common word to describe the game, as Kotaku also states in a short:
"Announcing a new contender in the category of games with names that are difficult to pronounce, Zenzizenzic is a old-school bullet-hell style shmup that looks about as crazy as a game with that name should." - Kotaku
Crazy it is I guess! As Kaiochi in the comments at the Kotaku article says in the response to the image below:
"what the fuuuuuck is goooing onnnnn?"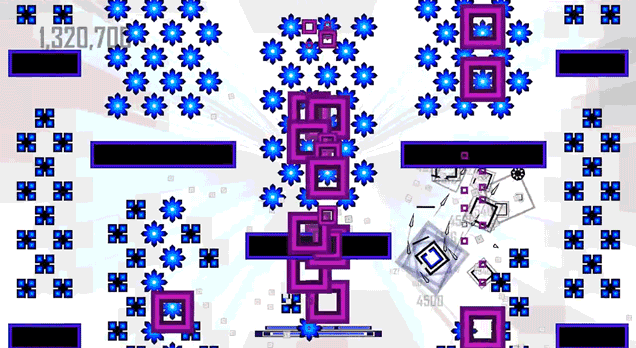 Well, you know, it's just bullets and stuff and dodging enemies and things, right?
Also, last night Bestio (Twitter) streamed a bit of Zenzizenzic on his Twitch channel. If you want to see some more bits of gameplay, go check it out! And if anyone wants to stream the game, give me a shout (Twitter), I'll be sure to hang out in the chat and answer any and all questions.
Thanks for the support again!
Cheers, Ruud