Greetings Desura and IndieDB!
Allow us to formally introduce ourselves. Because we've been active on IndieDB for a while now, but never have! We're called A Jolly Corpse, and we're making a little action puzzle adventure platformer, or actuzzladvenformer, called Wyv and Keep!
We were lucky enough to be selected for Desura's new alphafunding system, and we'd like to thank all of the funders who've already started supporting us. Thanks! We hope you're enjoying your new preview, and wanted to let you know we're going to be updating it to include much more content as soon as possible. After all, you've been so nice as to give us your hard earned monies, you should get more than a preview!
[ppbranchg14195button]
On that note, online play! This will be one of Wyv and Keep's core features, as it's team-based play that we really want everybody to enjoy. Playing by yourself is tons of fun too, but there's nothing better than solving puzzles with a friend - except maybe dropping them into certain death!
Here's a first peek at Beau and Jesse playing the game online. This is still in alpha stages and so is quite buggy and a bit laggy, as you'll notice, but it IS online! No really, we promise! Apologies for the horrible quality on the voices - we'll try to do this better next time ;)
Shown in this video is the fourth world, the pygmy village. This is level 4-3 and will probably end up in the final game, so you can even get some hints as to how to beat it - though we don't actually beat it in this video, just die a lot...
Anyone who wants to hear an unadulterated version of Luke's beautiful pygmy village track should definitely click on these words!
Finally, be sure to come on over and visit our new forums at jollycorpse.com!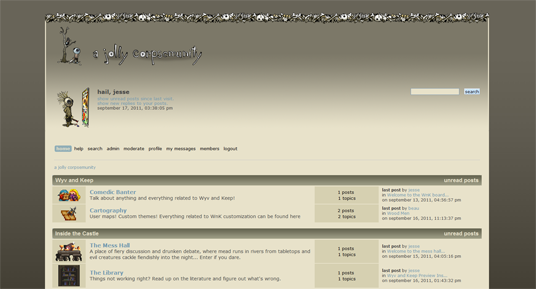 We'd love for everybody to get in on the discussion about Wyv and Keep, and if you've bought Wyv and Keep on Desura, then you already have access to Wyv's Cartographer, the level editor! We really want to start building up a community and we'd love to see what kind of fiendish traps and custom tile sets you're designing, so be sure to come over and show us!
I suppose that's all for now. Thanks again to all our supporters, and those of you who haven't ordered on Desura yet... well hurry up! We need to buy more coffee!
Bye!