Here take this very cliché styled update on how things are going:
Percentage of art assets complete:
Textures: 100% done
Enemies: 76.982% done (the .982 is counting frames of animation)
General sprites: 100% done
Weapons: 85%
Percentage of levels built:
1-5: 100%
6-12: 75%
13-16: 15%
17-20: 99.99999%
Soon I'm releasing the Dev build of WizQuester.(its just what i use to test weapons, its like a debug mode)
also take this dead fish.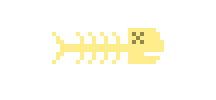 bye.