One of our main goals in creating Saga is to provide a strong story that is grounded in the Wing Commander universe and offers compelling characters in thought provoking situations. That takes a lot of work to create and refine, and we have been putting a lot of effort into that. Like everything in game development, creating a story is always more difficult than it sounds. We have received a lot of great input and a lot of great ideas from many sources, and because of that we believe that we have created a great story for you. Our goal is to make the story extremely immersive, helping you feel that you are just watching what our main character Sandman does but actually stepping into the role and experiencing what it is like to be Sandman.
One of thing that's always difficult for game designers is to figure out how to convey the story yet not interfere with the game play. This is difficult because not all gamers are the same. You might classify gamers into two camps: first, you have the gamers that LOVE story and want to know everything about every character, location, and event, and then you have the gamers that just want to blast Kilrathi out of the sky. We didn't want either of these camps to be dissapointed. So, we came up with a system that we believe lets us have the best of both worlds.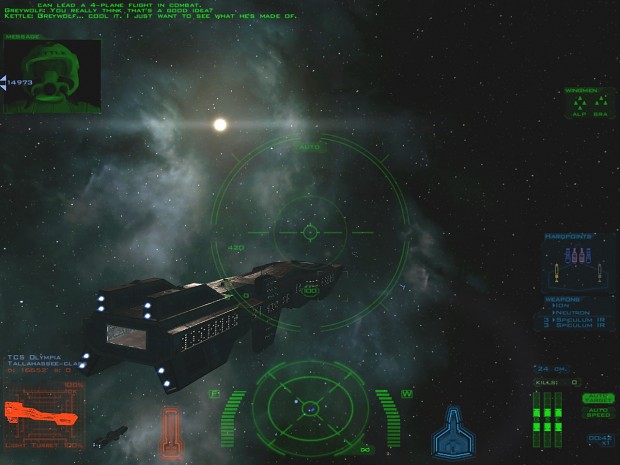 During missions the player will very often encounter in-game dialogue and scripted sequences. They flesh out characters' relationships and motivations, all while expanding the overall narrative. In this way, if you are content just focusing on dodging missiles and icing Kilrathi, nothing will get in your way, and you'll still be able to enjoy the Wing Commander Saga story.
As ever, tweet us or facebook us with thoughts and suggestions.