True to the five other weapons he designed, our freelance artist Wesley keep to the fantasy inspired Victorian theme with a new weapon design: the pole-arm. Initially, this had not been one of our planned weapons, but upon doing some more research and designing, Michael and myself decided it would be a good idea to add a longer reaching weapon such as this.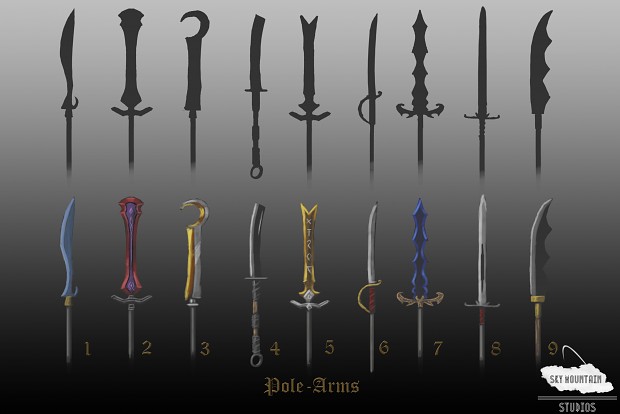 As you can see, the results were not only vary in color but in shape and size! The wide variety will allow us to refine this set of weapons into some unique combinations. The Pole-Arm is likely to be a weapon wielded by Valencian troops partially for ceremonial purposes and partially for combat. Although we haven't decided yet, there will probably be a few different types for each purpose.
We've also updated a few of the other weapons, redesigning some and combining others! Take a look at their new forms below!
Let us know what you think in the comments! Also, check out our updated site at Sky Mountain Studios! We've got some exciting new content coming your way over the next few weeks and we'd appreciate you tracking Valencia: City of Colors!
Timothy AKA Arcones