As of several days ago, the world generation for 'strategy roguelike' Ultima Ratio Regum is complete!
An example of a procedurally generated map looks like this: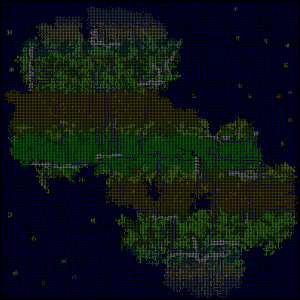 A full-size version of this picture can be found here, and the accompanying blog entry discussing it can be found here.
Each square on the world map is 200x200 squares of the actual map the player walks around on. The world map first creatures two or three continents, then randomises their borders a little bit, which sometimes results in the continents joining back up. Then it spreads out climates and biomes according to how high or low on the map it is. After that, forests are added in a density according to the climate; there are few 'forest' squares in deserts (ie oases) but a huge number in tropical areas. Volcanic islands are then thrown in, followed by valleys, mountain ranges, and rivers flowing out of the mountain ranges to the ocean, lakes, or valleys. What does everyone think? Now I just need to get cities, territories, and things like dungeons/caves/forts etc spawning.
You can read more on my devblog, Facebook page, or Twitter feed. The devblog is updated weekly on Mondays, and the Twitter/FB roughly daily. Plus, those who follow will get updates first, and may gain access to the alpha (or particular facets of the alpha) before the general public. Stay tuned! : )