Well, it's been a while since an IndieDB update, but a lot has been happening in the past week. Here are some screenshots for you people of some of the new features, and just a general look at how the game is shaping up. Be sure to view the screenshots full-size! Note: font size can be changed, so if these are too big for your screen, don't worry.
1) New world map. As you move around (or as you move your crosshair around to examine explored land) it tells you generated information about that square in terms of terrain, and in terms of the construction and territory (when these are implemented). You can see an example of the terrain text below; for construction text it might say "This area contains the city of X, the capital of Y, and lies in territory firmly controlled by Z", or "This area contains a shrine to god X, and is in the territory controlled by Y", and so on. Of course, much of the territory will be unknown, but that is simply turned off for play-testing. Full size @ Media.moddb.com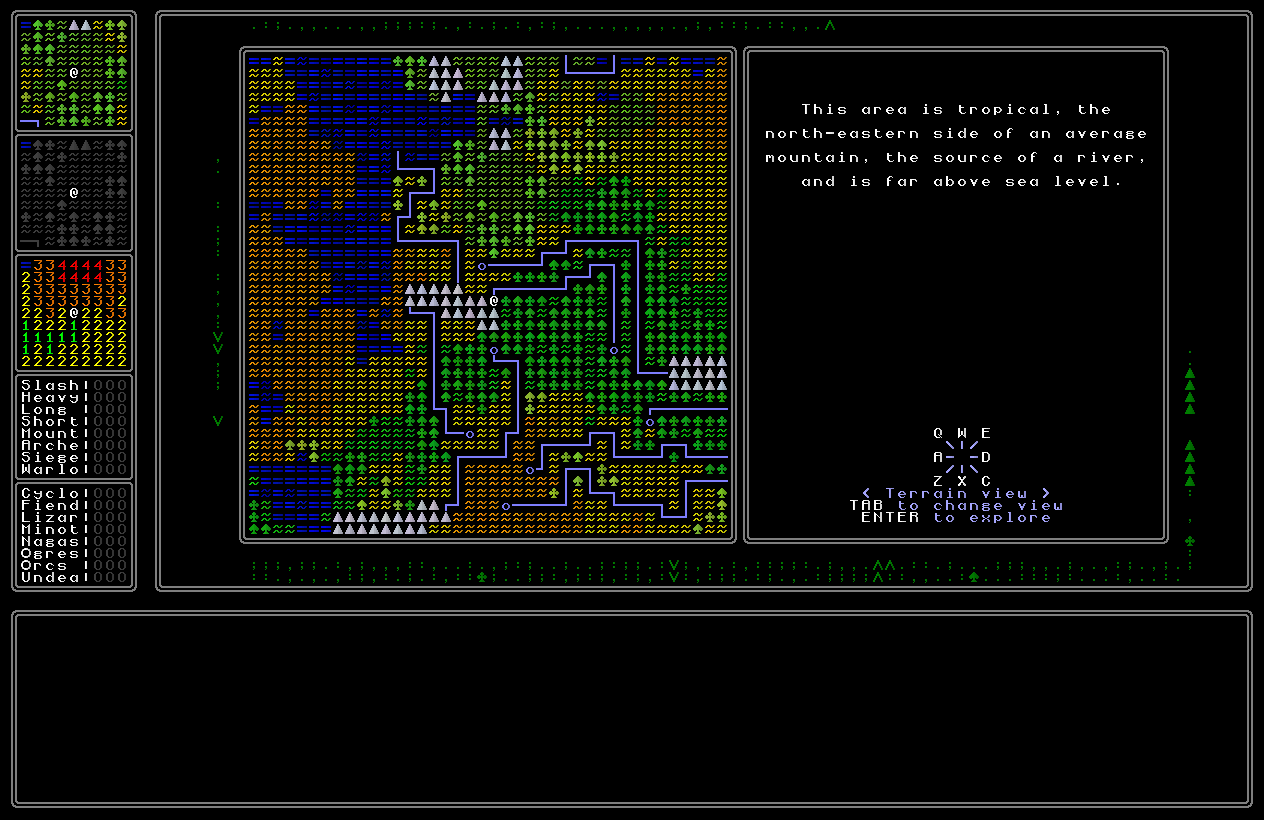 2) New attacking screen. The limbs your foe has are listed on the left, followed by how damaged each one is, followed by whether or not they are armored, and then finally by whether or not they are in range (tall creatures, for instance, will have their heads too high up for you to reach). You scroll up and down, your chosen limb is selected in white, then you attack. Some attack messages shown below. Full size @
Media.moddb.com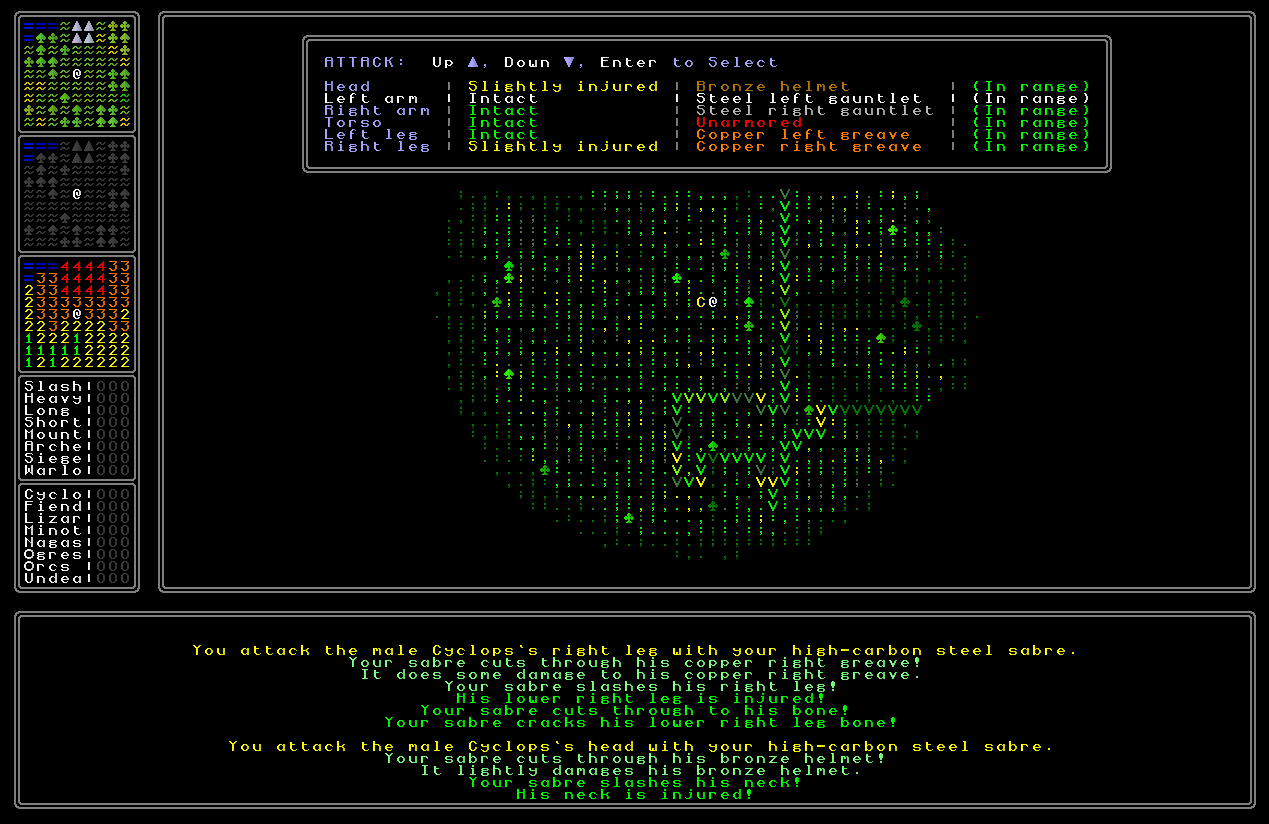 3) The 'look' function. Changed since last shown to be streamlined significantly, to use word-wrap across lines, and to have a scrollbar appear if needed. This functions by giving you a crosshair to move around the screen, and upon a selection, lists all items, creatures and terrain features by listing them on the right (support for terrain features currently being worked on). Here's an example of a creature look-up, on myself, post-battle, with some fairly serious injuries (yes, I know 'copper' and 'injured' are the same color; that will change). Full size @ Media.moddb.com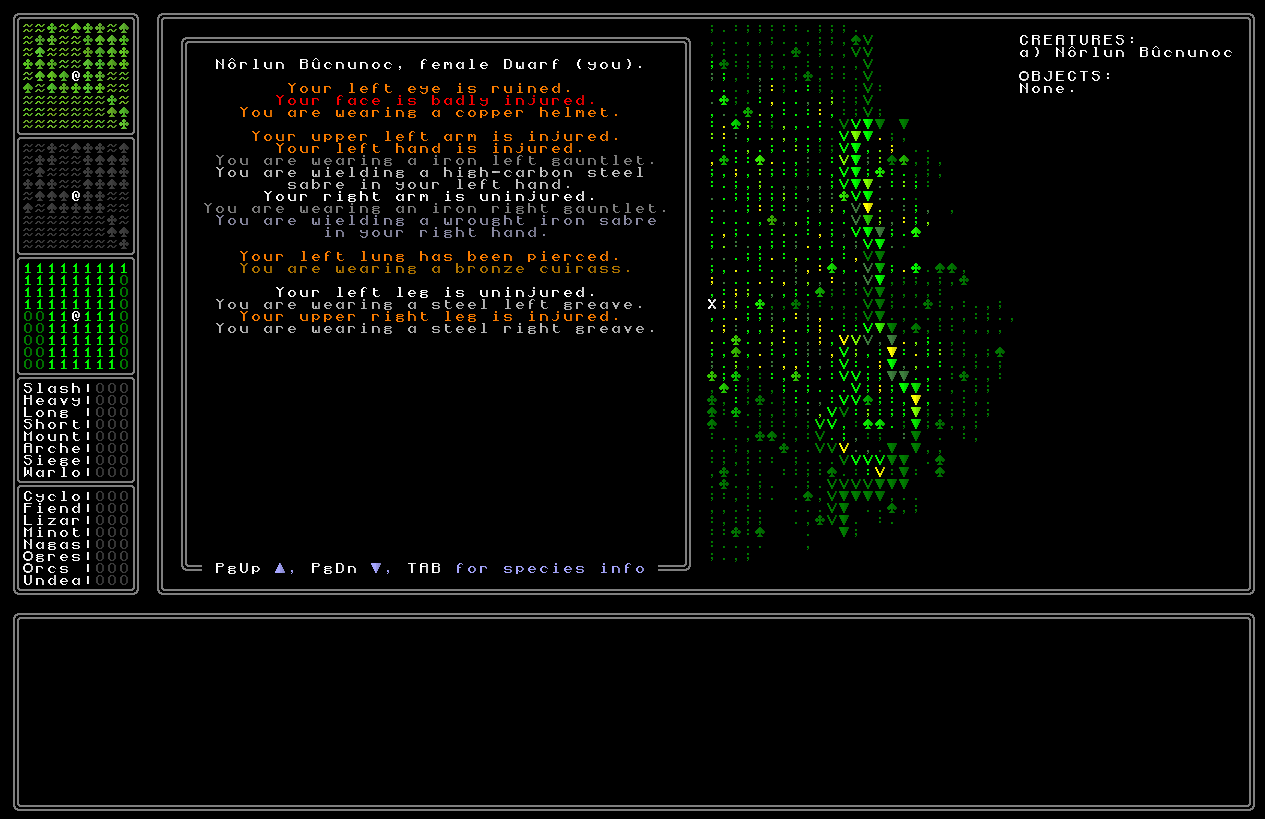 You can read more on my devblog, Facebook page, or Twitter feed. The devblog is updated weekly on Mondays, Facebook a few times a week, and the Twitter roughly daily. Plus, those who follow will get updates first, and will likely gain access to the alpha (or particular facets of the alpha) before the general public. Stay tuned, and let me know what you think!