It has been 4 months since TripleA stable version 1.5.2.1 was released, culminating a year long effort by me and the other devs.
Now, I am proud to present another 4 months of effort into improving and expanding TripleA, by releasing to you the newest stable version 1.6.1.2
Our previous release was a huge success, but there were still some things missing. In my effort to quickly get a stable out that was capable of playing the latest Global map, we had to skip some things such as:
The new technology for the Global 1940 map.
The new rules for Convoy blockading.
Scrambling still did not work completely according to the rules.
Lots of small things, like Submarines preventing unescorted amphibious assaults, or Kamikaze Attacks only happening where there is a battle, etc.
So, I immediately went to work getting these done. In the process, I ended up re-writing the entire Technology engine. Now, Technologies can be customized and coded from inside the map XML files.
In the process of finishing off the Pacific, Europe, and Global games, I found and corrected many bugs.
Edit mode can not longer crash the game, and it is also much faster to use in online play.
Game saves file size no longer increases dramatically, and should stay under 1mb for all but the longest games (ie: no more 16mb game saves).
Scrambling fixed again. It should always trigger now, when it is supposed to.
Battle Calculator now correctly accounts for damaged units.
Bombing with units that roll more than one die, like Heavy Bombers, will now correctly roll that second die.
Some other fatal errors, and lots and lots of little fixes.
Due to the time it takes to test each release (we have had 3 releases in between this release and the last stable), I had a lot of time to improve the engine in other ways. I based a lot of my improvements on feedback received from the Axis & Allies forum found here: Axisandallies.org
These guys have recently taken to using our software instead of ABattleMap, and had many suggestions and some complaints. Here is the list of new features:
Image quality when zooming greatly improved.
Online games network connections now more stable.
New options in Edit Mode to damage/repair units and add/remove technology.
Map downloader now shows out of date maps in bold, and allows downloading multiple maps in one go.
Can now use a proxy to connect to the internet for Play-By-Forum games and the Dice Server.
TripleA is now backwards compatible with older savegames, and new releases will no longer break savegame compatibility.
Those last 2 points are pretty big, and especially the second one took a long time to code.
Previously to this version, each new version of TripleA would break all compatibility with any savegames you had. This normally was not too big of a problem because you could have multiple versions of TripleA installed on your computer. But it was still a pain in the ass.
So, from this version onward, TripleA is fully backwards compatible. You never have to worry about your savegames when downloading a new version of TripleA.
Here is a picture of the latest Global 1940 map: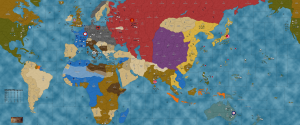 And here is a new mod I created, a 5 player variant of Napoleonic Empires: Free for All: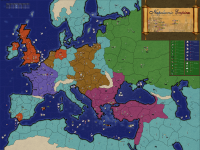 Thanks,
Veqryn