Through v2.1 adds two new features: Altars and Ghosts.
Altars are new special blocks that emit an aura that affects all squares around them. Trick your opponents into fighting in negative auras and keep them out of the positive ones. It adds a nice tactical element allowing smart players to turn the tides in their favor. Altars do not show up in Beginner difficulty. You'll start seeing them a few floors into Tough difficulty and right out the gate in Insane.
Below is an image of an Altar a Pain that damages anyone who steps into its aura (like that skeleton).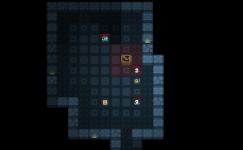 The next new feature is Ghosts. Ghosts are a new enemy that begin appearing when you spend a lot of time on a single floor. They can't take damage or be killed, so you will want to get off the floor before they start appearing. This feature replaces the hunger clock so you no longer have to worry about eating. Ghosts are intended to encourage players to think about when they can safely rest and when they have to keep pushing on.
For a detailed change list, check out the patch notes in the forum.